Firaaq, the power of fear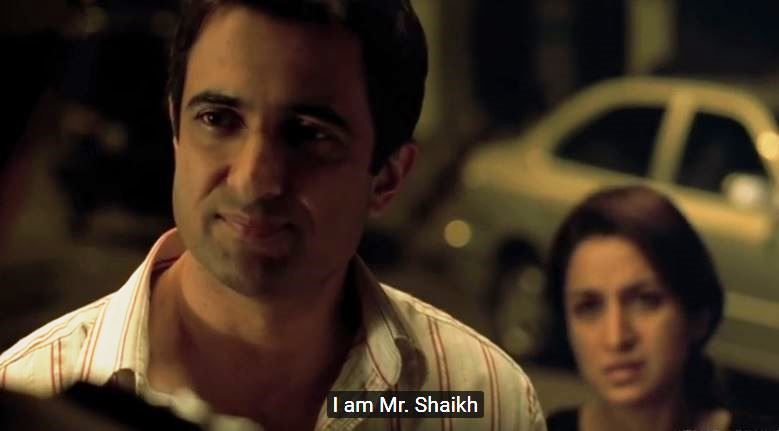 It seems appropriate today to speak about Firaaq, a 2008 movie which is Nandita Das's debut film venture, based on the 2002 Gujarat anti-Muslim riots, in which Indian PM Modi had been suspected of biased non-intervention. Today, because the pressure of community clashes are never very far and the opposition between Muslims and Hindus is at the centre of attention once again, notably with Aamir Khan's words about his wife being afraid for the safety of their child and wondering if they wouldn't fare better if they left the country. But this is only the tip of the iceberg in such a deep-rooted problem. The film isn't Bollywood. It is almost a documentary. Yet it contains a fictional dimension, and most of all, an artist's perspective on the social and political turmoil which faces India, but also all countries where extremism takes the shape of exclusion and segregation.
First, there is a nice interwoven dimension of the various destinies of the individuals on whom Das has chosen to focus. We start with Hanif (Nawazuddin Siddiqui, seen in The Lunchbox) and Muneera (an unsmiling Shahana Goswami), a Muslim couple who with their baby return to their burned-down home through the deserted Muslim quarter of their Gujarat neighbourhood. They have spent a month hiding in the basement of Anuradha (Tisca Chopra) and Sameer (Sanjay Suri)'s house, a mixed Muslim-Hindu couple, and we see the latter on the verge of their departure for Delhi, having decided that the environment is too dangerous here. Anu is a student of Khan Saheb (Naseeruddin Shah, at his usual good), and she's worried that she won't be able to continue her music classes once she's gone. Who will replace him? Her husband's shop (which he shares with his brother in law) has been looted by furious Hindus, and on viewing the camera footage, they recognize a man with whom they have had a slight car and motorcycle accident earlier, a certain Sanjay (Paresh Rawal) who lives with his wife Aarti (Dipti Nawal) old father and brother. She is still under the shock of the events, and continues to have hallucinations of people banging on her door and on her window to ask for cover from the attacks.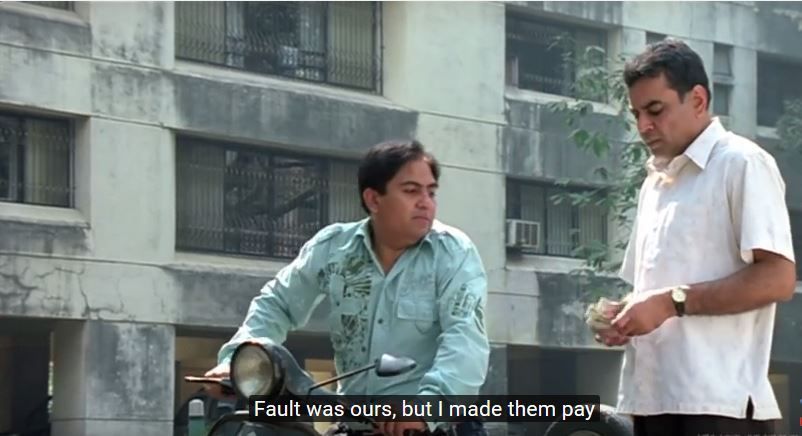 One day in the street, Arati bumps into little Mohsin, who has lost his family and wanders around aimlessly, having walked away from a Muslim colony. We think she would like to befriend him, but he runs out and finds a surviving uncle, Yusuf, who has the keys to a shop where a gang of young men (among which Hanif), who want to take revenge on who they believe has commandeered the attacks, think they can find a gun, and who asks one of them to bring back the little orphan back to the colony where he would await his transfer, perhaps to Pakistan. But they don't make it to the colony, and the boy is taken along with them in the ransacked shop where he witnesses a rather funny debate as to who should have the gun (which has only got one bullet), and is most justified to use it owing to the amount of suffering he has undergone. One of the band, a dimwit, characteristically shoots the gun, and this attracts the police. Hanif runs away with the boy, hides him, hides himself, escapes, but gets killed by an observing Hindu neighbor, while Mohsin closes his eyes at the sight.
If we now follow the strand which starts with Muneera, the young Muslim woman who has been left at her devastated home by Hanif, we see her joined by Jyoti, a Hindu friend and neighbor who comes to offer her comfort, and even takes her at a house where wedding guests need some henna-painting against sorely needed good money, but Muneera, in dire grief, can't help suspecting her friend of guilt-ridden compensatory behavior, and their relationship, instead of being a solace, becomes a microcosm of communal misunderstanding. So all in all, what Nandita Das is doing through these individual portraits is weaving a community of people together, a mixed community of beliefs and social realities which we understand is more important than what separates them. Yet the film is called Firaaq, separation. Continuously, the voice of fear can be heard, for example in the mouth of Khan Saheb's attendant: "does it not bother you that [fellow] Muslims are being molested?", but he only answers that what bothers him is not that it's Muslims or Hindus, but people: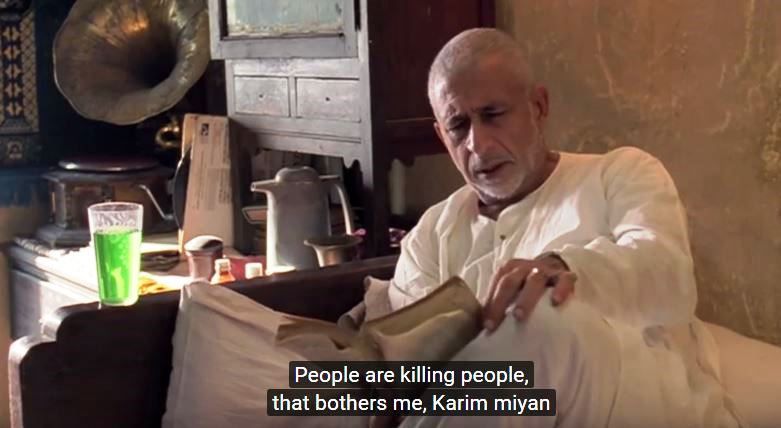 One very important debate rages also within the mind of Sameer, Anu's Muslim husband who was lucky his parents gave him a Hindu name. But he also realizes that he's used this name to hide his fears, and that fear has governed his entire life this past month. If he's given money to the Hindu motorcycle driver who has crashed into Anu's car (and who he has also seen looting his store on the video), it's because he's afraid; if he hasn't given his Muslim name to charity collectors who come to the door, it's also because he knows they might tell of his whereabouts; in fact this fear is everywhere, in the eyes of the "insurgents" at Suleiman's shop that night, who, in front of the small pistol they have found in his shop, can't decide who is going to have the best right to it, in Muneera's face who cannot look at her friend without suspicion because she senses that in a fearful community, everyone can be your enemy even if they have shown honesty and generosity for years. Even Khan Saheb, who used to be so philosophical about human violence and will not budge, when left alone for a while (his attendant who protects him from too much news has cut his thumb, and leaves with the doctor for the hospital), having seen the reality of the attacks on TV, sadly loses his cool and has to be upbraided upon his return by his man: "if people like you lose hope, what are we going to do?"
The lovely eyes of little Mohsin, which Das so movingly shows us during key moments of the film, are there to serve as our camera, so to speak. Somebody justly says on IMDb that they are the eyes of the next generation and that we can wonder what the grown-up eyes who have witnessed such atrocities will carry along with them : "the seeds of revenge could have been innately planted, and being ready for improper indoctrination for further atrocities to be committed, some time in the future. It's extremely difficult, but not impossible, to break the stranglehold that violence begets more violence". There is a scene where Mohsin shuts his eyes: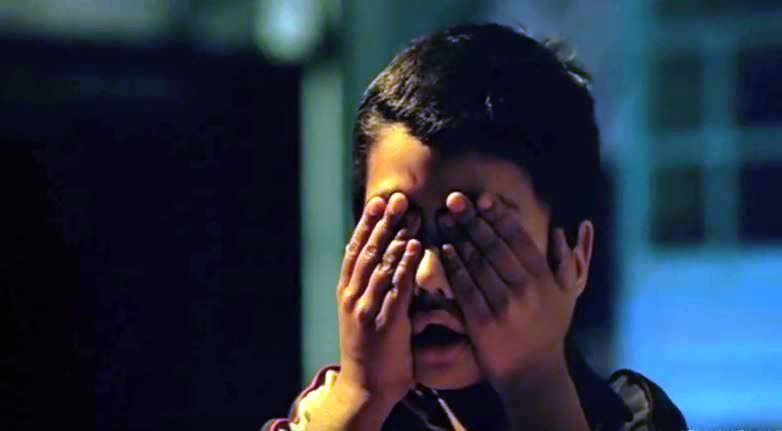 Isn't this the gesture which, in itself, in its protective and "innocent" way, is to be understood as the very antithesis of the Big Brother theme of the film? Anu fears this targeting of Muslims might be the totalitarian trend which the state is choosing: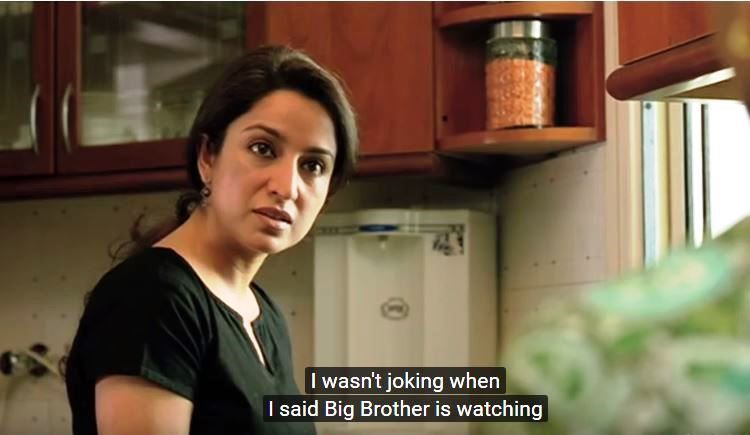 If Muslims and Hindus were blind, wouldn't their cohabitation be simpler, in a way? Okay, it isn't only a question of appearance, of wearing a bindu on your forehead, a sari or a skullcap which will identify you as member of a particular group. But seeing is such a powerful function that it simplifies human reality; it gives users this "first impression" which can be so detrimental to real knowledge. It's no mistake that TV is so commonly shown in the film: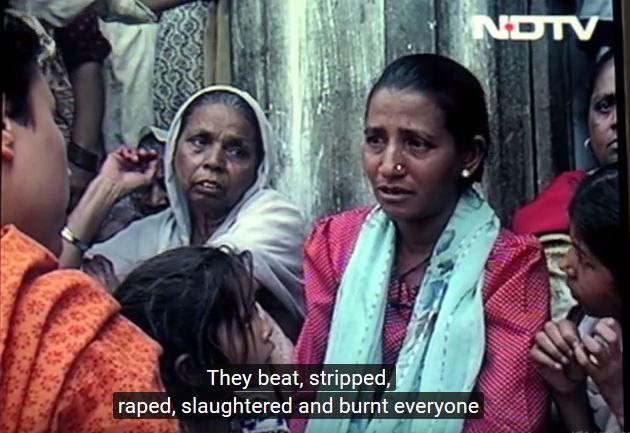 through this tool, people are led to believe they "see" the reality which their physical eyes cannot actually contemplate. TV distorts what real eyes already simplify in terms of what there is in front of us. TV leaves outside the screen what programme-makers want us not to see, and magnifies what they want us to react about, and most of the time, worry about. This is plainly the result of what happens to Khan Saheb. When he sings, the music teacher closes his eyes; his pretends that TV isn't very important, that hearing is better and more important: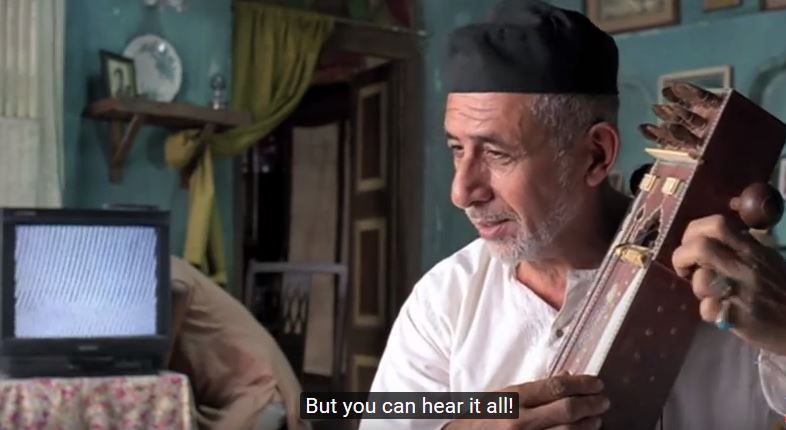 Fear is often a direct product of seeing. In normal circumstances, fear is a positive feeling: we feel it when danger threatens us; it makes our adrenalin increase and stiffens our muscles for reaction. But when it is created by an unknown force which you cannot judge by yourself, in other words, when you are manipulated to feel this fear, then it takes hold of you and you are trapped inside your fear. This creates distrust, and in turn distrust breeds hatred and violence. This is why the debate with Sameer at its centre is so important: Sameer finally decides to stay, to stop hiding.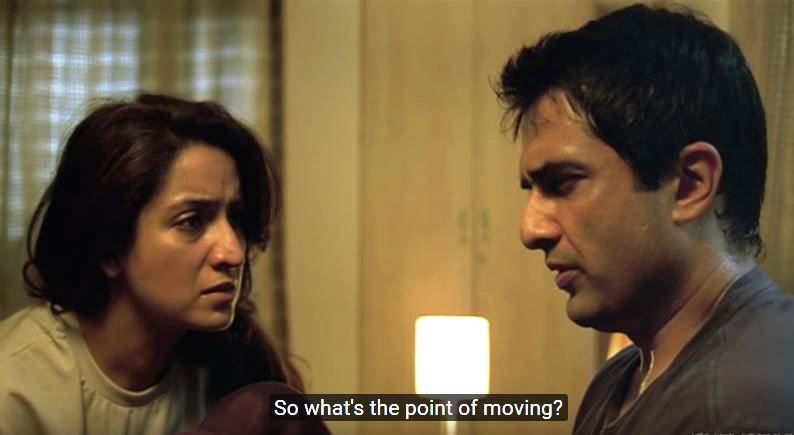 It might cost him his life, but at least it shows people in front that fear cannot be all-powerful. Up to a certain extent, the right amount of truth stops the spread of fear, which is based on ignorance, an ignorance created by seeing only part of the picture. Another message from the film is that art (here music) will also be a source of understanding and human creativity. This is naturally the case of cinema too.