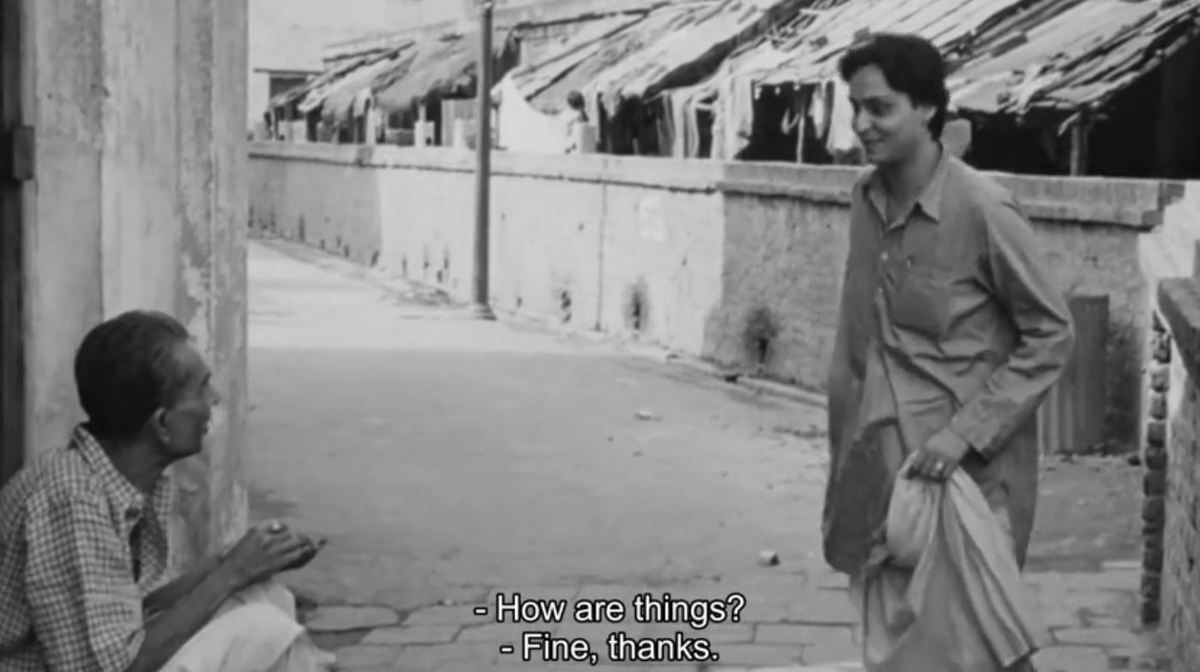 Last addition to a programme begun 10 years ago with Pather Panchali, here are a few words about the trilogy's n°3 about which I'm sure that nothing has been left unsaid (check story here). It's a vision of tenderness; centered around the character of Apu, whom we must suppose is the now grownup little hero of Pather Panchali; it follows his maturation process from the Krishna-like, blissful idealist who just lives his life without asking anything more from it than fresh air and freedom, to the responsibility of fatherhood, which admittedly is only foreshadowed but nevertheless clearly indicated at the end.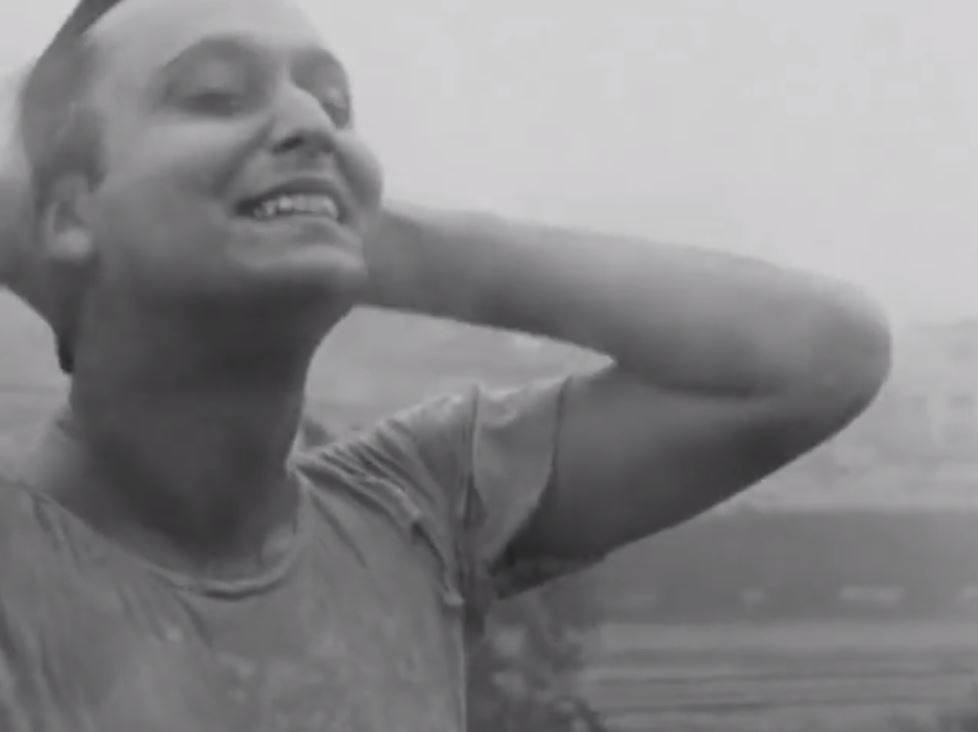 Apu is weighed down by no wrongful desires, no disillusions, no thwarted hopes; he just floats through life, free as cloud, occasionally called back to reality by a quizzical landlord and a frowning friend. Ah, there's also this fascinating sea-elephant face looking at him in the bus (3 cheers for Ray's curiosity of human faces!):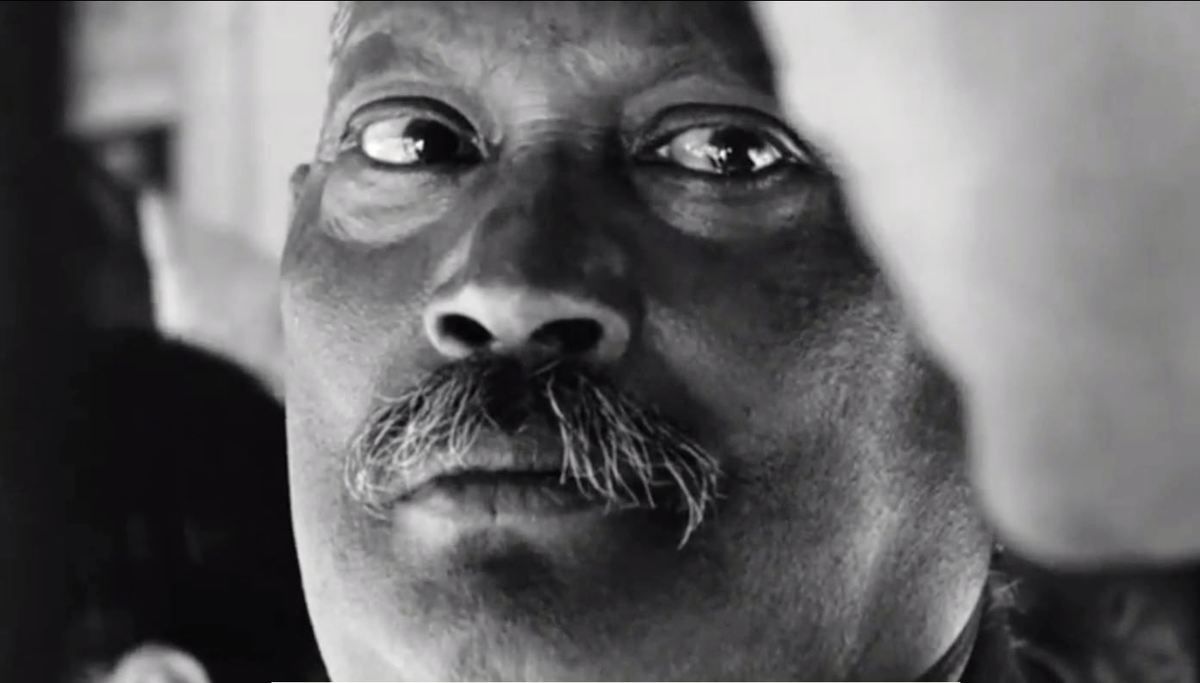 Soumitra Chatterjee as Apu strikes as wonderfully malleable, beautifully innocent: he's the main source of this tenderness we have evoked, a tenderness coming from his essential simplicity and candor, noticeable even in his tantrum-like disappearance when his young wife (Aparna) dies and he doesn't want to shoulder the role of father. His friend Pullu, who feels he must bring him back to his responsibility, finds him out, and as an excuse for his disappearance, Apu tells him:"Aparna died because Kajal was born". The puerile artlessness with which this is said testifies to his character's fundamental naivety. Even in his foolish shirking of his parental duties, he retains an innocent fragility, an absence of guile that forgets any need for self-justification when he's faced with the boy: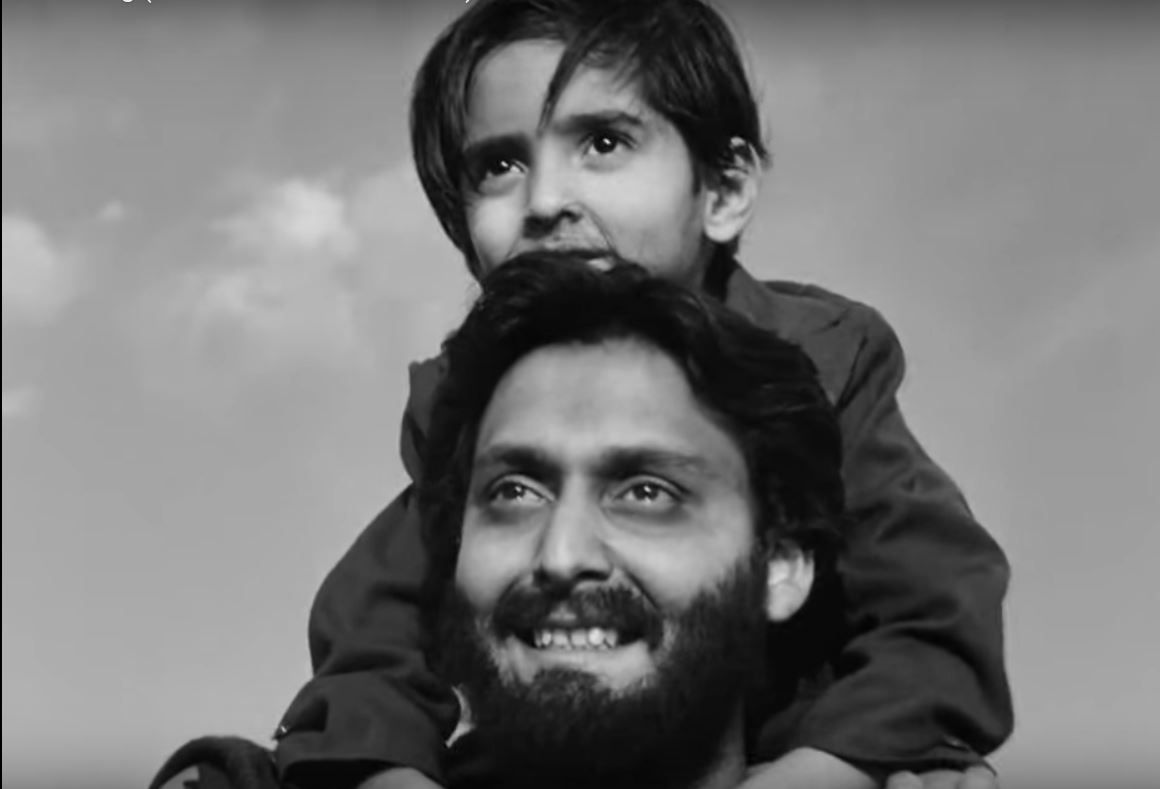 It's true he does hesitate, and it seems that at that moment he's faced with another himself, an object from his own memory, perhaps his own childhood?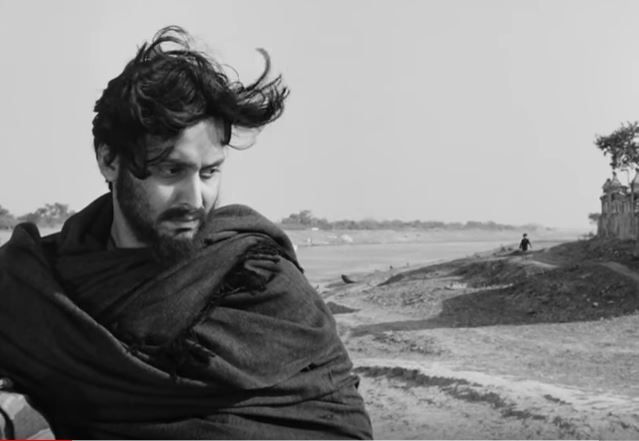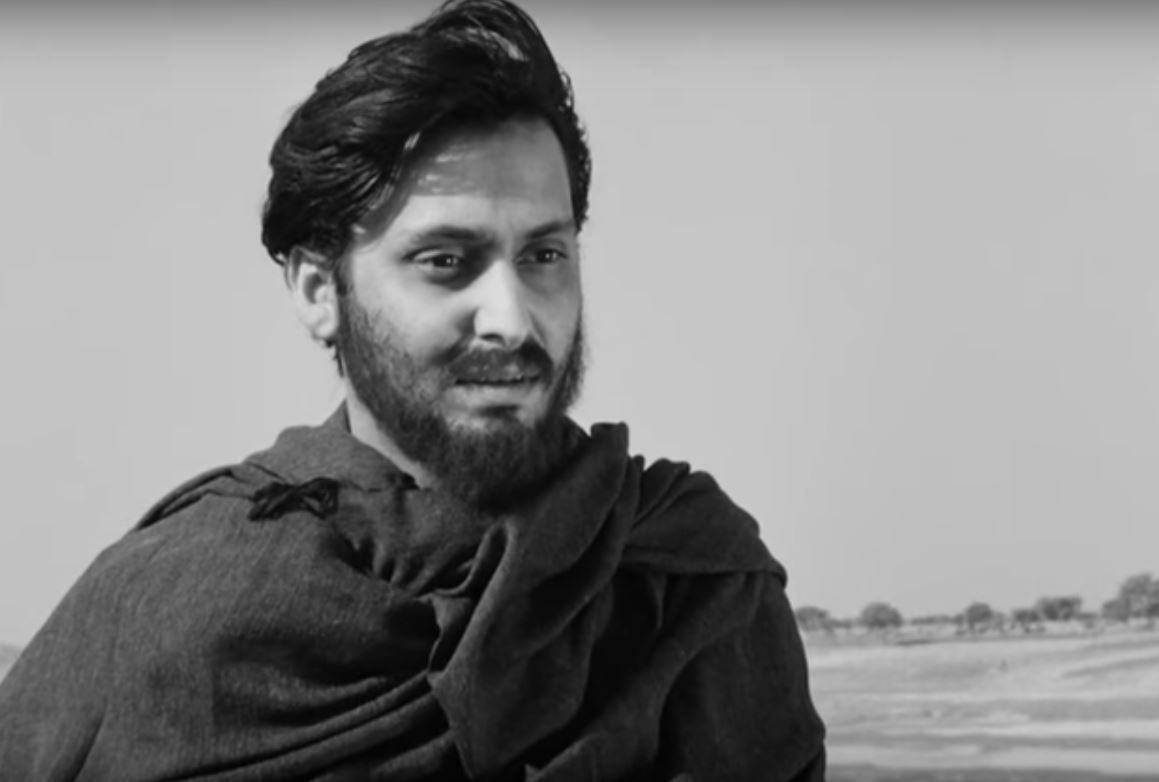 It's a cliché, perhaps, but such a cliché belongs, it seems, to situations which one doesn't believe that "something so right" (to quote a song by a Paul Simon) might actually happen.
The other marvel is the silent and mysterious Aparna (Sharmila Tagore, superb - she wasn't even 13 for this film), who isn't just a marvel because of her statuesque perfect features: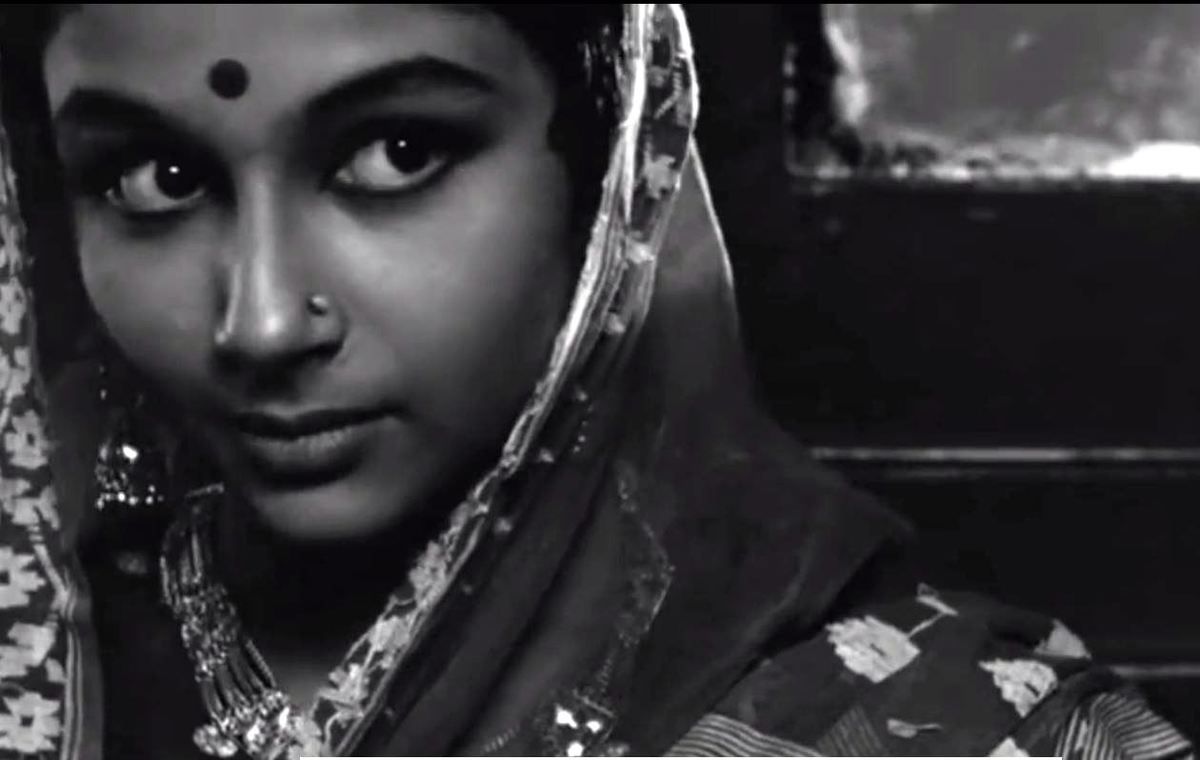 she's a marvel because she too belongs to this same world of innocent creatures which a benevolent God has nurtured for his delight. She could have enjoyed a high-class union in a rich family, but she settles happily for an impoverished status with a penniless writer! It seems she understands where true values are to be found, and this creates a deep feeling of freedom and grace.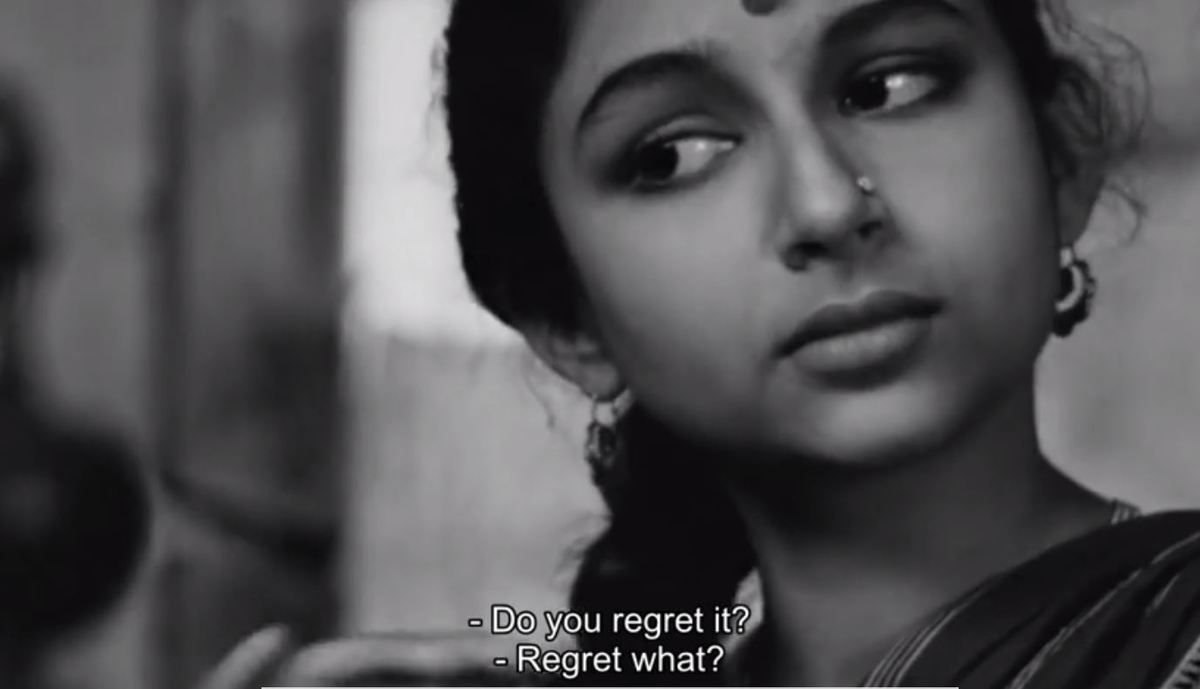 Here we can see how young Sharmila Tagore was (12 and a half)
It creates also a retrospective humour, if one remembers the short and delightful exchange between Apu and one of his neighbours at the beginning of the film: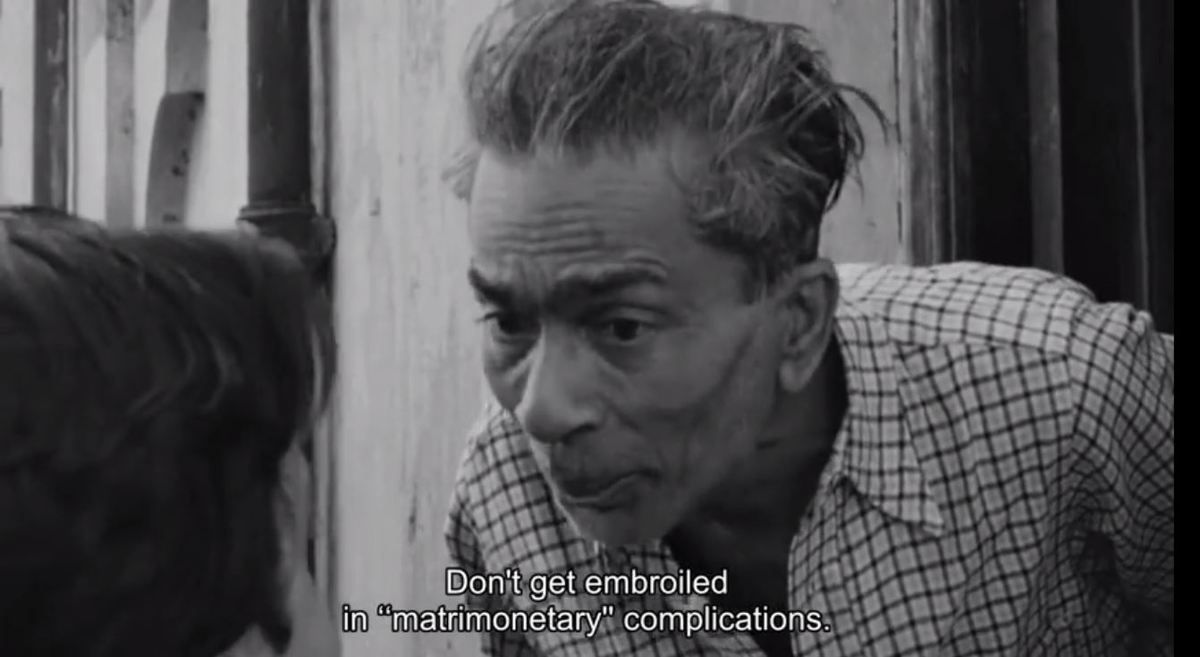 So it's wonderful that Apu has actually been chosen as groom for this young girl - her promised husband is seen to arrive to the bride's house in a state of mental disorder and the mother locks up her daughter! - but what's glorious is that Apu's presence is unplanned, and so gratuitous, turning an arranged marriage into a work of chance! One of the film's best-known moments is the scene of loving tenderness when Aparna asks Apu (worried because he can't pay for a maid to look after her) if he might not come home earlier, so she'll have nothing more to lament about: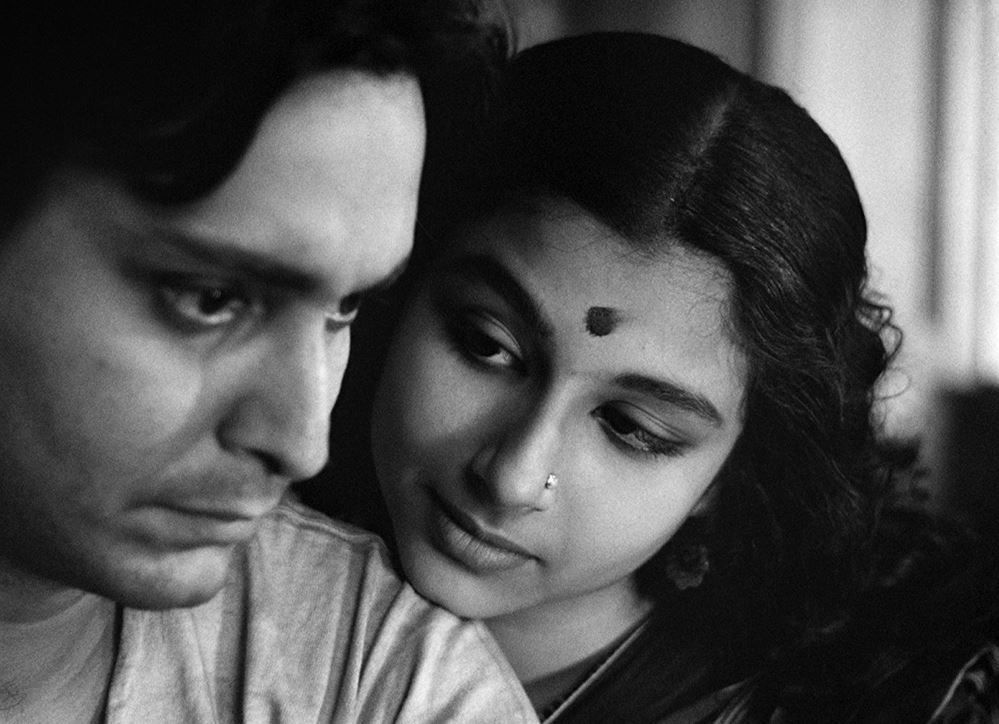 There's a sense of protectiveness that pervades the film, a sense that nothing bad can happen in this world of peaceful serenity, far from sin, perversity and violence. At one stage, the two go to a theatre and watch the young Krishna in prayer: evil monsters can't touch him and back in awe of his presence: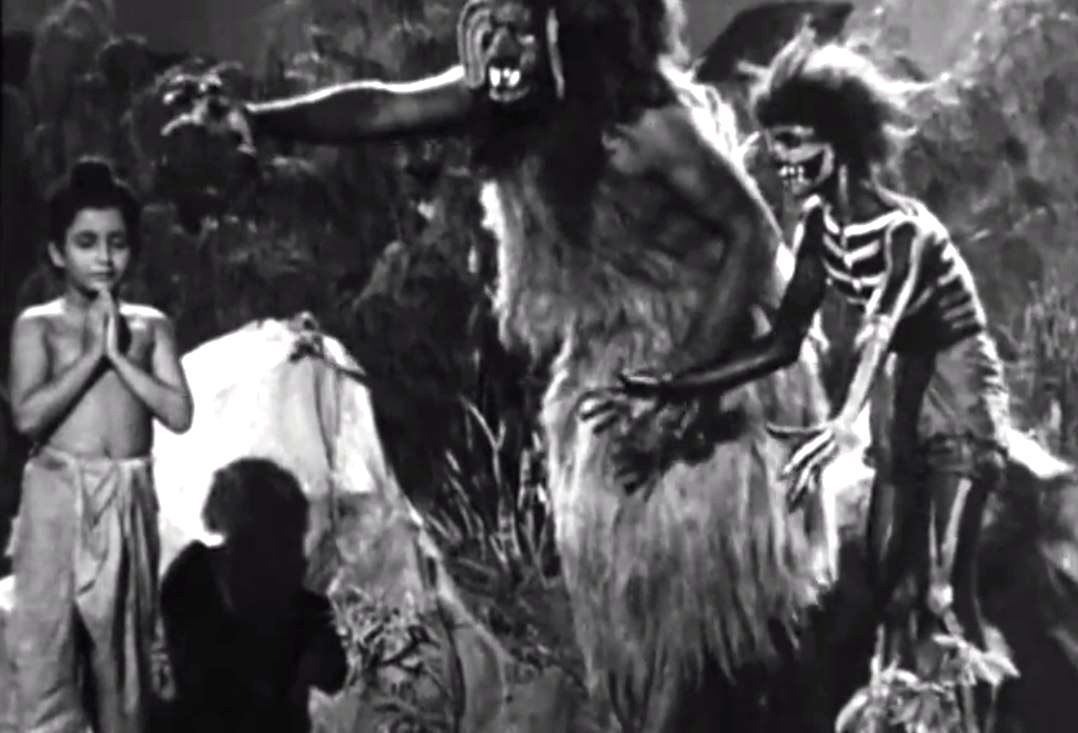 And so even when disaster happens, when death occurs with all its blast, the order of things hasn't been touched, because such a death belongs to it. It cannot spoil the beauty and simpleness of a world meant to last eternally. Of course, Apu is shattered: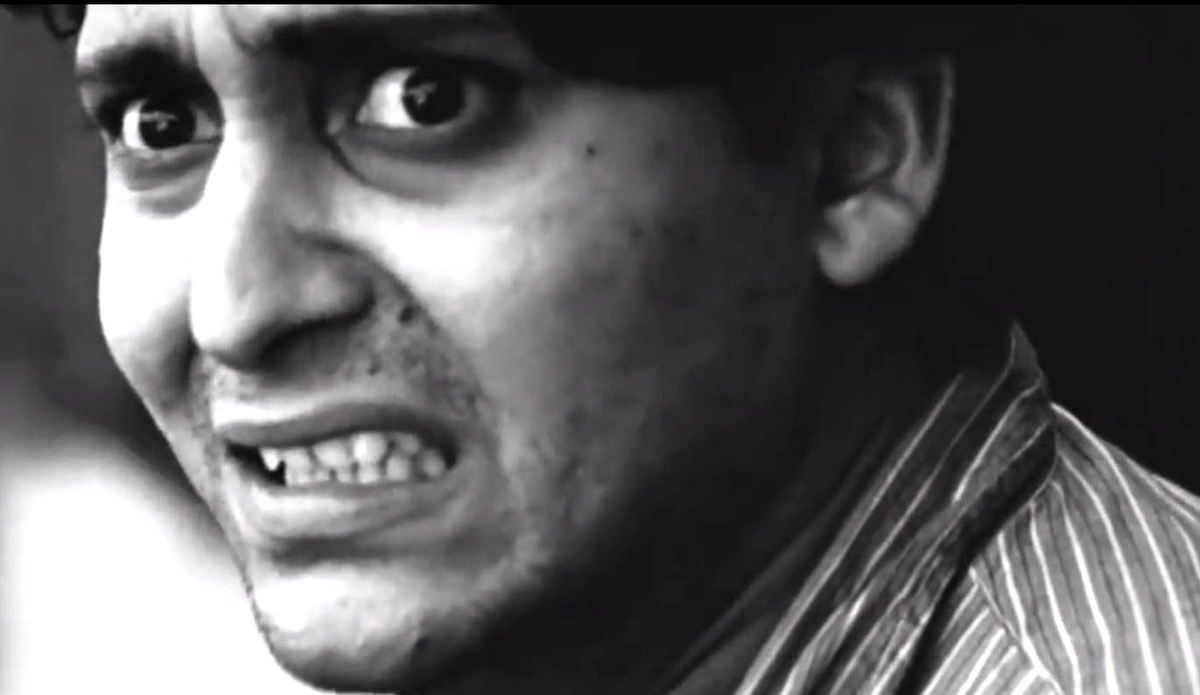 and he recoils back into the womb, of which the forest he used to be familiar with when a boy could be a sort of image: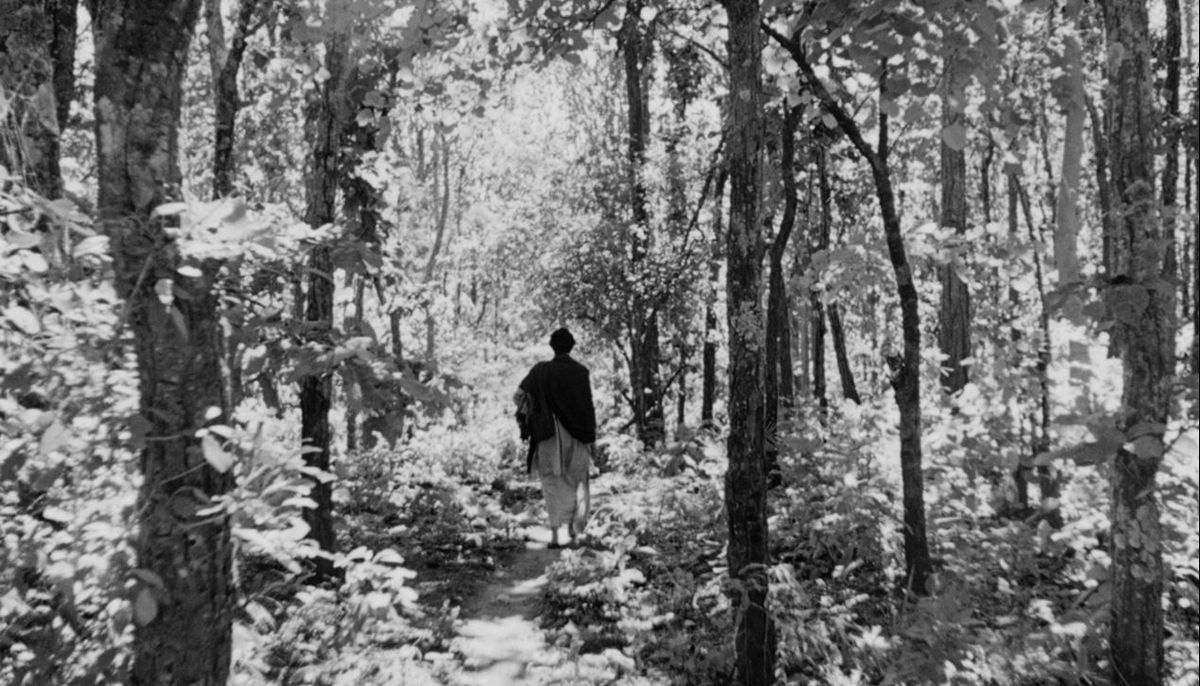 Yet nothing has changed, Aparna's beauty and glory have not disappeared, they have just gone to inhabit another body, the cycle continues, and joy sings its little song for all those whose heart is attentive to it.