Saif Ali Khan: the Indian mafioso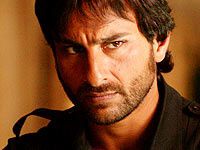 I have always liked Saif Ali Khan, ever since Kal ho Na ho, in which I first saw him squint and sidle towards the camera, like an Indian Mafioso, with his Italian airs, his raspy voice. He was a welcome difference from the Salmans, the Shahruhks, and I immediately enjoyed his half-confident way of acting. Saif has been educated in England, at Winchester College, and I read that he had trouble with Hindi upon returning to his native country. Had he noticed that his general outlook had a Western element about it? Well, whatever, what is true is that he has now arrived at a star-level where he can sell a film, even mediocre films (recently Ta ra pum pum) on his good name. He has quickly adapted!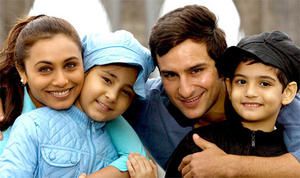 One thing which is part of the Saif persona is his ability to be accepted by the public for both roles of baddies and goodies. This ambivalence is a sign of his cleverness, because thus he can appeal to more producers, and also seem more credible with the critics. It's true that his looks favour this attitude: he's got this sombre, romantic face which perhaps can impersonate better characters with a dark intent. His general outlook goes rather well with what we expect villains to look like! Even in films where he plays positive roles, he's not always as 100% likable. Worth mentioning are of course Parineeta, and also Dil chahta hai, and Hum tum, among the films I've seen. He's said to be very good in Omkara in a baddie's role. Kya Kehna was a poor film, I found, but that wasn't Saif's fault. This ability to play good and bad roles means also that he can probably express certain emotions better, unless it's the other way round (his versatility is a sign of his ability), as many spectators and critics have underlined.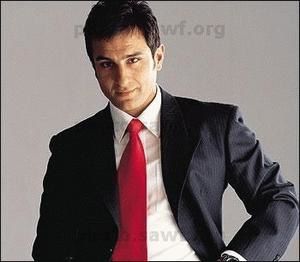 One last thing about SAK: I think he is well appreciated because of a combination of qualities: a certain fragility, mixed with a dose of self-consciousness, a lovability which comes from the fact that he's not a n°1, or doesn't insist he is one. In Kal ho na ho, in Dil chahta hai, he's accepted to play n°2, or even n°3. This flexibility enables him us to feel closer to him, in spite of his "noble" origins (he's the heir to the "Nawabs of Pataudi" – what that means in terms of social image in India, I'm at a loss to realise, though). I don't particularly enjoy the fact that he half-consciously tries to appear as hulky as Salman (some directors make him undress…), and as rebellious as Shahruhk. But it's probably unavoidable, and again, even if it betrays their influence, it reinforces Saif's humanity, shall we say. Here's a guy who's like us, who half-heartedly follows the examples of those in the lead, who is telling us: I too am not so bad, I too need you spectators, I too want to make good films. And it works, he's as good as them, if not better. And, just like them, as a result, he now has to fight the demons of that superiority complex which success and talent often give to good actors. For me, Ta ra pum pum was a sign of that possible shift towards self-complacency. So beware, Saif, and remain vulnerable, remain unsatisfied!