Publié le 26 Septembre 2007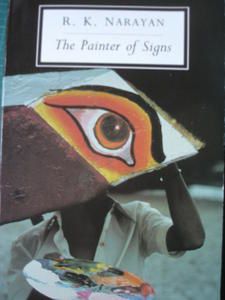 R.K. Narayan's "The painter of signs" is a real pleasure to read. Set in the imaginary Southern Indian town of Malgudi, this novella captures the mind by its evocative aloofness, its lighter-than life clarity. It is the story of Raman, a sign-painter, who prides himself on his rational attitude in life, when so many of his fellow-countrymen are bigoted or ignorant, and of Daisy, a young and pretty Family Planning activist, who will out-rationalize him, for she pushes to its extreme consequences the belief that India is home to too many Indians, and she has devoted her life to limiting their numbers by birth control.
The meeting of these two is first charming and refreshing. He has fought against many previous proposals from would-be wives, and is proud of his freedom. His business is not a very flourishing one, but it's decent enough for him and his old aunt. So when he falls for Daisy, and so easily, we wonder: what sort of man is he? Perhaps she's like him, because she too is single and defiant as far as men are concerned. But she does seem to appreciate him, and her very rare moments of interest for him are all the more tantalising. And so the first part of the story is a pleasant trotting to and fro, from his house to her office, waiting safely enough for the progress of an attraction that we know is going to materialise, but how?
Then when Daisy employs Raman for her project birth control campaign trip to the villages in the mountain, it's another atmosphere, full of the annoyance of figures, reports, speeches, all aimed at making unrepentant villagers realise that they must get sterilised or else. Less charming atmosphere, I thought. And even less charming, but perhaps more puzzling for the plot to see the lovely Daisy in charge of this almost military Plan. Naturally, even if Raman is against too much married life in life, he is not exactly pleased to hear his employer and beauty queen going on about the evils of thoughtless procreation. Procreation has positive sides, thinks he. But during this mountain trip, he is less and less encouraged, and yet is more and more in love!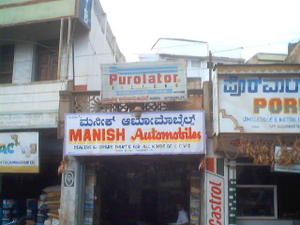 I won't disclose what happens between the two. Yet this little novel, which has so many shining qualities, disappoints. It doesn't really have a clear intention, I thought. It is probably not long enough (143p in the Penguin edition) to explore the confrontation between the two characters as fully as necessary. Its strength lies in the very sound characterisation, and the evocative ambiance of Southern India, its climate, its culture, its people. But the story itself lacks a certain purpose, a certain message. Maybe you can't expect as much from a novella, and the achievement is already very good (RK Narayan was also a short-story writer, and this particular talent seems to show in this work). But precisely because it is so good, one would have wanted it to be perfectly rounded. I'll have to read other books of his!
The story would certainly make an interesting movie on the other hand, and I can easily see Akshaye Khanna or Ajay Devgan as the free-thinking Raman. Perhaps Aishwarya Rai would fit in with Daisy (if one doesn't mind a fair-skinned heroine for a Southern Indian woman), because she can be as cool as she is beautiful. Daisy would need an actress who isn't too warm-hearted!