Madhuri Dixit: Bollywood's cannibalism
Publié le 27 Octobre 2007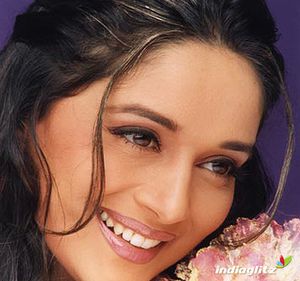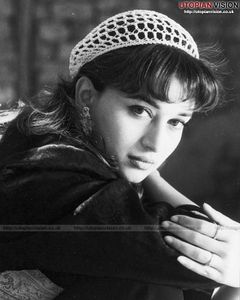 I am thrilled to say a few words about Madhuri Dixit. And not only because we are in an expectant Madhuri-comes-back period, with Aaja Nachle in the wings. Ever since I saw her in Devdas, where she outshines Ash Rai (well, a few more words on this later), I never think about her without that special feeling: what a woman, what charm, what femininity. She has something of Meryl Streep, a tinge of Monica Bellucci, even of Sophia Loren! (below, with the hat, wouldn't you say?) Or perhaps it's the other way round: these immortal beautiful faces remind us of Madhuri?! Do you remember Sudhir Mishra's Dharavi? She is the "Dreamgirl" in that film: well that's it, part of her is in that realm, detached from reality so to speak, a pure product of cinema.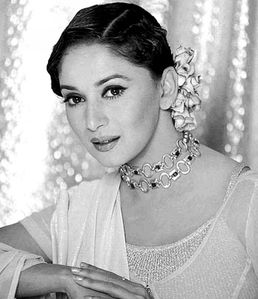 But no, she's also a very real kind of person. What strikes me first is the warmth of that face, its glowing warmth. It's the brown eyes, their womanly presence that is felt when she is pleased (and then it's rapture) or sombre (and then it's danger): she's a woman through and through. If she loves you, she'll fight for you like a tigress; if she despises you, one look of hers and the world crumbles, her beauty turns to stone, and you have a pillar of hate in front of you. Her expressiveness is total, and yet, you sense so much more behind. There are feelings she will hide, for she is ever a seductress, ever a queen who has to ascertain how much power she has at her disposal.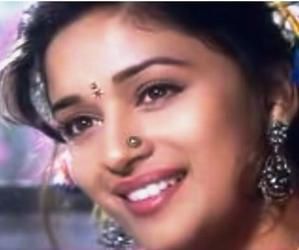 Young Madhuri was like the froth of bubbles out of an alpine fountain, it was pure song, pure freshness. Or otherwise she was a sensuous fire, full of smoke and sparks. This is how I saw her in Dil, or Prem Granth, for example. More enthralling than that, I don't know! But what I now feel about her, what I now like about her is a much richer mixture of respect and attention. Everything she's been through comes into play, those ups and downs of fortune, her marriage far away from home, her affairs with other men… All this composes a picture which is endearing and moving, a picture of life, with this wonderful woman in the middle, full of her successes and of her failures.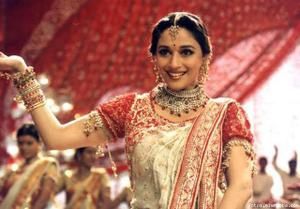 It seems all this is expressed in Devdas, in her character of Chandramukhi, the object of so many men's desire, and yet with a heart, a need to love and be loved: somehow this corresponds to her figure as the queen of the 90's. I have pointed out elsewhere how much the prostitute is a core figure of our civilisational process. It works here too. Chandramukhi defends herself by showing how much criticism levelled at her social status is in fact a criticism which should be directed to society as a whole, for the Whore is nothing more than the embodiment of men's deeper desires. She is nothing but a projection of men's nature. And she is in the best position to denounce the hypocrisy of a society which objectifies women. In front of Paro, who walks draped in her righteousness (until she understands something of suffering), Chandramukhi is the eternal woman, she's Venus and she's Mona Lisa. She finds love and knows how much love traps you, but she clings to it, because love also frees.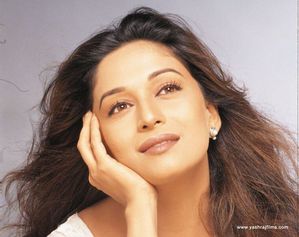 Madhuri Dixit testifies to a phenomenon which is rather frightening: Bollywood's cannibalism. Bollywood needs a fresh beauty every ten years or so. For instance, there was the reign of Rekha, then Sridevi came along, then Madhuri, then Aishwarya, and the rise of one meant the demise of the other. Today, there is more money, more exposure, more sophistication, more competition, so perhaps it's a better period, but in their various circles, the ladies are still as dearly bought. Their looks and youthfulness crown them, they shine and reign, but as soon as their light start to fade, and a new star shines brighter or with a different, more appealing lustre, they must suffer their lamp to be put at the back, among the accessories. The industry needs a regular ration of beauty (and sexiness) to feed on, and it's hard work for talent to disprove this rigorous law. Madhuri has fitted this circle very effectively. She understood how it worked, she took advantage of it (money-wise too), and so today she's probably satisfied: not all beautiful girls make it for a brief canter at the top!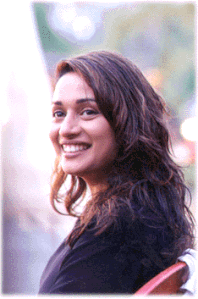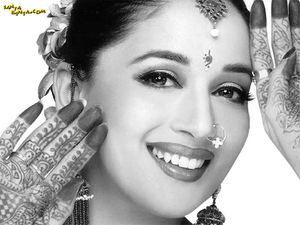 So what of her "come-back"? It will change nothing, of course. At least, I fear it won't. I'd like it if Madhuri could continue a career the way male actors do. At least, that's what happens in Western cinema. I'm afraid mainstream Bollywood is still a victim of the special appeal of beauty and youth, and apart from phenomena such as Amitabh Bachchan, there are practically no older actors or actresses who make it in the leading roles when they are past their prime. Can Madhuri rise again? At 42?
I realise I've said very little about her films, her acting, her dancing! That's what she's renowned for, on top of her looks. Well, I just need to say that she's quite good. I have in mind Dil to pagal hai, for instance, a blockbuster which I found extremely shallow, but never mind, she plays Pooja quite convincingly (as does Karisma Kapoor, BTW). In Hum aapke hain koun!, there are glorious moments of comedy and fun which we owe to her lively teasiness. Her dancing is sometimes too stilted for me, but perhaps I'm not the best judge.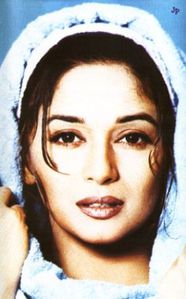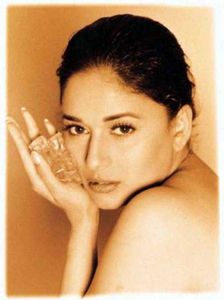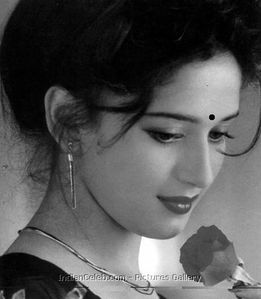 I'm briefly coming back here because I happened to have read a real cool post on Queen Mads: it's here, on Pitu's great Empire! Go and check it out!!