Aamir Khan, mister perfectionist
Publié le 6 Décembre 2007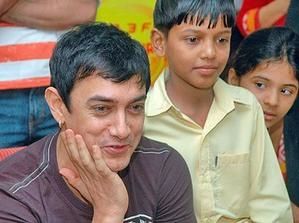 Let's start by saying I don't like Aamir Khan. I don't like him because he's bossy, because he's arrogant, because he's superior. Somehow I never feel at ease with him. He makes me tense; he obliges me to rise to his level, whereas I prefer actors who descend to my level. I have the feeling that I'm always asked to notice how good he is. Perhaps this is due to his reputation: he's famous for concentrating on one film at a time, refusing scenarios that don't have any content, involving himself in his roles totally, and even if this attitude should normally speak in his favour, it still doesn't work. He's too elitist, probably, too proud. And the fact that this superiority goes along with what I'd call a personality cult (he's got all those Aamir Khan blogs you know) is a sort of confirmation that he's grinding an axe: perhaps that happy go lucky Bollywood that is so lavish and just for the fun of it? One more thing: when I watch him in most of his films – the ones I've seen at least – there he is, aggressive, virile, ironical. And you can't escape him, he's got the main role. There just isn't enough self-humour and he takes himself far too seriously. Perhaps it's a sign of immaturity (I was going to write: immunity!)? But he's already 43! We rarely see him in a negative light, let alone a self-pitying one. Rather he has his image to uphold, his manly task to do. Then again, perhaps it's my problem: I don't fancy too much manhood. That manhood.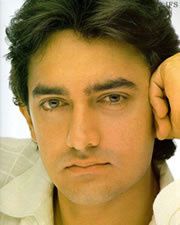 Okay, so now I've spat all my venom, let's see if I can be more constructive… Aamir Khan. As a westerner, I should like this guy. He's hard-working, dedicated, he tackles serious issues, he's done good films, he's not interested in money for the sake of money; he doesn't do masala and all that cheesy sentimentality, that gaudiness (although when he was younger, he dappled in it aplenty) (that's probably my secret grudge, I like all this myself so much!!!). One might say he's grown into a respectable actor and director. Being choosy about what one does in Bollywood is so rare that it has to be noted. He's modern, reachable, he believes in himself and he takes risks. He's a versatile, clever little man who has not only acted and directed but also sang as a playback singer and produced his recent films.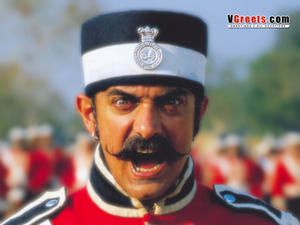 One thing nevertheless that I am still worried about is, why don't we see him in movies alongside other male stars? I looked for him in that funny all-stars sequence in Om Shanti Om, but I didn't see him, nor do I remember seeing him in other Unbelievable Worldwide tours next to the other Khans - Saif Ali, Salman, Shahrukh, you know, all those boisterous, superficial, muscle-flexing machos. Okay, he's with some of them in Dil Chahta Hai, you nailed me. But in that film where he condescends to be with Akshaye and Saif, he's that brooding Akash who doesn't believe in love! I admit he plays quite well, you can't take that away from him, but precisely, what a symbolical role. Chosen friendship, and then love, but grudgingly. How far this all seems from the colourful, unrestrained, wider-than-life fantasy of so many Bollywood extravaganzas! And yet Aamir can have fun! He can dance and sing, and rave. But he must be at centre stage! I realise that this is in fact quite typical of the hero-oriented Bollywood mainstream. Yet I think Aamir needs this position more than others, whereas he strikes me as capable of shining without asking for it. Given his comedian's skills, he could safely grace any film without necessarily lording it all that much.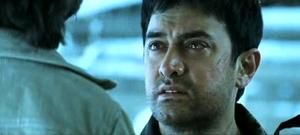 Aamir is a perfectionist; we read this all the time. He's a real professional. He's interested in the important issues, and probably he sees his career as a mission. His culture, his country can benefit from an intelligent and committed activist like him, or let's say that anyway, he has things to say to address the problems he feels deeply about, and he's using the cinema to do that. Fine. Let's take the example of Rang de Basanti, by Rakesh Mehra. The film has lengthy, cliché bits, but it undoubtedly tackles real problems that plague modern India, and it does so in an original way. That Aamir is part of that significant way of joining an understanding of the past (thanks to acting), to a consciousness of the ills of the present, that's a sign he's definitely choosing his films well. His involvement as producer in Lagaan is also interesting. Not only is he (as actor) a powerful mouthpiece for Gowariker who is clearly addressing some of India's social problems (cf. Swades), but he (as producer) enables the cinema to be reckoned as a political weapon. In Fanaa, by Kunal Kohli, he puts on a very good show too. He's first that bratty tourist guide who half-heartedly falls for the innocent blind villager girl, and then he's that hardened nationalist or ideologist who must deal with the moral problems of being also a father and a husband. He's sometimes betrayed by the film's contortions, but on the whole, he's very believable, and his performance is great.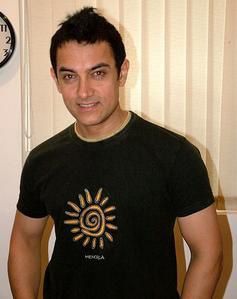 So I think now I'm bound to say that he's a good actor, even a very good actor, by Bollywood standards, and not just an actor. He's an activist, an intellectual and even if he does all this by trusting himself and his image more than I appreciate, I can't really hold it against him. That's what they all do, only they don't all have his talent and his determination. They have a better sense of companionship, on the other hand. Aamir Khan's Bollywood is a militant Bollywood. He refuses to let people go back home and bask in the pleasure of complacency. He's a questioner: what India do you guys want for tomorrow? His recent directing venture, Taare Zameen Par, might well ask this question once again, being as it is centred on children and education.