Socha na tha, a successful little romance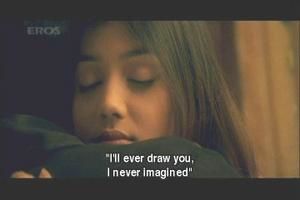 As boy-meets-girl Bollywood stories go, well, I don't know whether I've not seen the best so far (1)… Socha na tha, directed by novice director Imtiaz Ali in 2005 (he's done Jab we met since), and starring beginners Abhay Deol and Ayesha Takia shows that you can walk in among your peers, be influenced only by the good things, and beat them in terms of result! What's rather nice about this photo-story (it's still a photo-story) is that it has a good realistic plot, which no absurd coincidences are going to solve, and even if I did tell myself: "they're bound to find some sort of a solution to extract themselves from the mess they've put themselves in", I actually was pleasantly surprised at the scenarist's talent: I almost thought once that the film could have ended sadly!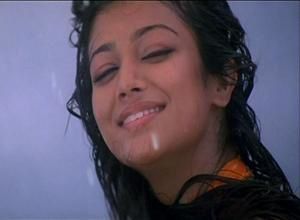 Let's say also that one of the film's indisputable charms (for a guy, that is) is the young delicious mademoiselle. Ayesha Takia (Aditi) must be every adolescent's dream, she has that cuteness, that girlish femininity which I am sure I would have marvelled at, at that age! When she closes her eyes, her perfect features make one gasp slightly, and when she opens them, there is a warmth, a smile in the hazelnut jewels… It seemed to me that she couldn't stop smiling during the first half of the film, as if she was so pleased at actually being there in front of us! So, some self-consciousness, but on the whole, a very pleasant sight. And I found Abhay Deol (Viren) quite all right, too. A little self-conscious too, but once you get accustomed to it, it doesn't show too much. The rest of the crew create the right impression of middle-class society.

For those who want the story: It's that of Viren, a spoilt son of a rich industrialist, who secretly has a relation with Karen, whom he can't hope to introduce to his parents because she's a catholic, and who falls in love with Aditi, that his family initially wanted him to marry. She asks him to refuse her, and he obliges. But they get along well, and they meet again. Then love happens. A series of problems arise when Viren's family decide to agree to his union with Karen (his first girl, remember?), and he lies to nearly everybody, trapped and incapable of facing the consequences of his choices - or lack of.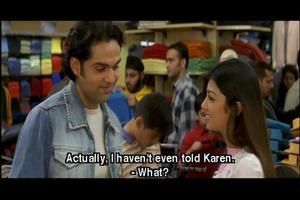 In fact the film interested me for its rather realistic treatment of a phenomenon which is rarely properly dealt with: dilettantism. Mind you, the film doesn't deliver any elaborate message as to how to address this behaviour, sociologically for example. It's just the movie's basis: some young men don't know how to deal with serious love. They see nothing wrong with letting themselves drift towards another woman when they are engaged to a first one; or lying to their family about their love-interests. So it is because of Viren's rather common dilettantism that everything gets screwed up. The film is not very strong either in that his young lover doesn't reproach him very keenly with his double-dealing, whereas she knows he's running sentimental risks. But he does get adequately exposed and punished for having wanted to lie and hide the truth; there is no machistic escapism for once.
So I don't really agree with Amodini when whe writes: "the film is rife with the "boys will be boys" outlook, where rudeness, and weakness of character in the hero, still make him a "nice" boy." This is what we have in DDLJ, for example, but not really here, precisely. When Viren is cornered, and realizes his mistakes, he first flees, and then faces the truth, and the weak and stupid guy he has been. Agreed, a stricter logic would have been for Viren to be punished and lose. But precisely that logic is not as strict nowadays. And, in that context, Viren's punishment is rather exemplary, I'd say! Also, it's filmi, isn't it, and considering, there's no goon-bashing in the film, no vulgarity, there is a pleasant description of family realities (the babhi as intermediary, who accepts to play her confidente role, but only to a limit), and a welcome level of humour (no unnecessary clowning and pitiful fooling!)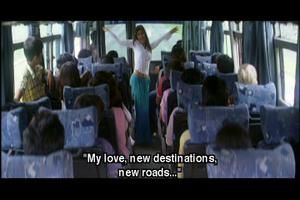 (1) Well, as I read this article over just before posting, I realize there are some which I still do prefer, like Chalte Chalte, and I'm a fan of Aa ab laut chale!