Ayesha Takia: in search of her soul!
Publié le 11 Février 2008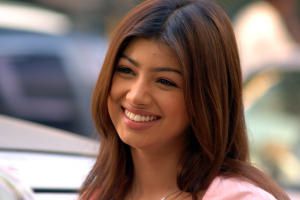 One might say the 21 year old glamgirl called Ayesha Takia is rather young to be commented upon at great depth; one would be wrong, because there is a great deal to be said about and around her. Let's start with the beginning: a few months ago, I wrote this article about Sex and Bollywood. And two of the photos I found to illustrate what I had to say on the subject were (perhaps a hasty choice?) of Ayesha Takia in very suggestive poses (little voice: nothing hasty there! Lots of preparation). No nudity, mind, but we all know that sexiness goes much beyond skin exposure. In fact, true eroticism needs clothes to suggest what an exposed body can't do, because it doesn't hide anything anymore. So, anyway, in my mind, the young lady was henceforth categorized as not much more than a bimbo. So when I recently came upon Daddy's girl's blog speaking about her fascination for Ayesha, I exclaimed: "has she got a soul?"… "Of course", said DG. And so I started on my quest for her soul!!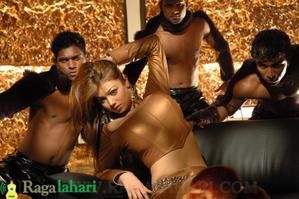 First stop: Socha na tha. In that little movie, that I quite appreciated (I admit: so did I), she's a serious young woman who tries to live her life the best she can, and knows that she's doing something she doesn't completely approve of when she lets herself fall in love with a boy who's already somebody's boyfriend. But, like all of us, she half-lies to herself, as we see when she defends herself in front of her parents, and at the same time, she's truthful: she could stop this pleasant relationship, and she does, in fact, when she sees it's becoming too complicated. Ayesha Takia plays reasonably well, and the way she deals with her character shows a personality which certainly is not that of a sex bomb (again, have to admit it). This is corroborated by what she says herself:
"I cannot do what Meghna Naidu, Mallika Sherawat or Neha Dhupia did in 'Hawas', 'Murder', and 'Julie' respectively. Neither can I do a 'Girlfriend.' Yes, I can wear short tops and minis, but I would be uncomfortable wearing anything more revealing. And don't forget Bhagyashree and Juhi Chawla never did any bold and brazen stuff in their first ventures to get noticed. 'Taarzan' will get noticed, and then, so will Vatsal and me."(link)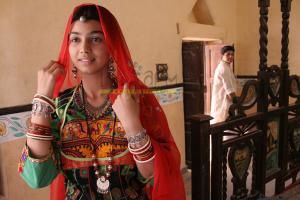 Then I saw her in Dor, another very nice film where her character is of course very far from any suggestion that she (or the film-maker, producers, etc) is using her body or looks to attract more spectators. She's in fact quite remarkable for an actress of her age, very confident, very convincing. She pulls off the difficult task of seeming both a widow, with all it means in terms of suffering and frustration in that region of India, and a girl who realises she does have a right to life and pleasure, that what she feels in spite of the guilt pressed on her, is not wrong at all. Her round face is beautiful only when she smiles, and without any makeup she strikes us as a rather ordinary young woman. What she says here is I believe a reflection on that attitude:
"There're things that I wouldn't do, like kiss and wear certain kinds of clothes. And yes that does put me at a disadvantage. But I'm very happy with the work that I'm getting. After Dor, I'm being taken seriously as an actress."
Her saying no to kissing, is however, causing her to lose out on parts but Ayesha says, "But I don't mind losing out on roles. At least ten years from now I don't want to look back and cringe at anything. I've a family and a boyfriend. And I don't want to embarrass anyone."
What she does in films – from what I was able to judge - is indeed in keeping with those words. But the pictures that we see here and there on the net tell another story (don't they, too!) :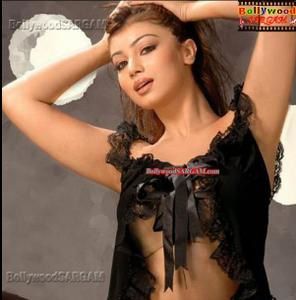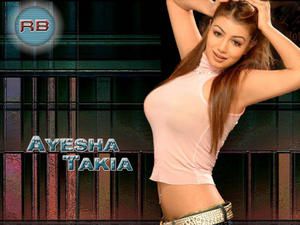 She has obviously accepted to play the game of submitting to the male dominated star-system. A system which needs her for example to add some padding in her bra… And needs to see her in positions and clothing that male fantasies appreciate much more (arched back, uplifted arms, etc.)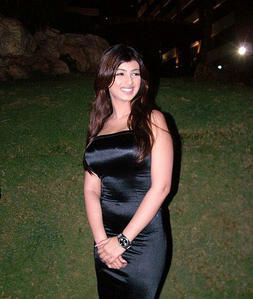 And so that's my examination: why does she seem to make such a difference between how she shows herself in films and outside them? Does she understand the impact she makes? (little voice: course she does, come on!) Is she blissfully unaware, or carelessly neglectful? One possible answer is that "today's values have changed". Witness what this article says about Preeti Jhingiani, in a discussion intended to explain the issue with Ayesha Takia:
And while this mum takes her daughter's job as just that, a job, Govind Jhingiani, Preeti Jhingiani's dad, feels that exposure in films is just a part of an evolving society. "There's a lot of skin show now as compared to the yesteryears. But change is a natural process and competition exists everywhere. Preeti has a flair for acting, so we gave her liberty to enter this field." But considering the fact that Preeti was the first one to enter films in their family, wasn't it difficult for her parents to give her the green signal? "Not having a filmi background puts us at a disadvantage actually. If we had connections in Bollywood, we would have known the industry better. Nevertheless, Preeti took an individual decision, and we decided to guide her," adds Govind. (Ayesha Takia Fan Site)
I believe there's some truth here. But I'd also say that, at barely 22, Ayesha Takia is still playing, playing with her image, playing with the media. She's looking at herself in the mirror, and enjoying what she sees, as much as all of us. She probably thinks there's no harm in playing the bimbo as she does in these photos. Let's say she's manipulated by our sex-ridden society, then, where skin and suggestive poses are trivialised. But on the other hand, saying as she does that she doesn't want to embarrass anyone and not wear certain types of clothes is rather naïve: she doesn't embarrass a society who is only too pleased to set eyes on her tight outfits and buxom shape! She's already started "adapting" to her public image, and pandering to the tastes of lusty males isn't difficult. Perhaps she's not consciously doing that yet, but in our star-obsessed media-run society, there are so many subtle suggestions and temptations that she can submit to without needing to admit that that's what she's doing! We can compare her to other Bollywood actresses like Rani Mukherjee or Kajol: they've not submitted to that level of "sexposure", even if it's of course a question of degree.
Bollywood is of the XXIst century, there's no need to deny that, and I have no desire to go back in time. I openly appreciate girls like Ayesha Takia, and don't see much harm to her attitude. But in her openly modern image, there's something of our contradictions that linger: we are satisfied with women's relaxed attitude towards their bodies, in reaction to centuries of male oppression, but on the other hand, we still recognise that there is something degrading in reducing women to their physical appearance, and fantasizing about some predefined shapes which dictate their measurements to young and old. The trouble is with all of us. In fact, we could even say the way Ayesha Takia deals with that contradiction is a rather refreshing one. She accepts to appear in front of the cameras and strike poses that men around the world will gorge upon, but she resists doing anything sexy in films. So much so that somebody has said: "she is the most decent girl in bollywood i know" (Ayesha Takia - Biography)!!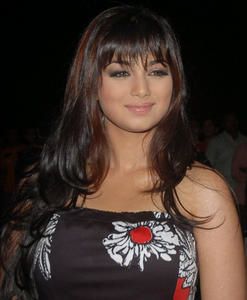 (yeah! we've finally found her soul!)