Manisha Koirala: the fallen angel?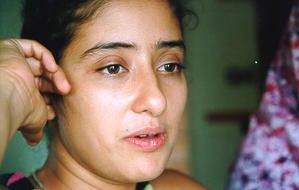 Like perhaps a number of you, I discovered Manisha Koirala in Dil se, by Mani Ratnam, and was attracted by that irritating mousy character of the terrorised terrorist, who with her distant but intense eyes tries to escape Shahrukh's advances, but not the spectators'. She's great in that movie, she has a presence, which is at the same time a distance; she teases, she annoys, she leaves you panting. I remember wowing! And a woman terrorist! So tragic… So all that sadness, that drama: that was my first taste of the Nepali beauty seen later in a number of other films, and sufficiently good ones too, to make me wonder recently how come I hadn't yet contemplated writing something about her.

Watching Ek chotisi love story not too long ago, I was also puzzled by the physical change that the ravishing actress of Khamoshi the musical or Akele hum akele tum had undergone. I started reading about her a little, and pulled some of the strands of a career which apparently has had a number of ups, but also a fair share of downs. I was interested in understanding what had happened. It does seem as if I am studying the phenomenon rather than feeling interested in the person, I agree; but I believe I am interested in her all the more.
Manisha Koirala is an intense actress. She throws everything she has on the screen, to the point that what she's left with, so to speak, is just a shadow. It's as if she loses herself in her roles, as if she was consumed by them. She doesn't look back; she plays with a dedication which is totally spent, which doesn't care about the future. In a way, that role in Dil se was her programme: once she has finished playing, there is nothing left; she explodes on screen and doesn't seem to have kept anything for her private life, which somewhat accordingly is also spent, and played to the full, day after day. I daren't say she has relinquished hopes of building some sort of conventional life apart from her career as an actress, but judging from her choices outside Bollywood, I'd rather admire her all the more if this was the case. Because this is not very Bollywood-like, in a way. So many actors calculate their roles in terms of the fame and money they'll be able to benefit from them. Manisha, I think, plays first and then grabs at whatever comes with the job. And of course her life is not in a very good shape, because she has not really given it a serious thought.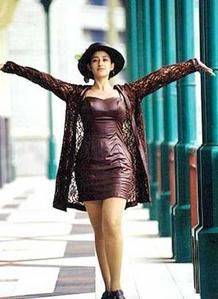 I do not know the reasons behind those drinking and weight problems of hers, nor whether she is more or less consciously going from one man to the next in search for a life and a love or whatever fulfilment she has in mind. It's not my business to inquire. What I like, in fact, in that pattern, is what I can sense, even if I'm wrong: a passion, an intensity, even a tinge of despair, which makes her all the more endearing. If I compare her to all those Barbie babes that today's producers are recruiting in droves, she's a failure. But all the more a woman. She's pathetic perhaps in that rush forward towards the excesses of life, and is rather the opposite of stars like Aishwarya Rai who has, it seems, carefully planned her life on earth. But somehow Aish's tidiness is too tidy! And compared to her (and to other much less noble-minded actresses), Manisha's unabashed provocative lifestyle has a greater truth: the truth that life on earth has to be lived to the full, with all its good and bad, all its best and worst. The truth that giving your love is the only thing which really counts, even if some more careful organisation secures it better on the long run.
All this should perhaps, on the surface of things, coincide more with a certain reckless Bollywood, where moral values are rare and the crowd bends the individual to its laws. But as the author of this article says, Bollywood is very conservative in its own way:
"For an industry that has constantly negotiated and pushed the boundaries of desire in its cinematic products, Bollywood is a notoriously conservative place: affairs are discussed with as much moral judgement as avidity; actresses who dare to turn 30 are immediately downgraded to playing the mothers of their erstwhile co-stars; stars with 'vices' like alcohol and drugs are gradually dropped from the marquee. There is an iron-cast divide between who you are and who you project yourself to be, and Koirala's singular mistake was to skate on the thin ice of acceptability and be unapologetic about her many-hued personal life. Bollywood would be unforgiving."
It doesn't matter that she showed interest in politics and social work: "as daughter of a family prominent in Nepali politics, she was appointed UNFPA Goodwill Ambassador in September 1999. She is also involved in active social work both in India and Nepal. In India she works to promote women's rights and prevention of violence against women. She also works with an organization working to prevent prostitution of girls who are brought from Nepal and sold in India. Ms. Koirala intends to produce public service announcements in India calling for an end to discrimination against women and for protecting the rights of girl children." In spite of these involvements, she doesn't conform to the moral code of media-ruled appearances, and doesn't bother to appear to regret the situation she puts herself in. In fact, her "problems" are in themselves a silent criticism of the code of conduct that other actresses follow. This is how the same perceptive analyst continues:
"It is easy to attribute Manisha's fall from grace to the vicious industry gossip, easy to paint her as a victim of malicious stereotyping. But really, on balance, Manisha is a victim of her own unwillingness to remain on the A-list of Bollywood actresses. She is a beautiful woman with a haunting screen presence, has been compared to Meena Kumari no less, but has become limited as an actress because she failed to challenge herself. Her memorable roles have been few and far between, and she has had to waste too much time trying to wash the mud from her image."
I think he's right to blame her: she would certainly blame herself, I think. But I hope that she doesn't care about that mud too much, because others have layers that aren't as visible, but certainly as thick. I even wonder whether there isn't a certain amount of jealousy towards a gifted actress who hasn't thought twice about her image, and has taught those socially wise women the lesson that they don't want to learn: the body ages, the good looks wane, the security that money and social ties bring are transitory possessions, which one day will have to be abandoned. Perhaps I'm wrong, but I wouldn't mind being right!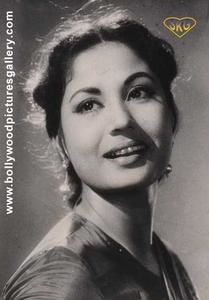 And the comparison with Meena Kumari goes in fact further than looks and screen presence, as I've discovered by looking into that other lady's bio. The Wikipedia page underlines Meena's difficulties with men, with alcohol, and her resulting downhill career: it even stresses the "Choti Bahu" pattern, after the name of the main character in Sahib Bibi Aur Ghulam, for, says the author of the article,
There are some eerie commonalities between the lives of Choti Bahu and Meena Kumari: The estranged marital relationship, the taking to drinking, the seeking of younger male company, and the craving to be understood and loved by all.
Funny how these patterns seem to attract attention: I'm sure that in fact there's not much in them, but they're like talismans: if you believe in them, then they start having power. Manisha Koirala's stars seem to belong to that tragic arc, for better or for worse. I'd say that if you are of a generous nature, you're sooner or later going to be taken advantage of, and if on top you don't care about what people say, well, they don't care about you.