Juhi Chawla: what's behind that smile?
Publié le 4 Septembre 2008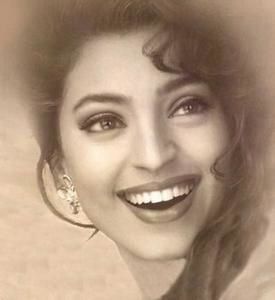 What attracts one to Juhi Chawla is her absolutely irresistible smile. Okay, she was "only" a Miss India (1984), but frankly, Yash Chopra's idea to cast her as Shahruhk Khan's idol in Darr is not a bad one, far from it. I believe one can really fall passionately, desperately in love, and perhaps go as far as kill if that passion is not satisfied. I know this does sound extreme in today's easy-going, emotionally relaxed world, but many works of world literature testify to that possibility. Juhi Chawla's glow, her warm expressive eyes, her girlish ways, her adorable face (I'm trying not to add anything!) – well, she's certainly way up in the "most lovable" feminine All Time list. And for models with that kind of attractiveness, the obvious reason for having reached such heights is of course a "pretty face". And so the question is (as always!) is there something else to her???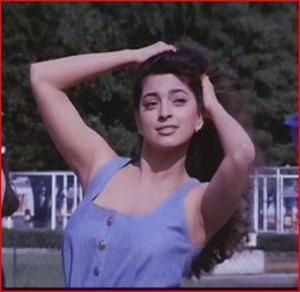 One could say that her case is even worse than just those adorable looks that have had Bollywood producers at her feet: she's married to a millionaire businessman – some would say: beauty attracts money, nothing very spectacular there. She has two children (more would perhaps be career-risky). Some articles tend to show as rather smug and superficial, for example this one called ME & MY CARS, where she explains that she drives a Range Rover, that it's like a "house on wheels" to her, and she also calls it "my little car"… Then there's her frivolous side (some might say anti-intellectual), as shown here:
"I love reading comics. Give me one, any day. I used to have a collection-Tintin, Archies... I still buy comics as and when. In the newspaper, the comic's section is the favourite and I go for it first. Then as I read different books I realised that there are funny books too or ones that have a humorous touch. Serious books bore me though. I have read literature--Jane Austen, Bernard Shaw, Charles Dickens, Graham Greene, Thomas Hardy and even a little Shakespeare. But I didn't really enjoy them much. They are nice as a base for all readers. But after a point they tend to get heavy. I go on the internet to read my fill of comics. Peanuts was another favourite. I'd rather watch Tom and Jerry than a film."
Let's now turn to some of her films: the actress is not always recognised as extremely gifted… Those naughty arty people would say: she doesn't need it! The problem might well come precisely from the source of all that charm: her smile! I've noticed that she has sometimes trouble preventing herself from smiling: it's probably part of her personality (see this article "Juhi Chawla still giggles!") I've seen her in Qayamat se qayamat tak, Darr, Ishq, 3 Dewaarein, Swami, and in Paheli where she plays a little role. Everywhere she shows she can do something good, something sweet and delicate. This is the case in QSQT for instance, where she plays her (first big) role nicely, even if a little primly (that little innocent voice of hers!).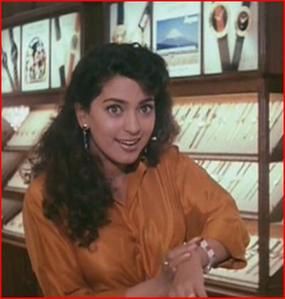 In Darr, I found she didn't shine particularly, and that her acting was rather stereotyped. The problem is that she's such a pleasure to watch anyway, that it's rather difficult to be critical of her! I think the two best roles were in Swami and Tin dewaarein. Perhaps it's because they're the most recent films; Juhi Chawla reaches a certain mature status there. She still has occasional fits of smiling, of course. I think she must have been impressed by Naseeruddin Shah, for instance, in 3 dewaarein, because she's supposed to be his arch-enemy (he's killed her pregnant sister in order to rob a bank), but their frequent talks contain a sort of friendliness which cannot be completely put down to her will to masquerade her real intentions. I think really this good humour comes in part from Juhi's difficulty with very serious roles. She's never vicious, never frightening. In the end, facing him with the gun, she manages to muster a certain authority, but that's about all she can do.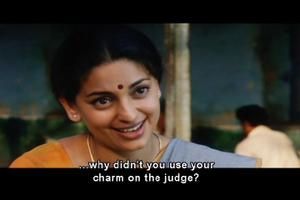 I have not managed to get a lot of in formation about her, actually. I did read that she keeps her private life to herself, but many other stars say that too. Some of the other stars, on the other hand, have things happening to them! It seems that not much has happened to Juhi Chawla. Everywhere we read she's a faithful friend of Sharukh Khan's (apparently others have not held the test), that they've got this producing company together (Dreamz unlimited, with Aziz Mirza); that once Aamir Khan cracked a joke about her which she didn't like (I don't know what it was); I've heard about her recent love for classical music, and that she campaigned for Gujarat Chief Minister's election in Gujarat: the media complained that she was canvassing for the Chief Minister to help her husband's finances: and, that's about it! She does indeed seem to have not much happening in her life! Of course I'm sure it's wrong, I can feel she's quite smart, and knows where she's treading. And being both a mother of two and a successful actress in today's Bollywood is no little feat. But that's what we have from the outside: a fun actress whom we love because of her warm and positive person.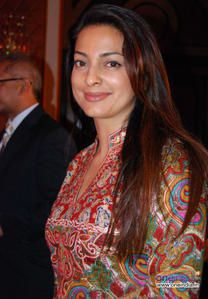 In fact, one could say: Juhi Chawla is too perfect… She's not a Manisha Koirala! If she has some of Kajol's expressiveness, she doesn't have her strong personality. If she has Aishwarya Rai's good looks, she doesn't have her proud cleverness. In Kareena Kapoor one senses a woman's depth, a complexity; even today, at 41, Juhi Chawla retains the girlishness which has always characterised her. She reminds me rather of Madhuri Dixit, because of her glorious beauty, but Madhuri strikes one as being a more mature actress. She's perhaps a little bland: does Juhi Chawla have any defects? None, almost, it would seem, apart from the quintessential "problem" of Bollywood actresses who entered the film industry by dint of modelling and being pretty!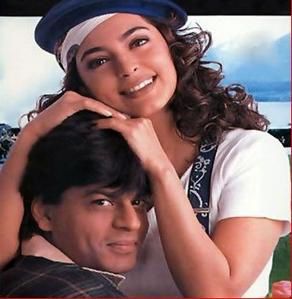 But… I don't care! I like Juhi Chawla for the healthy and fun sort of person she is. As this article says:
"A certain class and benevolence has always separated Juhi Chawla from her ilk. Her upbringing in a family where education, etiquette and propriety were given their due importance, Juhi was bound to imbibe all the sophistication to cultivate herself as a true lady (…) Though a beauty queen, Juhi successfully managed to steer clear of a sexy image and carved a niche of the innocent, vivacious girl in pigtails. She refused to star in films that could project her as a sexy and glamorous star. Lootere, for example, is one film which Juhi wasn't keen on doing as she thought it would ruin her 'girl' image. After friends cajoled her into doing it Juhi acquired the glamour tag too. There has been no looking back since then. »
I must say I rather like that view of her possessing a certain sophisticated class, and at the same time with a certain sprightly innocence. And, supreme quality, quite rightly underlined by what is said here: she has on the whole resisted the "sexification" of the love relations we can see in B'wood films today. A lot of what I appreciate in Bollywood is contained in that Champagne-like effervescence: lots of glamour, lots of good feelings, not too much depth maybe (at the risk of being escapist), but this light quality in many Indian actors (and films) has a very valuable message: they don't take themselves too seriously. It might sound childish, but there's something profoundly good in the sheer pleasure of enjoying life, laughing, and loving, and Juhi Chawla is part of that plan.