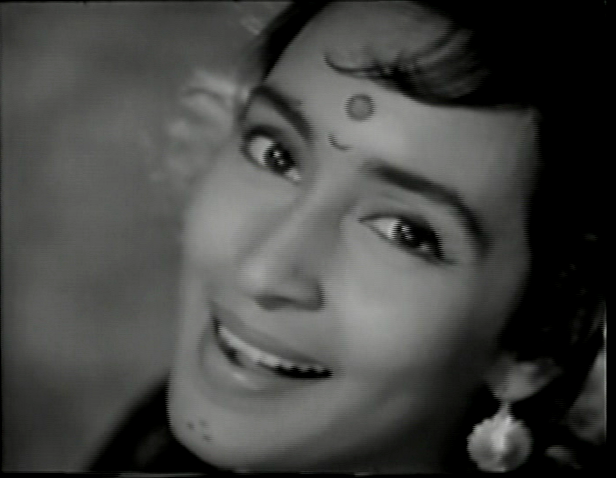 Basant (1960) is a loony movie where what you see is more important than what you understand. There is a story, sort of, (tolerably interesting in the first half but totally zany in the second!) but you must forget about it, because the chief interest of this golden Bollywood of yore is the main actors' charm, the very pleasant humour (thanks Johnny Walker!), the magic of the sets and of course, the music and dances!
So after having only said this much, I'm just going to celebrate Nutan's charms. I'll leave Memsaab tell you the story, and rave about Shammi Kapoor, whom I find rather stilted and even pompous at times (but hey, I'm nothing but a man), and most of all, who cannot really transcend his scowling and grumpy role. He looks like Elvis all right (and even for us French people, like Eddie Mitchell!), but that doesn't change things a lot… On the other hand, even I'm biased in favour of Nutan, I find she plays much better, there's a natural charm, a quick intelligence, an understanding of nuances in her acting which makes her beauty resplendent and engaging. You just want to step into the screen and speak to her!
This time, on the other hand (I'm comparing to Bandini, and even Dilli ka thug) the camera dwells on her much more, as if the cameraman had fallen in love with her, as well he might), and we have numerous free close-ups of her eyes, her mouth, her profile; there's a shot of her under a veil, when she's in the bus, and that shot is clearly worked on, because before and after a different lighting occurs. A Leonardo da Vinci sfumato haloes her and softens her features, like the master does with his paintings of virgins and angels.
Here's a gallery!