Publié le 26 Janvier 2007
I'd like to share a few words about Abishek Bachchan. I must say he's not my favourite actor, he's probably not a very talented actor (as yet), but what interests me is that he's a Bollywood phenomenon. That combination of past and future. Heritage and vitality. Let's do him justice, nevertheless. I haven't seen all his films, far from it (I've seen him in Yuva, Dhai Akshar Prem Ke, Kabhi alvida naa kehna, and Kuch Na Kaho). I found him often not very good (sometimes worse than that), but one film stands out: YUVA. That was a real treat. And mostly, even if the great Mani Ratnam is behind the camera, it's thanks to Abhishek. The other two actors (Vivek Oberoi, Ajay Devgan) do a good job, but Abhishek steals the show. Was he well directed? Or did the character really inspire him? This Lallan is a great figure, true. And he really puts something in it. It's interesting to realise that Lallan is an empty shell, a bum, and that precisely he needs to be filled, weighed down. That's what his friend Sashi (Rani Mukherjee) does, or tries to do, in the film. She fails, or half-fails, but Abhishek succeeds. He fills the character with a life that leaves the spectator full of wonder, and bewilderment. I found myself feeling some of the pangs of remorse Lallan feels when he asks if he will ever be able to become a man, to lead a decent life.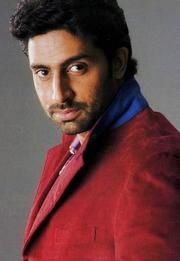 Abhishek's great body is both an asset, and a burden: in Yuva, he uses it to great purpose. But take Kal ho na ho: what we have is more like a beanpole. It seems he never knows what to do with his six feet three. When he's dancing, it's there all the time, you can't forget it, even though the guy dances well. And I understand why Rani wants to leave him in KANK. That demonstration of anger he tries to pull off in their flat is hard to swallow. Which brings us to his acting. I have the feeling he's always (nearly always) wondering why he's there. There's a stare in his eyes, a sort of fixity which he can't shake off (his two eyes do have a slight disagreement, haven't they?) He seems to be thinking about something he's left somewhere, but where? I don't know whether it's because he's not yet shaken the fatherly figure, as lots of people have said. It's true that when he's opposite Mr Dad, it's hard on him (see KANK). Maybe that's part of the picture. It's difficult to be Big Amitabh's heir, having to share the name's fame (I was going to say, the lion's mane).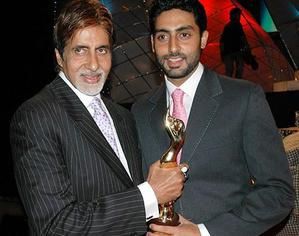 And now he's marrying the world's eyes, the sun of beauty that shines on Bollywood… Well, it's funny if you remember his own slight squint, which I think adds to his charm. A man needs a little defect to make him sexy. But here's where the phenomenon starts. Abhishek is Bollywood looking at itself, in a way. I mean the guy's got everything. Not that I envy him, on the contrary. I rather think he deals with it well. There's no egotism (that I can sense) about him. I like his retired nature, his shyness, his "mystery" (inverted commas because everybody's got a mystery). He's the one who has to deal with the heritage, but he's strong enough to shoulder it. He's looking for his identity, for his originality. Let's hope he finds it. What is clear is that he has potential lying dormant. We have to hope that somebody one day will throw open that great chest, and make him use whatever masks are hidden in there. Has life had time yet to fill it, well, who knows? But he still needs to forget himself, to look directly at us, at the camera. He needs to act.