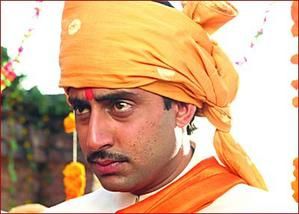 Everybody is talking about it… Or rather, was talking about it, and well, I've seen that movie too! It's a good movie. In fact, very good in a non-Bollywood sense, because it's good in terms of Western criteria: the subject, the rhythm, the acting, the unity of purpose. And very little songs and dance. The biography of a popular hero who stirs up the jealousy of wealthy and well-established magnates: a good recipe for success. Abhishek and Aishwarya play very well, master director Mani Ratnam is at one with his technique, everything is under control. We follow the conflict opposing the young self-made businessman to the older lions of the trade just as if we were watching an episode of the Godfather. The standard rivalry of the new and old generations.
So that's the problem: must Bollywood seek fame and success by doing (good) Hollywood-like movies? Hollywood is naturally a reference when it comes to story-telling. A good film is very often a good story, a good scenario, with a sense of rhythm and drama which can grip the spectator. But, as I write all this, I'm telling myself: surely, it's the same for Bollywood, no? Good story, good action, good acting: where's the difference? Ah, a good Bollywood movie is often a musical, full of dance and colours, and deals perhaps with a more limited number of themes? Yes and no. Anyhow it certainly needs to stick to its values, to its traditions in order to remain what it is. Because that's the challenge: create and inspire while not forgetting the roots. If Bollywood forgets its Indian audience and references, and tries to do too much like American movies, even good ones, it runs the risk of losing its special appeal. And some of its soul.
The challenge is to blend the lovely show full of life and music, with its conquering spirit, and the expressive style of realism which spectators of the world like to find in movies. This conviction that the film has brought together entertainment and a vision of reality, a message. And this applies to imaginative films too: there is such a thing as psychological realism which spectators have learned to appreciate, and it's more and more difficult to make films in which the spectator is asked to suspend that type of disbelief. Even in imaginative or non-realistic films, he enjoys the poetry, the creativity, to be on a realistic level. The film must be justified aesthetically. For example, such a film as Paheli (Imdb link) tries to do that, up to certain extent, in spite of its shortcomings. But more social films do that as well, for example Kabhi alvida naa kehna

(Imdb link).
There is one main element that remains Bollywoodian in Guru: the appeal to Indian pride, to Indian nationalism, even. There is of course a dark side to that sort of appeal, but as in Swades, the story of the young expat who comes back to his own country to develop it cannot be criticised. That sort of decision is fundamentally courageous and right. All the more so as it mixes a realistic combination of sound ambition and not so pure bullying and ego-cult. It is clear that Mani Ratnam doesn't follow Gurukant Desai all the way, and points to the limits of such power and ambition.