Publié le 20 Février 2007
Seen from away, Kajol is the actress's dream come true. A real talent, the recognition of the public, her marriage and family with Ajay Devgan, with whom she's had a little girl, a promising future, what else can you ask for? Well, the answer is, a lot. Kajol is an asset that Bollywood hasn't started to tap. At least, I hope so. Let's look at certain facts. (I'll focus only on the films I've seen). The first series is the following: Baazigar, Dil kya kare, Gupt, Raju Chacha, Hum aapke dil mein rehte hain, Kuch Khatti Kuch Meethi, Ishq. I like Kajol, I appreciate her charm(s), her liveliness, her character. But frankly: can we really say this is good Bollywood? Excepting perhaps HADMRH, where the story gives her a little more scope, what is left? Not much more than a bunch of poorly written, superficial and predictable movies, in which she is obviously there to attract spectators on her name and good looks. Baazigar would be an exception, but it isn't saved by Kajol. SRK does all the work.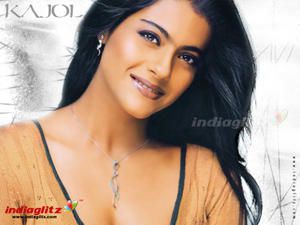 Then my second series (still only the films I've seen): Dilwale dulhaniya le jayenge, Fanaa,
Kabhi khushi kabhie gham
,
Kuch kuch hota hai
. In this list, we have more effort, better acting, and in general more purpose. I realise that I am crediting actors with some of the merit or absence of merit that should accrue to the film-makers. But, well, the two are linked. DDLJ, KKHH (and KKKG to a lesser degree) are more or less on the same level, as far as Kajol is concerned: nice compositions, in which one is ravished by the sheer charm of the young mistress, in which one marvels at what she can do, what she could do. These films are her press-book, the proof that she's got that something that film-makers will be able to use. And then there's Fanaa, her latest film: in Fanaa, she's starting to perform, she's starting to act. There are moments in the film when she's given real moments of cinema. Not surprisingly, she plays the role of a blind girl. Such a role was recently and successfully played by her cousin Rani in Black.
Right: I think you can see what I'm driving at. I think Kajol has so far surfed on an easy wave of charm and good nature, spiced with some nice moments in which her roles was cut out for her. But she has hardly started acting. She has "played", yes.
She has put all she could in her films, but she has only been herself on the screen, even if that isn't negligible. She hasn't done much more than what she is in real life, it seems to me. Her film roles look like her, apart from a couple of exceptions. Her characters on the screen have therefore been a sort of trap for her, because she has had to play roles which the public has been led to appreciate, and not enough roles which she would have reinvented with her talent. First that buoyant, children-loving college girl (I have often read the adjective "bubbly"), then the faithful friend, the forsaken lover, the caring young mother and that's it. In Fanaa she gets to be a slightly different person, but there is so much more that could be done! I've read somewhere that Ajay has plans for them, a family story. Why not, after all, such a vague frame could contain anything. Still, I'm afraid she will be asked to draw on her own experience, rather than put that experience to the service of a really different story or situation.
One last thing about Kajol. Not that it's very original to say, but that period during which she's left the screens to have her baby and make the world realise there's something more to life than glamour and being in the limelight, that really speaks for her. She's probably (from what I can tell) a person who has chosen life, who doesn't want to miss on it, and who knows what's important in life. Getting married to the right guy, having children young, putting her career in n°2 or 3; Kajol has apparently chosen to do all these things, and this naturally sends the message to all those young 'uns out there: your time of beauty will be short-lived, don't forget what is really important. Now if only some daring film-maker could come up with a couple of real actress's roles for her, I'd be all too willing to say: thank you Ajay for lending her to us.