Aa ab laut chalen (Let's go back) - Good Bollywood!
Publié le 22 Février 2007
I've seen this 1999 melodrama once again, and thought that it was worth a little commentary. Critics have not always appreciated it at its true worth, it seems to me: (

Planet Bollywood link

) and

(Rediff on the Net Link)

I will say why in a minute. What struck me this time is its true Bollywood touch: that mixture of romance, freshness, humour and optimism, joined with a nice story and pleasant community atmosphere.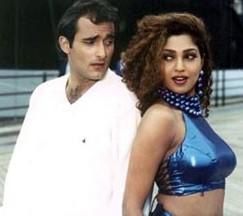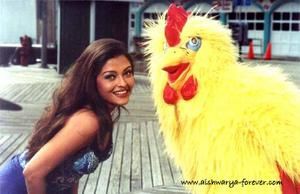 Here's the story: Roshan (Akshaye Khanna), an unemployed Indian graduate leaves his native country for the US, where he hopes to make money, just like his father had done 20 years before, but in bad temper, and died in an accident. At his arrival in NY, he finds himself by a little Hindu community (Kader Khan, Jaspal Bhatti, Satish Kaushik) who lives poorly but with dignity in an uptown district. They give him a taxi to drive, and this way he saves Pooja (Aishwarya Rai) from a selfish brother who wanted her to marry his boss so he could get a promotion (agreed, this is not very realistic). She too is accepted in the friends' house. They soon find jobs, and their relationship evolves: she likes him? a lot, but he's still got his mind fixed on his project: earn the money he's come to the US to get. He therefore sets out to look for an NRI girl, who'll secure him the green card he needs, and soon enough we are confronted to Loveleen (

Suman Ranganathan), whose main role is to serve as rival to Pooja. Rohan rejects Pooja, who finds work as company-keeper in a rich man's house, while he is led to discover the sordid underground of easy money, drugs and sleaze in which Loveleen evolves.
All this soon disgusts him, and he sets out to find Pooja and beg her forgiveness. But Pooja's protector (whom we learn has old pains to soothe), touched by her good nature (she is several times called an angel - and there is another angel in the person of
PC Jack Patel, - a model of successful integration - he's always there at the right moment!) has decided to marry her to his depraved son, whom we have already seen in Loveleen's company. The bad son refuses the match, but is soon forced to accept, because he is pressed for money. But Rohan manages to bring back his Pooja to him. One last event lies waiting: it is revealed that Pooja's employer is Rohan's long lost father, who didn't die in that accident. Rohan has trouble swallowing this, but some twists in the story enable the film to end well (the bad son even denounces his drug-dealing gang and follows the India-bound party!). See

here

for another review included in an interesting description of a Westerner?s comments on Indian films.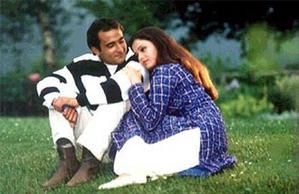 The film could be brushed aside as a sentimental comedy which is badly crafted because it mixes several genres which don't unite harmoniously. Indeed, on top of the love-story, the nationalistic strain (the call for Hindi-Pakistani friendship) is there alongside the family theme of parents needing to be respected by their children. But if you allow your need for structure and realism to be superseded by fun and emotionality (can be done sometimes), what you have is a delightful selection of optimistic and charming scenes, in which friendship, solidarity, honesty and hope play together to create a really pleasant spectacle. There is also a lot of humour, which in part is the rationale behind some of the film's inconsistencies. One especially light-hearted scene is the dancing and playing which serves as background for the (very melodious) song Mera dil tera deewana. Aishwarya's fooling is particularly well done, and worthy of any Hollywood Golden age comedy musical. On the whole, she plays rather well, too. What we read about her inexperience and average talent is here contradicted by a pretty piece of acting. She doesn't transcend her role, for sure, but this bit definitely shows a freedom and a playfulness which was already promising (she was 26 then).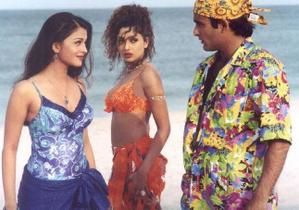 Akshaye Khanna does a good job too, in general, even if, as for his beautiful counterpart, one is more interested in his charming allure and twinkling eyes than any profound or meaningful acting. But the film doesn't have a very important message to deliver. It's mostly a pleasant entertainment The best acting comes from the two cronies, the Sader-Iqbal (
Kader Khan and Jaspal Bhatti) pair who steal the show when they quarrel and dream about their young charges' future. They are the soul of the community, its two fathers and one of the most friendly creations of Indian Cinema I have met. Their adoptive son Rohan is our intermediary to reach out to them and thank all such expats throughout the world who keep alive the Indian spirit of hospitality and solidarity. Their humour is contagious!
Now, why didn't the critics cited above enjoy this story, which is in fact a sort of modern-age fable? Because I think they took it too seriously. There is no artistic depth in this film apart from the intention of giving pleasure and joy to spectators with a sentimental love-story cum family reunion. If you look further than that, yes, the film is disappointing.
So all in all, I'd say, Aa ab laut chalen is a little jewel of comedy and light-heartedness for those who don't mind smiling at simplified naivety because the child in their heart is still there. And, as an adult, recognizing such values as honesty, purity and forgiveness as essentials not only between people but also between the nations of the world, is not such an escapist purpose.