Publié le 27 Février 2007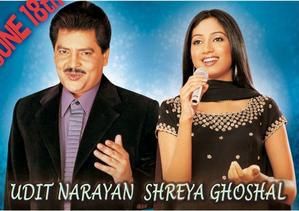 I realise that this theme « Bollywood music » is as vast as the sea, and that wanting to speak about it in one instalment is a little presumptuous. But I won't: there'll be other messages, more detailed and more focussed. What I want to speak about here is the general impressions I have when listening to the music from the films.
My first flash for Bolly music was Kuch kuch hota hai, which I had heard while watching the movie, and soon I bought the CD "Shah Rukh Khan, the Greatest hits". On the CD were other super tracks (some are listed below), but that one immediately struck my ears. I was rather new to Bollywood music and films, but I so loved the tune and voice that I actually learnt the words, event if I didn't understand them. I got a translation on the net at that time, and now since I've started leaning Hindi, I understand most of the song's words, but the language used in songs is not easy: it seems to me it's versified, and the order of the words is not always the same, I think, as the one taught in the book I'm using.
Lata Mangeshkar: Voice of India
The jadu of Bollywood music caught me, I confess, and I have been an eager seeker of beautiful tunes sung in those particular tones of voices, and with those instruments. I don't like the remixes, in general, and so the songs I prefer are the ones with a good melody and beautiful voices. Masculine or feminine, I don't mind, although naturally being a man, feminine voices have a special appeal to me. Alka Yagnik and Shreya Ghoshal are two of my favourites, but I love Lata Mangeshkar's high pitch as well as Kavita Krishnamurthy's clever intonations. I fell head over heels listening to Shubha Mugdal sing with her sombre voice "Mathura Nagarpati" in the movie Raincoat. My favourite male singers are, naturally Udit Narayan, Kumar Sanu, Sonu Nigam, Shaan, among many others.
I enjoy all kinds of rhythms, slow, fast, spirited, borrowed from other cultures or not. But I need a certain originality: if I hear a song which is sung to the tune of another well-known song, it would need to have a lot of qualities! But in general, there isn't too much plagiarism, I find. I love group songs, and of course the duets of which there are so many. If the music is well written, there is an interlacing of the feminine and masculine voices which is particularly beautiful. I also like to hear some words spoken at the beginning of songs (Ajnabi mujkho itna bata is the only one I can think of offhand): perhaps because I can't (yet) understand their meaning, they often sound beautiful and passionate, and I listen more perhaps to the quality of the voices than somebody who would understand the meaning immediately.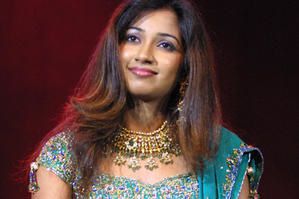 Shreya Ghoshal: the prodigy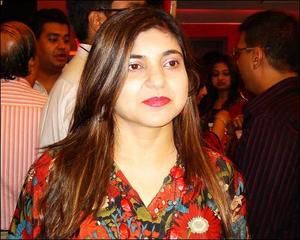 Alka Yagnik: Magnificence and Mystery
I have naturally seen lists such as "my 20 best Bollywood songs"… It's almost impossible for me to make such a list, but I can give you the names of some of my favourite songs (I realise some have been sung by several singers… and I don't know many of the films where they come from!):
- Tere liye (Movie Veer-Zaara)
- Chalo tumko lekar chale (Movie Jism, which also features Jadu hai nasha hai, of course)
- Waqt ne kiya (Aamir Khan sings it in Fanaa, it comes from Kaagaz ke phool)
- Dekhne walon (Movie Chori chori chupke chupke)
- Dinka dinka (not sure about the spelling)
- Hum apni taraf se (Movie Ansh)
- Humko sirf tum se pyar hai
- Saajan saajan saajan (Movie Barsaat)
- Maahive (Movie Kal ho na ho)
I'll stop my list there, because it is not very interesting to go on and on. I have a lot of CDs with only good songs (thanks all the downloading sites)! So, anyhow, more on Bollywood music soon!