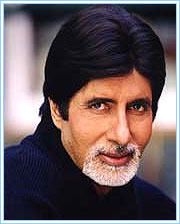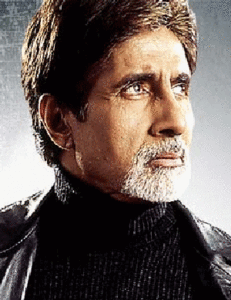 Hmm… Difficult ! The very fact of writing about « Big A » is daunting. Not only is the actor so impressive, but the person seems to demand respect, and of course the sheer length and scope of his career as a professional is amazing. I've seen films with him (only) from year 2000 onwards, and so I wonder whether he was as much in control in his younger roles. This is perhaps what strikes me most: this perfect control of his power. Obviously certain parts are better adapted to him, those which precisely involve power, but even in strange roles like the one of the father in KANK, he manages to fool you! During that scene where he's trying to justify his flirt with a young babe in front of his son, I remember thinking: "Oh, no! they're not going to make him play that!" But he does it, he plays the old beau, with those outrageous glasses and behind them that vulgar leer… And it put Abishek completely off balance! I could actually feel what Abi must have been telling himself: "All right, I've got to go through it, HE's doing it, by God!" But he didn't really enjoy seeing Daddy-O do that. He was completely put off!
Amitabh Bachchan has great assets: his size, his voice, his dark eyes with their expressive eyelids, his lips which he has used to great effect (in Black, for instance). All these are especially effective in roles cut out for him, roles of fathers, leaders, commanders, etc (I was awed by his acting in Khakee). But what is especially good is his ability to vibrate with the role, to make it real and convincing. He can play pleasant grandfathers (Veer-Zaara) as successfully as stern headmasters (Mohabbatein), and we don't carry with us a preconception of him as better fitted for baddies' roles, as happens with Amrish Puri, for example. I am as ready to trust him in either role. Does this "power" mean that Amitabh Bachchan could do whatever he wants? Probably not beyond certain limits. But given Bollywood limits, which mean that actors have to satisfy spectators more than themselves or film-makers, I'd say he can stretch them further than anybody. I have practically never seen him play badly! When we do see him in soppy or pathetic parts (here I am reminded of Hum kisise kum Nahin), his talent is such that it's the story that emerges bad. He somehow underlines the scenario's weaknesses, just by playing so well. Our reaction is: "Whew, well if it weren't for Amitabh…" Probably why they chose him for KBC!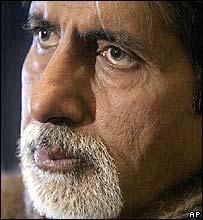 If I now turn to his great roles, that is, the ones I know of course (I think I've seen 8 films with him playing… a little scant, yes) I would single out Kahbi Kushi Kabhi Gham, Khakee, and Black. I appreciated that little role in Veer-Zaara too, but of course it was minor. So I don't think anyone will contradict me if I say that AB's recent fame is based on the mastery, the rigour, the inventiveness and realism he puts in his roles. He appears, and immediately we feel at ease: there no distance between the character and the actor. He takes us along, he knows what he's doing. He knows exactly what he's doing. Instinct, yes, but also this knowledge of humanity, this clear-headedness and this charm that comes from the intimacy with the camera. He's quite forgotten that thing in front of him. Or, in fact, he's so accustomed to it that he can afford to seem to forget it, he can play in front of it with complete freedom and complete mastery.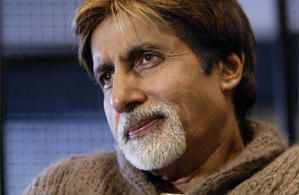 In Khakee, his role is convincing in spite of the fact that he has to fight to impose a character which isn't that easy to defend against Ajay's. The comings and goings between the military leader and the father seemed to me a little weak, potentially. But he pulls it off superbly. The authority he displays against Ajay, who also plays very well, is a proof that age is not necessarily in disfavour of the actor (I'm placing myself from the spectator's point of view). In Black, Amitabh is a marvel of delicacy and inventiveness. I think the film is probably his, despite Rani's great performance. She's perhaps overdoing it a little (see article on "Rani's magic" for my discussion of that). But he's just there, obviously in command, undisturbed, just acting his part from beginning to end. I particularly enjoyed the moment when he has to face the mother's despair and anger, who tells him his method will never work, that he has gone too far, and will not be allowed to continue as teacher. At that moment, he creates such a profound justification for his role that I could have wept. And in KKKG, an easier role for him perhaps, Amitabh is just great throughout. He masters the disagreeable bits as efficiently as the more gratifying ones, and makes the disappointed father utterly believable. He's got this way of retreating in his personality that imposes a sort of respect of what he's doing. One tells oneself (or at least, I tell myself): "OK, he's doing that… not so gallant, not so sensitive". But then his role-playing makes us trust him, and sure enough, he wins us over to his side. We feel pity for that father too, we understand him and become interested in his position.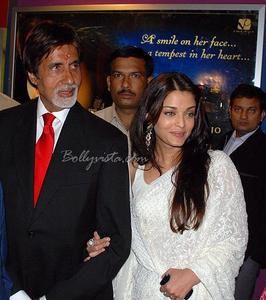 On recent photos (this one in particular) I saw him more tired, more worn (but he's only 65). Yet, on IMDb, I've seen he's shooting something like 10 films in 2007!! And they count 169 films since 1969. This guy is a giant.