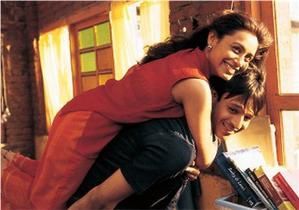 It's been some time I've wanted to speak about the delight to be found in Bollywood cinema. I have already spoken about its optimism, its positive attitude towards life and humanity, but this time I want to focus more especially about this dimension of joy and pleasure which I find so clearly in the best BW films, and yet is so rarely spoken about. Mind you, filmi aficionados testify to this pleasure by being fans anyway. But I find it interesting to explore the roots of this joy and pleasure.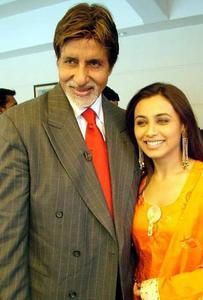 It is first a delight which comes from the people we see on the screen. I am referring to my favourites, the ones I continuously speak about, the kings and queens of Bollywood. Of course even they are no angels; you can't be an actor or actress and not compromise some aspects of yourself when you appear on screen. You falsify yourself, you are obliged to seduce, to cheat with your "real" self. But there is a short enough distance between who we can guess these actors are in real life, and their characters in the films, for us to be given the impression they aren't cheating (or made to cheat) too much, and that therefore what they are seen to do and say for us spectators is more or less what they would accept to do and say in front of us. This enables some truth to be safeguarded. And because of this element of truth, there is a specific satisfaction which comes from the reality of the relationship that us spectators have with actor or actress. For example, we are not the actor's lover, and if the film puts us in that position, then the relationship with him is based on phantasm, not on reality. Phantasm is ultimately alienating, whereas reality frees one from alienation.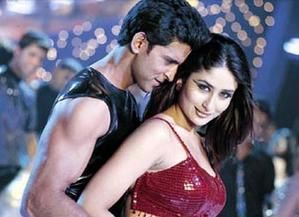 Then there is the music, the dance, the colours. All these elements come together in the interludes, those choral moments during which we are made to imagine visually the feelings of the main protagonists. Whether they are dynamic and rhythmical, or melancholic and dreamy, these interludes don't always avoid being ridiculous. But for me they are the soul of Bollywood, the moments when the show can unfold itself at will, in complete freedom. Some film-makers know how to exploit these creative moments, and others have more trouble inventing or imagining. The best is when these moments spring from the story and comment on it in a suggestive way, gracefully mixing the music, the poetry and the choreography, and providing the spectator with the feelings he desires. They can be an anticipation of the events, or a confirmation, or an unfulfilled dream: the aim is to charm or seduce us by accelerating or slowing down the film's rhythm.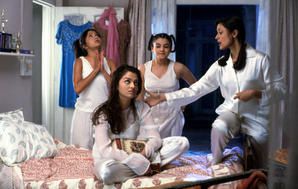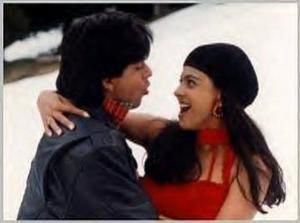 Happiness and joy are easily achieved if everything goes well, if, after difficulties, all's well that ends well. There is a certain risk here that BW films don't always avoid, and in fact rarely do so. Telling a story that finishes well is more satisfying for the spectators: it caters for their childish desire of security and comfort; it reassures them that the world is liveable. It "entertains" in them a child-like illusion. On the other hand, when you tell a dramatic story in which evil is not totally conquered by good, you create a void in the mind which even the sophisticated viewer has to deal with, and this might be more satisfying in aesthetic terms. But we as humans have a deep need for justice, for the victory of what is true and good. So films that make justice and virtue prevail satisfy this need. This choice is not necessarily childish and escapist: it can be optimistic and hopeful. These stories display a hope in humanity and in the world which gives a meaning to our existence. In human affairs, negativity and violence, absurdity and chaos are all too present. The decision to uphold hope and meaning is not an escapist decision, if it is clear that the human reality is not avoided. Choosing a happy ending is for film-makers a proclamation that death and violence are superseded by love and hope, that our life has a meaning. It is eventually a religious statement: this cosmos is good and beautiful; beyond this world, beyond this life, there is another world, another life.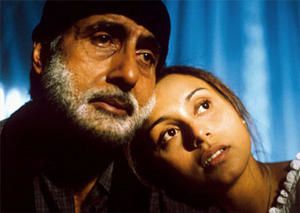 In films such as Chalte chalte, Guru, Veer-Zaara or Black, I believe we see such an optimistic trend. We can also feel it in Dil Chahta hai, or Kabhi Alvida na kehna. The human reality is not obliterated; rather it is explored in order to contrast the positive statement which is going to be made. The latter brings a feeling of hope and joy which is profound because the balance struck between human suffering and imperfect social realities on the one hand, and the positive outcome on the other hand, is felt to be full of hope and trust. These films say: humanity can evolve, absurdity can be vanquished by meaning, there might be redemption. But other less demanding films which choose a happy ending also supply the spectator with this joy that his life is worth living, because they tell him that love and justice will prevail, that meaning is possible. For example the masala comedies such as Kal ho na ho, DDLJ, K3G, or Aa ab laut chale. I could end this short selection by mentioning Shaad Ali's Saathiya, or Indra Kumar's Dil. Two little gems of hope and joy.