Khamoshi: Unutterable music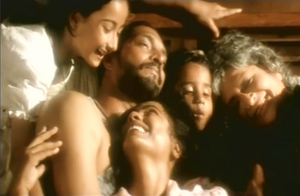 I've seen Khamoshi: a musical. Watching it has been like a revelation. Everything it says, everything it hints at, everything it suggests, because it cannot be said, I have avidly drunk as one drinks from a familiar well, knowing that the effect is exactly the well known effect one loves to feel. Sanjay Leela Bhansali is a poet, his poetry is in my eyes, in my ears, in my heart. What he says is less important as what he doesn't say, as in all poetry, and the flashes of beauty that he whispers are those that I remember from long ago, from life, from love, from the infinite resonances of the sea trying to recreate the earth. I believe that in that poem by Edgar Allen Poe called Annie, we can hear that beat, that dhadkan:
But my heart it is brighter
Than all of the many
Stars in the sky,
For it sparkles with Annie--
It glows with the light
Of the love of my Annie--
With the thought of the light
Of the eyes of my Annie.
There is also one called "Annabel Lee", whose name also evokes that of Annie in Khamoshi, and whose memory is linked to the sea (you can read it here). The wonder, the beauty, the magic, the delight: those ravishing feelings are all in this film. I won't tell the story (Carla has a nice summary), but I want to concentrate on what it means for me and Bollywood. I think this way you will understand why I seem so moved.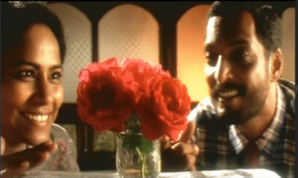 Music, as we all know, is a language. Different from that of words, but definitely it says something, it tells us something. We listen to it because the musician who has created it wanted to impart a sense of something of his world to others. Listening to his music, we know this; we know he has been trying to express emotions, feelings, impressions, desires. They may be positive or negative, but they use this medium to reach us and the amazing property of music is that it transcends its own language. What it says carries the listener directly to that zone of interpretation where freedom reigns, where desire is alone at play. Well, naturally, it's going to be difficult to feel bubbly when listening to Shubert's "Death and the Maiden?" but what I mean is that music has means to speak to the heart in ways which only the individual listener could really recognise. There's an unutterable in music which I think is beyond the musician's intentions. And if music harmonises with what is best and most beautiful in humanity and the universe, it refers to these realities and becomes religious. Its language connects man to what transcends him, and one might hear in a poorly written piece, in an ordinarily played melody, voices which are made audible thanks to this poor medium.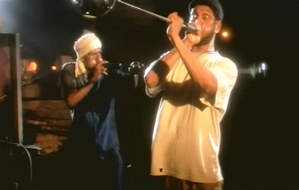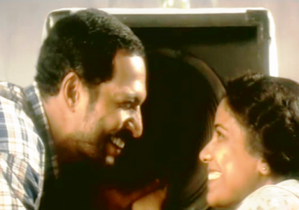 Annie in Khamoshi is a witness to this transcendent voice: she has heard it flowing through her, her grandma Mariamma (Helen, the actress who has played in about 260 films!) has taught her this language belongs to us, because humanity needs to reach higher than the earth. She sings, but as she sings she speaks of a food and of a drink that our soul needs to eat and drink from. This food and drink flows from inside, and it flows from outside too, and it is of course love. There is moment in the moment when Annie faces her father, who has just learnt she is expecting a child from having "erred" with her dear Raj. He wants her to abort it. First she says it's against the commandments of the Church, but he reminds her that he has ceased to be a believer, that God is dead for him, that He doesn't listen to prayers. So she asks him: but I have this baby because of love: you do believe in love, don't you? The only proof that God exists is if He is love. This love which we need like food and drink of our very lives.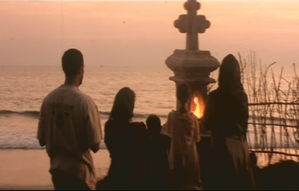 So the film is called Khamoshi, Silence. In one scene, Joseph, the father, who has always been made fun of because of his handicap, motions to Annie: trees are silent, the sun is silent! His idea is naturally that life can thrive and be full of meaning, even if it is without verbal language. And perhaps even: all life sings, and it doesn't need a voice. Lack of language doesn't mean dumbness or animality, as commonly thought. Lack of language isn't imbecility, rather it is Silence. And silence is often the unutterable, the unspeakable. Just as silent objects and silent life testify to a language that cannot totally be expressed through words, so deaf and dumb individuals testify to a kingdom of meaning to which they are more sensitive because of this deficiency in "normal" language skills. The same goes for blind people (Cf. the movie Black). You can get educated to this other language, as shows the scene when Raj, Annie's lover, wishes to be the one who will translate Joseph words in Church at the end of the film. His desire to translate is more than just to show that he has made the effort to integrate this special family: it is also a sign that he has started to understand that verbal language users can also learn from non-verbal users. That there is meaning beyond our words, that there is a meaningful darkness behind the clarity of our world of signs and symbols. That night is a source of meaning as much as day, and what the eyes of our intellect can grasp thanks to words and language must accept to be enriched by the chandni of silence shining inside our hearts, and eclipsed by the bright light of our human communication systems.
There is another language which is at the junction of darkness and light: the language of tears. Tears come when an understanding of the insufficiency of our human languages is felt and stops the self from responding adequately. They are our expression of this other language, the language of silence, the language of the unutterable within us. Tears have often been referred to as the presence of the divine in man, and their meaning interpreted as a testimony of a truth which is greater and beyond our human truths. And when Joseph and Flavy cry during their daughter's concert, even if they can't hear it, they too are saying something which even our words could not rightly express.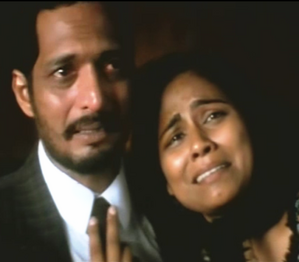 When I listen to Bollywood music, more often than not, it is music that explores a kingdom of meaning which I long for, which takes me back or forward in life, towards regions of fulfilment I am made aware of thanks to it. The musicality of the melodies, the inspired tones of the voices, the combination of the instruments, the rapid or slow rhythms, most of them speak to me about those feelings I would not really be able to word, but which are very real, very present. A few days before watching Khamoshi, I was making precisely that sort of remark to myself while listening to O sanam O sanam (from album Jurm 2005): when the female voice launches into (I think) "Apne logon ki hasi"?, the beauty is so poignant that what else is there left for me than to shout, cry, and open my eyes wide in the dark to try and discern where it might come from?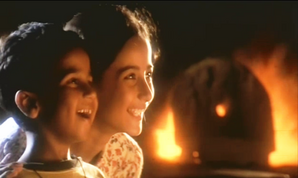 Silence, invisibility, tears: the film is full of this allusiveness but it also blessedly full of very visible and audible beauties. Manisha Koirala, in N° 1, whose charming beauty, and feminine grace inundates the screen, but also Nana Patekar, whose handsome face and superb acting radiate too. Seema Biswas (of the fame of Water) delivers very well too, and I would like to underline how ravished I was with young Annie's character (Priya Parulekar), what a child's face! Another beauty of the film is its location, the coast of Goa, the ever-present Ocean, the sunsets, the lighthouse, the countryside. It has been said that the music is not very memorable, it's true. But the dances and the choreography are always successful, surprising, wonderfully blended in the story. So all in all, and despite a few commoner moments, a very lovely movie.