Anari (1959), naive hero in a naive movie
Publié le 11 Novembre 2009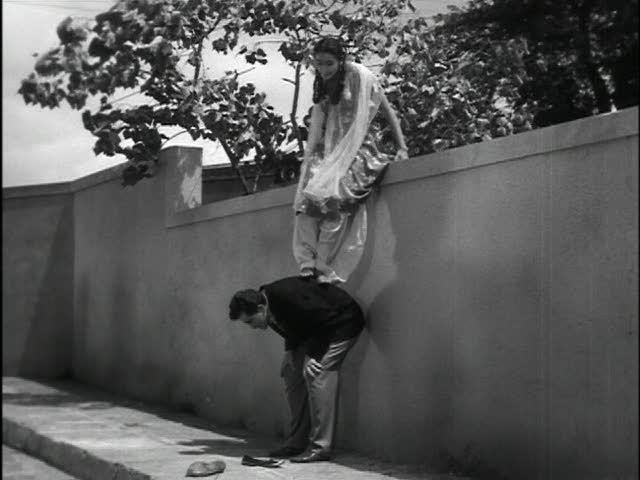 Anari (1959), by Hrishikesh Mukherjee, in spite of its numerous defects, represents a compromise between the quality cinema strain started by Raj Kapoor, and its commercial exploitation. The movie is clearly inspired by SD Narang's Dilli ka thug, which came out a year before, with Kishore Kumar instead of Raj Kapoor, but Nutan is again faced with a lover who blunders into her world, and there is the same poisoned medicine story, with a masked villain pulling the strings dangerously close to her.
The story is rather simple: Aarti (Nutan) is a rich girl who lives with her uncle, the pharmaceutical tycoon Ramnath (Motilal), and who one day decides to escape from the absurd college of good manners, where girls are taught the cultivated ways of walking and laughing (watch her mimick the teacher in front of her friend, and you have Nutan's great style!). Atop the wall, she sees Raj Kumar, a poor painter (Raj Kapoor) on his way to find a job. He helps her to jump down, and indeed the film will show her, figuratively, stooping down to his level. He's the insolvent tenant at Mrs D'sa's house, a Goan Christian lady (Lalita Pawar, who is said to have played in 600 films! Imdb lists 338), who heaps her affection on him to compensate for her lost son. She rough-handles him, but her heart of gold protects him from going astray in the world. Continuously pretending to scold him for not paying his rent, she can thus hide her affection for him, and invent little incidents that enable her to give him the money to tide him out.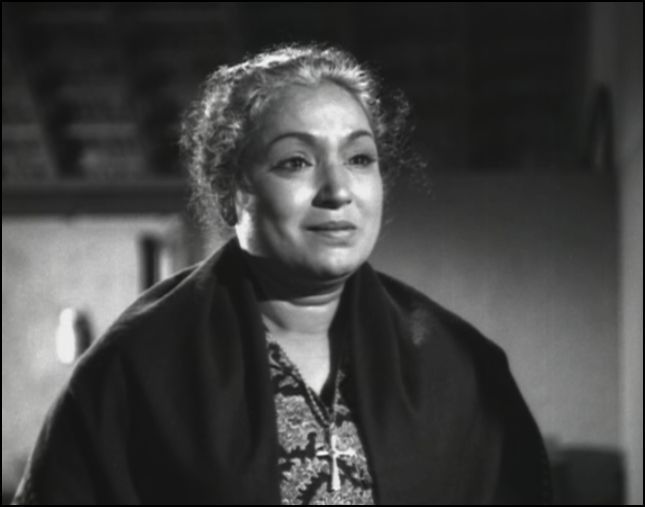 Of course, the young pair meet again (coincidence helping them), and there is a lot of fun as Aarti hides her identity and passes as her naukari in the eyes of the unassuming Rajkumar. She explains later she invented all this out of fear her wealthy uncle would refuse her match with the poor painter, and so he does, once the plot is disclosed… But the fun ceases when, as expected, the kind Mrs D'sa dies, (careful long sentence coming up) killed by the poisoned medicine prescribed her in order to cure the flu she contracted from going out in the rain to fetch her "son", who has wandered away from Aarti's birthday party, where he's discovered she had lied about her social standing. So I suppose we can say she's somehow killed by that lie too.
Indeed the film's moral message is perhaps a little too heavily dealt with, and the characters also are too black and white. On the other hand, one knows where one stands, perhaps. Because if right and wrong are too much tampered with, who knows where if might lead? This is where the main theme of the film comes in. Raj Kumar is called "Anari", simpleton, or naïve. He resents it when people say it, but admits it in front of Aarti ("it sounds so nice when you say it"), and also acknowledges the fact in his song "Sab kuch sikha hamne", where he declares having learnt the tricks of the world, but refusing to become cunning himself.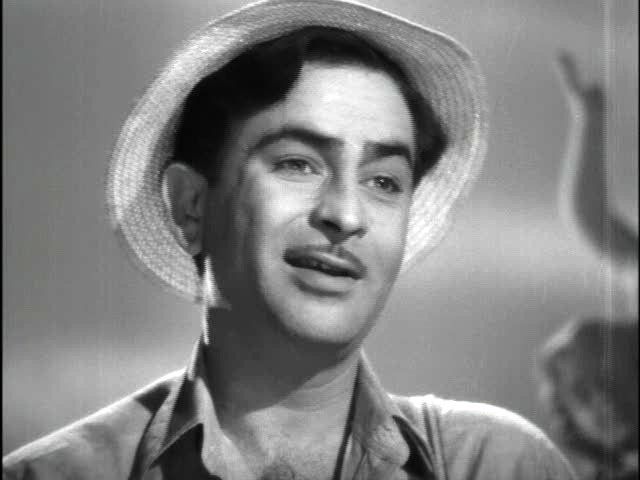 This "simplicity" is associated with his poverty, and one understands that the two go together, because Raj Kumar is both deceived socially and financially. In fact, he's bought both ways. His innocence in terms of knowledge of the ways of the world is doubled by his artlessness as far as money and its power is concerned. Because he knows so little, he's easily fooled, but also trusted and loved. He's lured into Ramnath's trap, who is pleased to secure hard-working citizens instead of flattering lazy bums for his office work; in fact Ramnath defends his riches because of his success-story. He was once poor and has succeeded in business. He now calls poverty a poison, and if he refuses Aarti's love for Rajkumar, it's because of this stigma.
Rajkumar in Anari recalls the Raj from Shree 420; the 1955 movie features a simple-hearted young man foolish enough to fall prey to the lures of money and power. Rajkumar doesn't fall as low, but like Raj, he's poor and freshly arrived, and this ignorance will cause him being manipulated by both Aarti and her uncle. Anari doesn't go as far as Shree in terms of reflexion on the problem of poverty, but because it insists on Rajkumar being "anari", it's worth while pondering on the question a while. Naivety and simple-mindedness are presented as Raj's weakness, but also as his dignity. Protected by his guardian angel, Mrs D'sa, he remains faithful to his status, even if this is sometimes a little unrealistic. In Shree 420, Raj is tempted by the demons of wealth and power, and falls, in a dramatic but also highly meaningful way. Here, not only does Rajkumar resist the sirens of wealth and comfort, but he can abandon his beloved when the latter decides (rather unconvincingly) to relinquish him because her uncle has made her see the difference in social classes between her lover and herself. So innocence, or guilelessness, is put forward as a bulwark against the moral ambiguities of riches (and its link with power and oppression of the poor), but on the other hand, Hrishikesh Mukherjee hasn't really managed to make his point very delicately.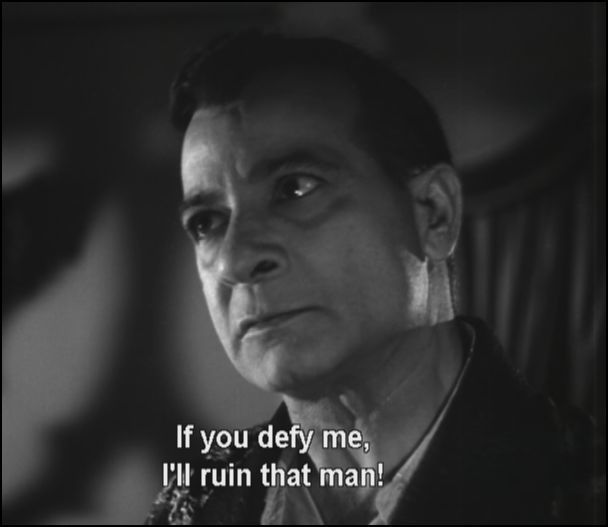 The result is that Anari comes out as a pleasant entertainer, with lots of humoristic moments, but cannot stand as a real meditation on the question of innocence versus experience. Instead, the hero remains in the magical circle of guilelessness, represented by his pious landlady, but doesn't come to terms, as Raj does much more convincingly in Shree, with the evils hidden in the recesses of the self and of society. And this is a pity, because there was an opportunity to do so: Nutan's artistic intelligence, Motilal's mettle, and Raj Kapoor's genius were all at the director's disposal. Not forgetting Lalita Pawar's great acting! I think what happened is that Hrishikesh Mukherjee's limited moral perspective prevented him from wanting to tarnish his heroes, and make them explore "real" humanity.
There are ravishing close-ups of Nutan: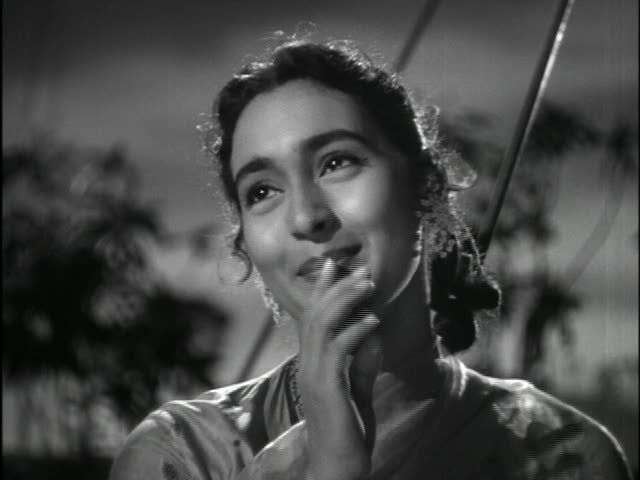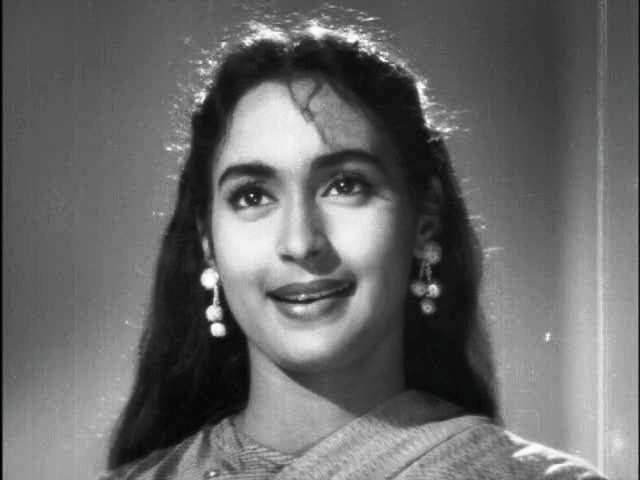 And others, where she's fooling around!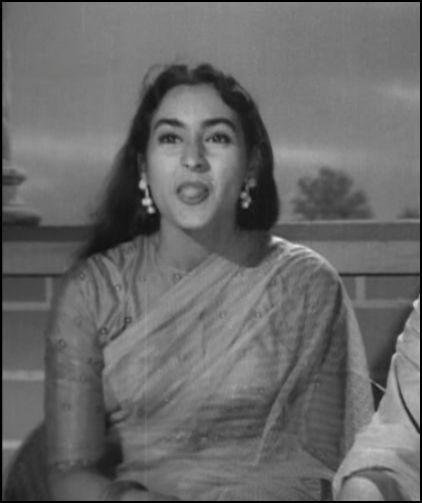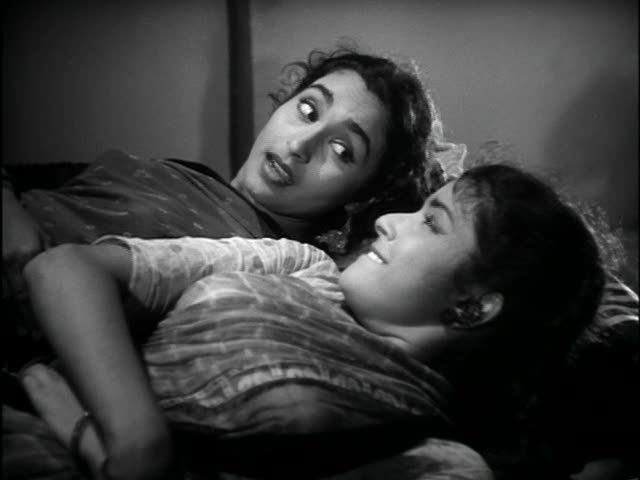 Check some more pictures here!