Kanhaiya, an oddly religious romance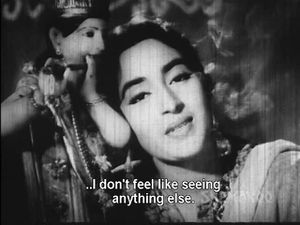 You'll have to expect from me, more and more, reviews of boring / outlandish movies where Nutan or perhaps Waheeda Rehman have starred, and which I will have seen out of sheer silly infatuation (mind you, I cannot bring myself to review films that would have no interest at all). And so, take a guess: is Kanhaiya one of them? This 1959 story is actor Om Prakash's only directorial attempt, and perhaps this is another downer. But you be the judge; here's the *story*!!
Shanno (Nutan), a young village beauty, becomes love-struck by the divine magnificence of Krishna Kanhaiya, as, one night, some performers acting out a passage of the Gita, pass through her village. She becomes so engrossed by the God that she seeks remote places in the neighbouring countryside, deserted valleys and mountain slopes, where she hopes to hear his divine flute playing. She begs him to play, calling out his name in a rapturous voice: "Kanhaiya! Kanhaiya!" And the god answers, occasionally. The sun-clouds or the snow-peaked caps play his flute for her. Occasionally, too, he comes close to her, and marvelling at her mortal beauty, he takes her in his arms, and she cuddles against him, entranced. But in fact these arms belong to a village bumpkin, a drunk also called Kanhaiya (Raj Kapoor), who has been told that the belle calls out his name in the meadows… Soon enough she will realize that there is a misunderstanding, but not before three quarters of the movie, so we'll have plenty of time to exploit the misunderstanding…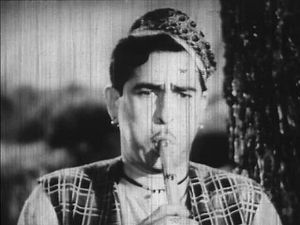 The families soon intervene: Kanhaiya's mother (Lalita Pawar) thinks he's too foolish and wasteful to become married to anyone, but the young man gets support from the village doctor, who helps him when he doesn't know what to do. Shanno's family at first refuse to have anything to do with the town idiot, but soon they are obliged to relent because of rumours that their daughter "really" loves Kanhaiya. The marriage is set, but Kanhaiya arrives drunk and Shanno's father calls it off. She is now locked in, to protect her against herself. Meanwhile, a plague erupts in the village. Shanno manages to escape, and goes to the mountain valley to call on her God: he must do something. Kanhaiya overhears, and takes the rebuff personally: he goes back to the village, and starts curing the people, which incurs the wrath of the doctor! The latter sends word that Shanno is pregnant, and this triggers the scandal it's meant to cause.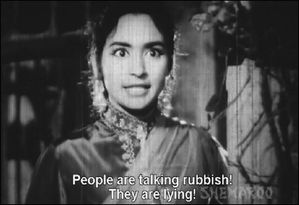 Last episode: an accused Shanno has to prove her worth, and she does it by calling upon Sita's test by fire. Of course, everyone thinks she's exaggerating, but she insists, believing that her Kanhaiya will protect her. Reluctanly, everyone agrees, anyway the scandal has gone too far now, and a solution has to be found. She gets on to the pyre, when Kanhaiya (Raj, that is) arrives, and tries to stop the test, but he's beaten and chased away. Shanno understands his sacrifice, and tries to protect him. She does love him after all! But she's asked to continue with the test, and she readily submits. Her protector and admirer now runs to the mountain and calls the God himself, to come and save his devotee! After some unsuccess, Kanhaiya answers, speaks to him (pic below) and starts a downpour which extinguishes the fire. Shanno is proven innocent of the unchastely accusation, and she can now rejoin her valiant defender.
Even though I have not been able to tell this story gravely, I do believe it's a serious one; it looks like a filmed episode of the Mahabharata (confirmation, anyone?). We have the unlikely love between a God and a mortal, the villagers who criticize from their limited parochial point of view, the lazy and drunken lad, but who's good and brave when needed, and at whose hands the village gets purified of illness; the Sita episode itself, and the message from the divinity to the lovers. So after a moment of disbelief and impatience ("what exactly am I watching?") all this struck me as a legend, a plunge into the beliefs of popular Hinduism; for me the psychologically impossible love of Shanno for Krishna's flute represents the soul's desire and ascent towards the transcendent Spirit.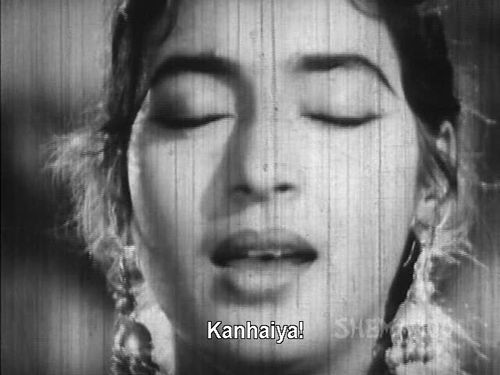 The great reward of this movie is of course to see Nutan dedicate herself so fully to this difficult role. She manages to make "Shallow Shanno" interesting to follow through the various emotions that take hold of her: confidence, love, pride, gratitude, fear, hope, anger, determination, faith, devotion, etc. She is particularly convincing when defending her chastity and on the pyre, confiding in her trust with Krishna-Kanhaiya. She lends her face to the Hindu belief in Krishna's benevolence; she makes divine adoration shine on a human face and transmute it into its earthly equivalent; she becomes the divinity herself: fearless, absurdly irrational and deeply moving. Unfortunately, M. Kapoor doesn't come up to scratch: he apparently didn't believe in his role that much!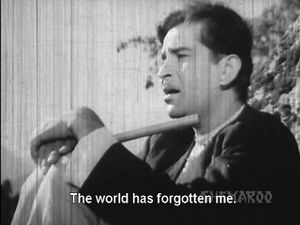 Last remark: if you want to see this flick, try and get a better one than the Shemaroo, it's badly scratched, the worse I've ever seen!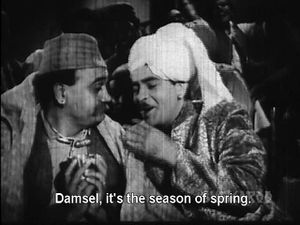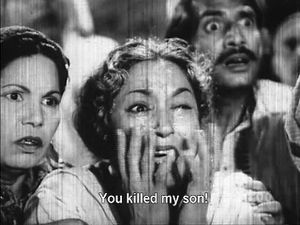 One or two shots of Nutan, thanks Yves!