Rishte Naate (1965), a quiet family drama
Publié le 17 Décembre 2012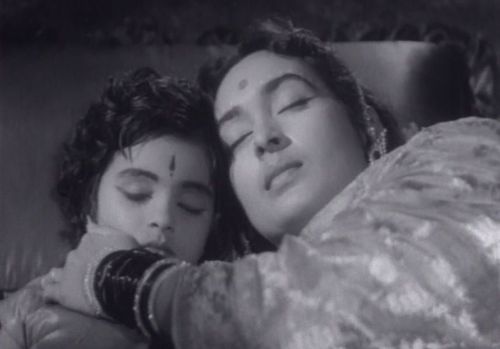 Rishte Naate (family relationships) is a 1965 Gopalakrishnan movie, with Raj Kumar, Nutan, Nazir Hussain, Jamuna and Ameeta as main actors. It does seem like I'm exhausting my reserves of Nutan movies, because while this film has more than a few qualities, it certainly cannot match Nutan's greats, and she imperceptibly seems to underplay her character. The story is one of its good points: half-way between quirky and exaggerated, it is sufficiently original to attract attention. It revolves around Thakur Narendrapal Singh (Hussain), a rich landowner who, while having a son and a daughter, dispossesses his son from his normal inheritance and thrusts it on one of his workers, Sundar (Raj Kumar, a little lank and wimpy), whom he also asks to marry his daughter Kalpana (Jamuna).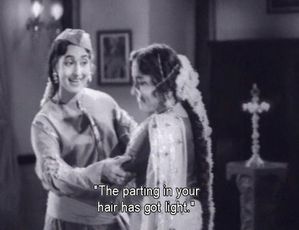 Sundar accepts the deal, even if he realizes he's a sort of pawn on his master and father in law's chessboard. We get to see Raja, the rightful son, an upstart from the city who arrives home with his fiancée Roopa (Ameeta), whose penniless father has thrust upon him to pay his debtors. Anyway, they marry, and Roopa has a baby girl, who is immediately looked after by her bhabhi. But after one or two painfully contrived scenes, during which Narendrapal compares the two young men (one hard-working, the other a profiteer) and declares his own son's undoing, they leave and wait for the right moment to deploy their plan.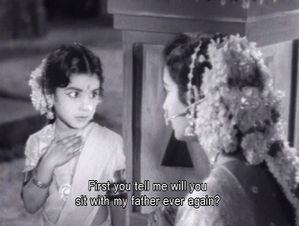 Meanwhile Sundar and Kalpana also marry, and keep the guardianship of baby Meenakshi, who considers them as her parents! Kalpana's friend, Savitri (Nutan, above), daughter of her father's childhood buddy (a jolly Collector played by David), celebrates her wedding with her, and all seems fine. The baby grows. One day, perhaps out of motherly shame, Roopa comes back home to take her daughter to her own house, but the feisty little girl runs away and goes back to her granddad, and her aunt and uncle. So life continues, and marital bliss is described at length, even if the two don't seem to be able to have children of their own, and strangely avert the subject of their dear Meenakshi being taken away from them again. The little girl becomes a sort of Troy horse within the coveted fatherly estate. But disaster hits the happy household, Kalpana is hit by a bull and dies. Sundar is devastated (or at least he looks it), and feels keenly once again the precariousness of his situation at his master's home.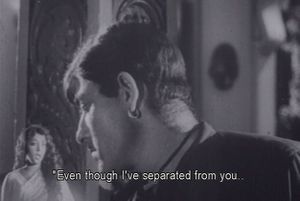 But without waiting for any delay, the sarkar, who is ever the family inspirer, and almost insensitive to the fact that he's lost his daughter, thinks it is best to supply his surrogate son with another wife. He immediately thinks of Savitri, the Collector's daughter. Dear Sundar, nevertheless, cannot accept to be remarried, and so soon! But he relents after his master pulls the worst of all tricks, pretending to leave his house because Sundar won't marry and give him the child his old age would love. Safe at her place, Savitri rejoices, because she'd secretly loved Sundar. The wedding is thus quickly organised. We understand now that Sundar is completely at Narendrapal's mercy. He will do whatever his master thinks right. But he cannot forget his dear Kalpana, and pines away.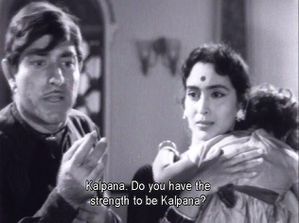 This is when Savitri takes over. Asked by the master of the house to make herself loved by Meenakshi (yes, she's still there, unreclaimed by her rightful parents) as a mother, this way she would open Sundar's heart and become his wife completely, she takes upon the task of befriending the frank little devil, who's understood she can do what she wants. There's a funny scene where she's used by Narendrapal to bring closer together her two estranged foster-parents: she brings Sundar in the kitchen, indicates his sitting place next to Savitri, pushes him there, turns both their heads one towards the other and orders her uncle to smile, smile, smile!!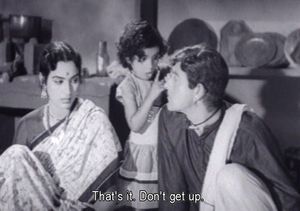 The episode finishes sadly with Sundar carrying the girl away, and Savitri shedding tears as she realizes the pressure on them. Still, she bravely carries on, in the face of Sundar's open deploration of his lost wife, and criticism of Savitri as a poor replacement…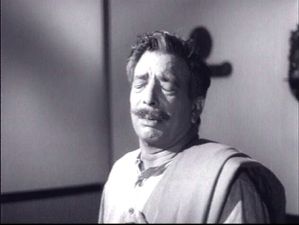 There are no essential debates in Rishte Naate; but there's the father's insistence to be present in the younger ones' lives. Of course, he replaces a departed mother, and this (often annoying) sensitiveness has to be attributed to his mission as purveyor of the generations and social order. So when he wants Sundar to remarry, in order for him to have a grand-daughter, we understand he's fulfilling his role. Still, I thought there was more to his role than just that of the well-meaning, and even plotting, elder. Mother and father all bundled up in one, he resists evil, fights against deceit, checks moods and dissent. Even though he's without personal family interest (his daughter dies and his son is disowned), he suffers as much for Sundar's fate and needs as if he were his real father. There's a sort of enigma there: the film doesn't fully explain why he is so intent.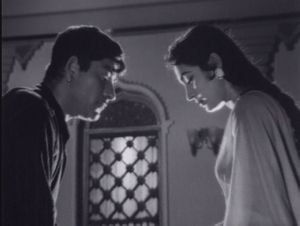 Then there's Nutan's role as second wife. This is by no means an odd character in Indian cinema, but the fact it's Nutan, and that the role is in such focus here makes it rather unusual. First she's ordered to be like Kalpana, then she defends her husband against his step-father, when Sundar cannot sleep at home with his wife, and appearances have to be kept up. It takes the ghost-like intervention of Kalpana herself to start set things right: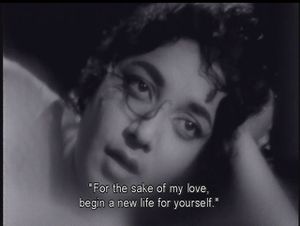 Nutan finds in this role a sort of justification of her presence in the film. It isn't as if she has to sacrifice herself as in other more resonating productions, but there's a humiliating process, a burning of her desires, that she's apt to personify like no one. Unfortunately for her, Raj Kumar isn't a very fiery bachelor-husband! He explains to her the weight of his past, his feelings, but somehow it doesn't reach red-hot intensity: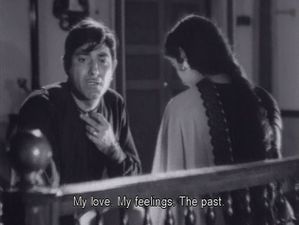 And so this lukewarmness is itself another dimension of the film: Savitri will indeed sacrifice herself in the end (see for yourself) but in a rather unromantic way. So the strength of the film lies in this unheroic level of feelings, lived at family height, with everyday family concerns and cares. Far from perfection, certainly, but we often equate perfection in human affairs with a certain romantic intensity that doesn't necessarily belong to it. Savitri's attachment to her Sundar doesn't reach heights of devotion, but it's honest and selfless, and sufficiently warm-hearted to be earmarked as beautiful. Somehow Nutan's secondhandedness, her disinterestedness, evokes Indian women's courageous acceptance of a tradition of subservience which they know they won't change individually. But they also know it depends on them, even within this frustrating environment, and in spite their own personal aspirations, to bring peace at home.