Yaadon ki baaraat: classics can also be bland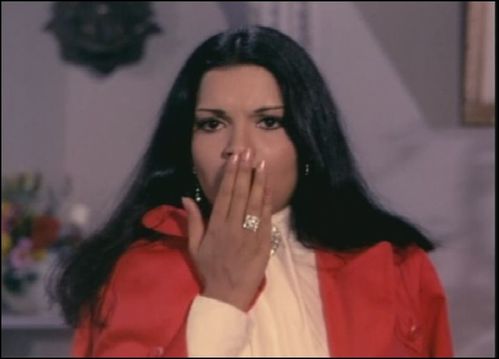 Oh my God, why are you saying all that!

Yaadon ki baaraat (Nadir Hussain, 1973) is a classic tale of revenge, where the good but separated boys who have been witnesses of their parents' murder will reunite and pursue revenge on the murderers. It's a not under 15 movie, presumably because of that violence, and I suppose the immorality which is described to be that of the gang of thugs. It features Dharmendra at his most feisty, Zeenat Aman at her her curvy loveliest, and the music score (RD Burman) is simply great: so it should definitely be more than a simple entertainment picture!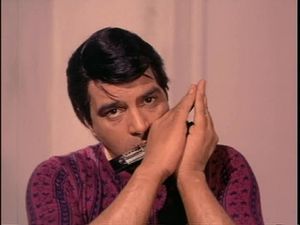 Alas, it is very disappointing. The story is not bad, really; there is a good mingling of the pretext scenes with the compulsory revenge strand; but nobody acts – the actors are pitifully bad, even Dharmendra (above), who in spite of being sometimes romantically soulful, was often too stilted.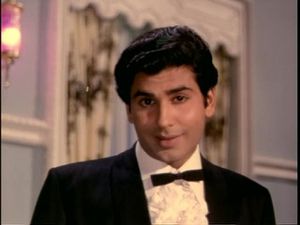 I was never able to forget that Vijay Arora is playing the 70s teen idol (neither did he, unfortunately) and Zeenat's little innocent voice is such a sham! The "rock and roll" scenes are pathetic. Well perhaps it's because the movie tries so hard to reflect what the mood was at the time, and is so dated. I don't know. For example, the famous "idyllic" scene where we see the 3 boys (among which a young Aamir Khan) embarrassingly surrounding their mum at her birthday, at the beginning the scene which is seen in Swades), reeks of amateurish complacency! (see at bottom) There isn't an ounce of psychological realism, not a wink to the audience! The only explanation I can give for the torrents of praise I've read here and there (a Facebook page!) are because the movie chimes in with the spectators' youths.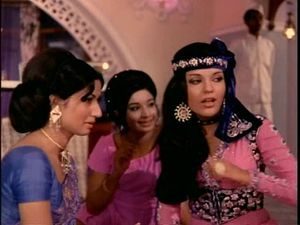 Perhaps the excess of the stylishness saves the movie, because everybody is really representative of his role: Shakkal, for example, is a "perfect" villain: his blue glasses turn him into a species of super model of the genre! The costumes on the whole are also a success; one cannot but smile at seeing again all that psychedelic colourful eccentricity. I suppose there's a public for all that!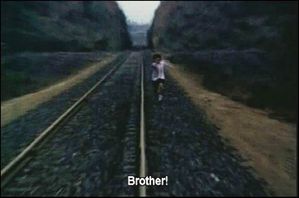 In spite of all the recipe formulas that stud the film, there is nevertheless a certain charm, a vague appeal, perhaps coming from that cry: "Bhaiya!" at the beginning, when Shankar cannot catch his little brother's hand and is obliged to leave him on the railway track, while his last carriage enters the dark tunnel of separation. The lingering desire of needing to see that murder avenged, too, and actually seeing it (did anyone in Bollywood teach train-drivers to use their brake?), well, this somehow triggers a sort of "poetic justice". And then there's the music: both "Chura liya hai", and of course the title tune "Yaadon ki baaraat" (Memories on the march) which is so infectious that it's able to take the whole movie into its swinging verses. As somebody says on IMDb, "General advice: buy the soundtrack, not the DVD!"