Publié le 18 Septembre 2009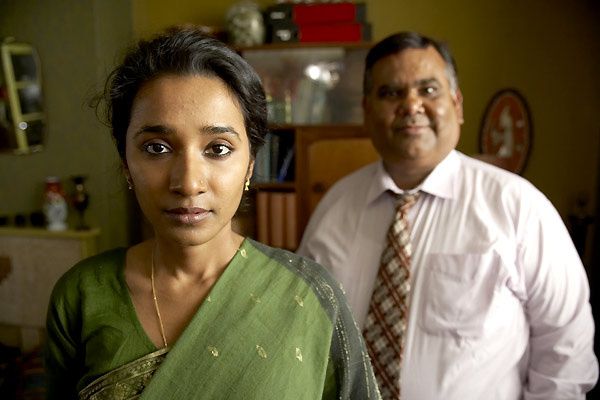 I happened to watch Brick Lane (2007, by Sarah Gavron) recently, a movie based on the acclaimed book by Monica Ali. It's a well-made, well balanced film about emigration and multiculturalism, to put it positively, or – in a less positive light – about the still ongoing oppression of Bangladeshi women, torn away from their native land and community and, in their teens, sent to marry in England against their will someone they have never seen. It so happens that the film's heroine, Nazneen (Tannishtha Chatterjee), will find happiness in the deal, but the film-maker clearly denounces the brutal and inhuman practice, which will not only cause the girl pain and confusion, but also mean that her children will be torn apart between two worlds.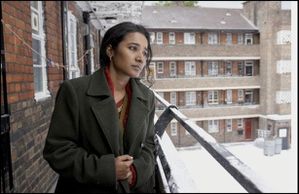 In fact, Nazneen's story is subtly told: when all is said and done, we are not really able to be that clear-cut about the director's purpose. The young woman's life in London contrasts sharply with that of her sister, who stayed in Bangladesh, and with whom she was almost like a twin before leaving their village at 17. The sister runs away from home soon after she did, marries against her father's will, and is repudiated. Then her lover kicks her out of his life. She becomes a prostitute, before finding work in a factory, and then being kicked out by an ogling manager, and will have to fend for herself in ways her emigrated sister would certainly not envy. Yet Nazneen has only one wish: be reunited with her. The film's full of the letters they write to one another, and this constant tie condemns those who have separated them.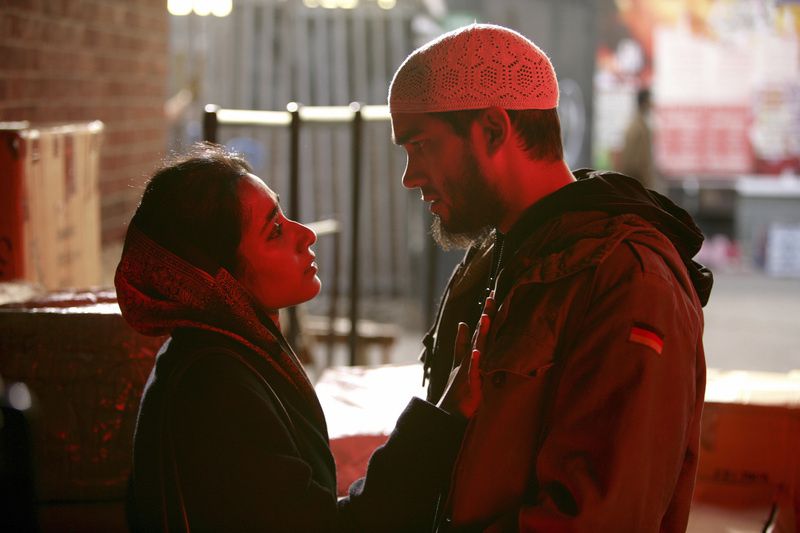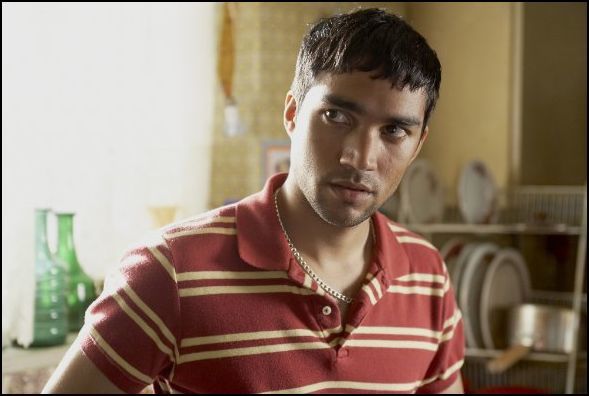 But slowly things change in Nazneen's life: her daughters grow up, and are British through and through: Bangladesh to them is a parent's thing, a nagging obsession they have always spoken about: Chanu, the father (Satish Kaushik), 40 something, who hopes to be promoted in all the jobs he finds, but never does get that promotion (he's a sad reminder that British good society is closed for Asians, whatever their academic titles, and he has no lack of them), and of course Nazneen herself who, jobless at first, scrimps and saves once she starts earning money stitching batches of jeans, in order to put enough aside and one day be able to go back. But with those jeans comes the delivery man, young Karim (Christopher Simpson, photo above), who notices her doe-like eyes, and soon gives her hope of a relationship based on a tenderness she had never dreamt might happen to her. The three children (one boy died young) she had with Chanu have been conceived in the "old" fashion, shall we say.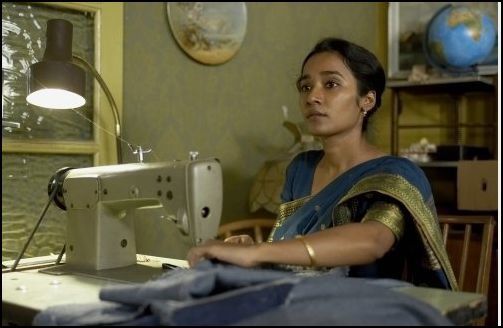 So Nazneen starts fitting into her little English nook. There is also Razia (Harvey Virdi), the jolly widow from next door, who first got her the sewing job, and then she learns about her sister's mishaps back home. Obviously, and in spite of the racial tensions in England (abruptly increased by the 9/11 events which happen during the film), Nazneen doesn't see her two daughters go back to a life which now appears far less easy and attractive than it used to appear. In England the girls will be able to study, find a job, etc. Then her story with Karim teaches her more than one thing. With love comes the realization that she can choose herself what her life is going to be. This was never an option before. For women like her, independence and self-reliance is just inconceivable. Karim's love has opened her eyes on the world and on herself. For instance, she now sees that her husband, who had never beaten her (she's thankful for that from the start), is a generous and open-minded man.
At one stage, they both go to a community meeting, where post 9/11 Muslim young men (and women!) gather to voice their oppressed concerns as a result of increased multi-ethnic tensions in the East-end. Karim is one of the speakers there. Chanu, who has noticed something going on between his young wife and the smart-looking "brother" intends to say things, and even if Nazneen doesn't want him to talk, he does, and he does so with the effect that the activists' perspective is badly questioned by his testimony that no, they aren't all brothers just because they share the same faith. Brotherhood needs something more than religion to become reality, and he mentions a slaughter that took place in Bangladesh between Muslims, who normally should have been brothers, according to the community creed.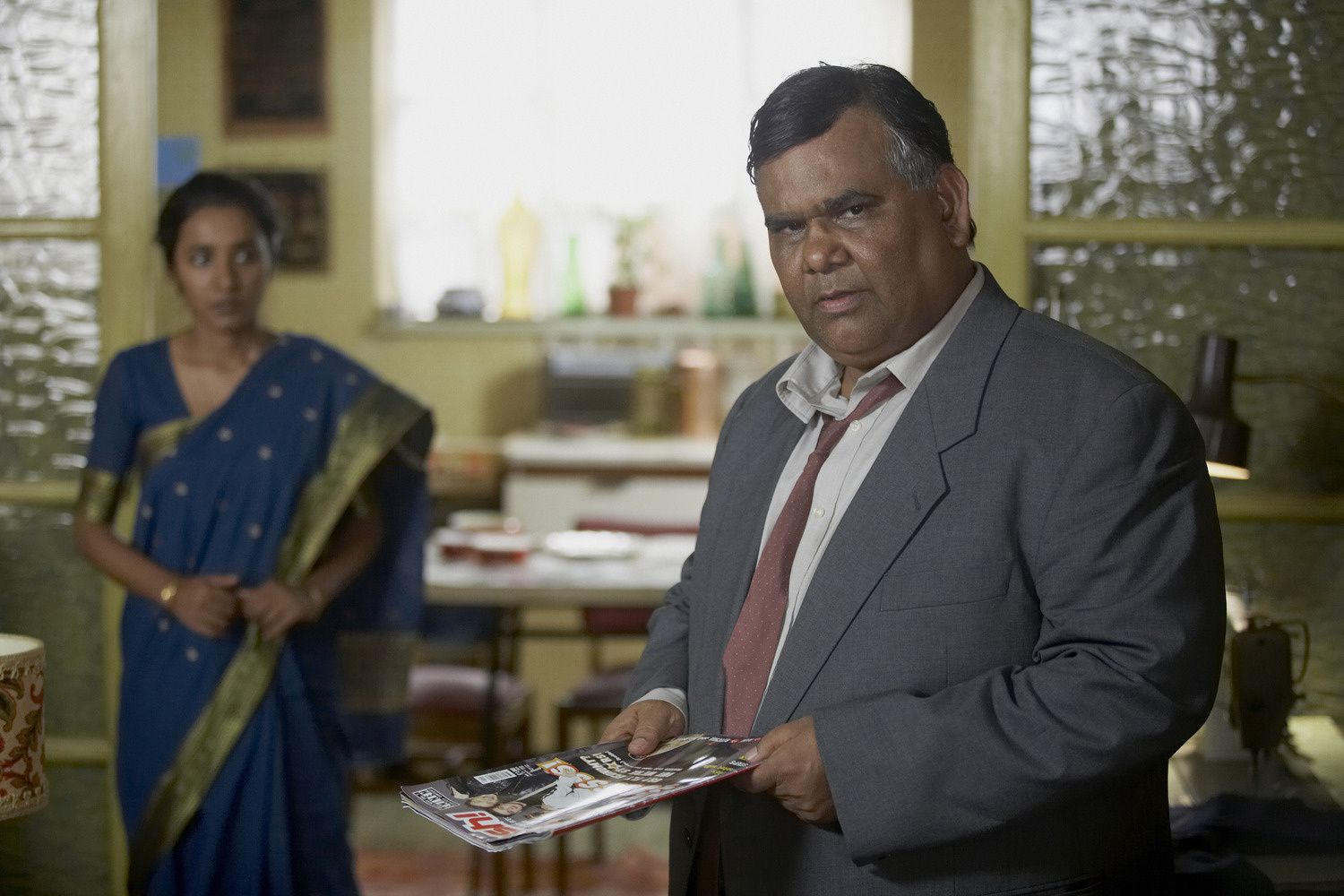 All this serves as a lesson for Nazneen: Chanu might be fat and ridiculously too old for her, he stands out more and more as a man of experience, tolerance and reflection. In a society where her girls will have to fight for their place as second-generation Bangladeshis, men like Chanu are valuable counterweights to hot-headed and possibly manipulated Islamic mavericks. In a Britain fraught with distrust and fear, he represents a go-between, a good-humoured believer in a spirit of cultural achievement which many young Brits despise or ignore. He's become the judge of what it means for a culture to cross borders and reach out to universality. Neither the young suburbian whites, nor the entrenched soldiers of Allah can fathom his understanding of a better humanity based on common sense and education. Perhaps he leaves England in the end not only because he has to go back home, but symbolically because England as a country has also failed to embody what its culture used to represent. (Let me finish this evocation of Chanu to pay homage to Satish Kaushik, whom I had already appreciated in a serious role in Calcutta Mail. Here, he convinces utterly.)
Home on the other hand is what Brick Lane has become for Nazneen. She manages to express this to Chanu who at first had intended to drag all his family with him. How? By showing her love for him, and in a moving scene stroking his big flabby cheeks with a tenderness which was never experienced before between them (and which clearly is a fruit of her love with Karim). And because he loves her too, he leaves on his own – the spectator hopes he will come back – but she stays, with her daughters, and there's that scene where they revel in the white magic of the freshly fallen snow outside. His departure is in fact a reunion, for his older daughter, Shahna (Naeema Begum), especially, who had led the fight for staying and who fled from the flat on learning she had to go to that absurd faraway destination, embraces him and asks for his forgiveness and wishes him with them.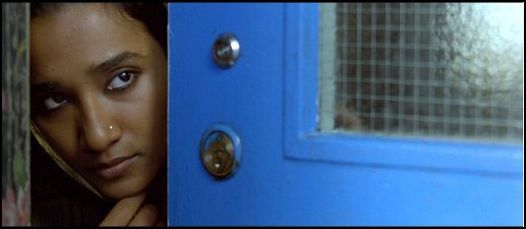 Tannishtha Chatterjee cuts a very nice character all along. She's "the real thing", as Karim tells her, meaning for him a real Bengladeshi woman, as opposed to more or less westernised girls he can't love. But the real thing she is also in terms of acting. Silently submitting to her plight, her eyes down and mouth tight, or later these eyes glowing and in rapture, she's always true and pleasant. Her moments with Karim are never vulgarised, never cheapified. By the way, I'll not tell you what happens in the end between the two of them, to keep a little suspense. She's hope and despair, she's strength and weakness, she's the past and the future.
I have not read the book, Brick Lane, which tells Nazneen's story to much greater lengths than the film could. Still, I'm told the movie follows the main lines rather faithfully. Here are two blogs where the movie is reviewed as well, and whom I thank for having given me one or two ideas: filmiholic and rediff.com. You can also check the wiki article.