Don (2006), high flying stuff
Publié le 11 Septembre 2010
Just watched Don (2006 one), by Farhan Akhtar, since it was shown on French TV last Thursday. I knew from filmiholic that « bilkul bindaas hai », and laughed at Maja's swooning and gushing over Arjun Rampal's stubble. But I hadn't given it much more thought. The film is probably old history for a number of you anyway. But never mind, it's such good fun that I can spend a little moment gloating about it. Oh, and there's also a mast review at thebollywoodfan! (She watched it with Shweta, but our Apni East India Company authoress is more critical!)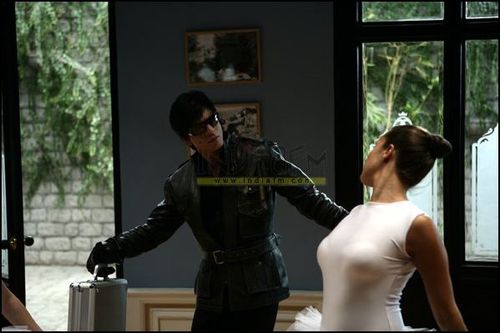 First the story: that's the best about the movie. I haven't seen the 1978 version, but Dad's inventiveness was certainly still at work when our director shot the remake. It's full of Hollywood-style dynamite of course, and classic "Indianness" suffers at a result. But let's be honest, the result is almost as entertaining as a James Bond movie, and there's still enough masala tongue-in-cheek for me to feel I'm watching the right thing. The twin trick is an itty-bitty trite, yes, but the twists it undergoes make up for the impression of well-known recipe. And nothing prepares us for the ending! From what I've read here and there, I don't even know if having the older version in mind does. But enough of it, I haven't seen it, so I can't speak about it, and perhaps it's just as well.
I don't always enjoy gangster movies, but somehow seeing a Bollywood version of film noir gave it (for me at least) the adequate quantity of distance from the genre, and I relished watching SRK doing the baddie, because precisely he was doing it. Perhaps that wasn't as it was meant? I couldn't help watching the film from that second degree and found a definite B'wood cleverness at work, playing with the trappings of suspense and deceit.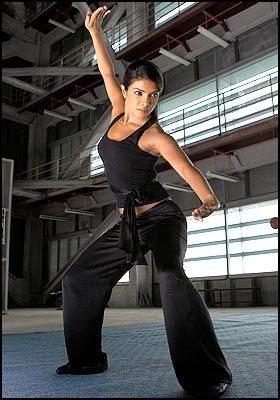 I hadn't seen much of Priyanka Chopra so far, maybe I just thought she was not much more than a pretty thing. But there's a difference between seeing pictures of the former miss World, and actually watch her smile, walk, and work her charms. She's a real wow. And together with Isha Poppikar, they help boost the male viewer's appreciation

Am I wrong? I thought there was a clear Aishwarya likeness about the two of them. Could it be that the queen of looks reigns even when she's away? It's a pity she Priyanka wasn't given much to act though. She moves around and cuts a fiery Roma, skintight jujitsu and all, but the good roles are masculine (yes, even Arjun is Okay…!).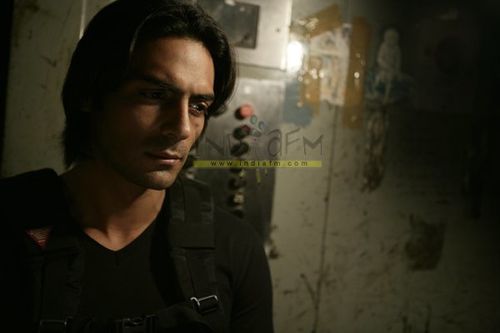 Of course SRK is centrestage all the time, and he's getting better all the time. One almost shudders as he crosses the moral border beyond which people will start needing to stop the identification process, which is so common with dear Shahrukh ("OMG, that's him actually killing someone, isn't it?"). And he seems very comfortable with his seduction powers too. When he courts Kareena-Kamini, I thought I saw her blush ever so slightly, as if she, the actress not the character, was embarrassed by his daring directness. BTW, a very hot Kareena. She could have been the main girl, as far as I'm concerned. I don't remember having seen her anywhere as sexy as she was to look in Don. Probably that womanly mature self-assurance.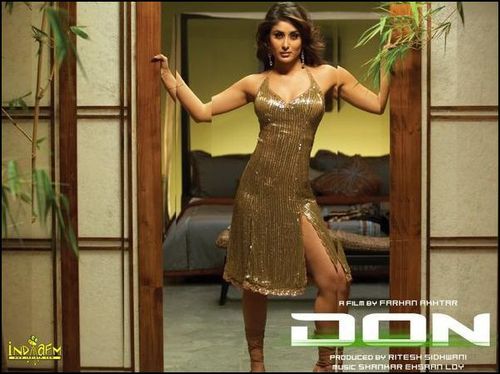 The King effortlessly passes from his sniggering naïve persona, to the more spine-chilling business-like Don. He carries the task quite well, and one excellent thing about the movie is that it's based on our natural liking of that charmer personality we enjoy so much in SRK, in order to mislead us. Somehow the spectator has trouble accepting any rottenness in SRK; we know he's a friendly and generous man! So if you're clever director, you're going to use this instinctive trust we can't help feeling when he's there on the screen, aren't you? It worked very well for me, I must say.
Then there's Boman Irani, great job as the villain who's a villain even when he pretends not to be (top pic). That's good too, in fact. In order to shift attention from the villain whom you do not suspect is even more villainous than the standard baddie, you need to create a villain who's both frighteningly clever at hiding his evil, and still rather easily identifiable as the villain. There aren't normally two such scale villains in one movie. Manicheistic necessity decrees that one is sufficient, if he's sophisticated enough. Don's interest works on this assumption!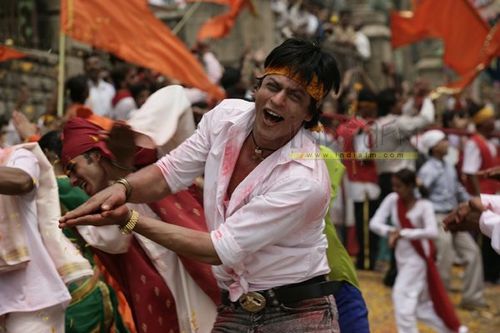 One last lesson which I thought worthwhile to gather from Don: it seems it probes far into a very realistic situation that few such entertainers contain, that of perfectly invisible duplicity. Society is full of people for whom the word hypocrisy is simply too shallow. And, I'd say, we're all hiding secrets and pretences which we'd always prefer keeping to ourselves rather than enjoy the tranquillity of truth and innocence. True, today's thrillers feature villains who are so cunningly deceiving that what I'm saying about Don might seem banal. Still, this movie plays with the theme, I thought, in a rather satisfying way. Watching it, one is led to revaluate the appearances of goodness. What indeed, assures that the person you know and appreciate isn't a liar and a fraud? And who knows if sometimes ostensibly sinful or wicked persons aren't the better ones? At least, their vices aren't hidden… Don shows us that you can be completely and truly fooled into believing appearances are reality, and friendliness a sign of virtue.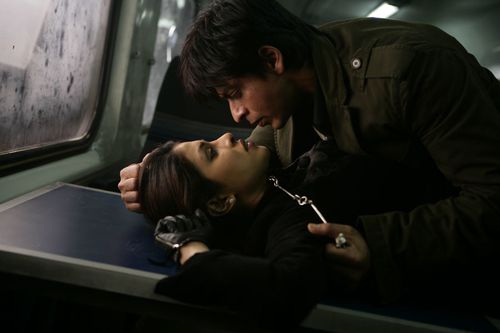 All those who enjoy the dancing and singing passages will also agree with me that on that score the film is very pleasant and exciting. And last but not least, I relished once again at Om Puri's ruggedness: how long is he going to last, I remember asking myself!
PS: thanks all bloggers for the pictures! I didn't duplicate the film!