Dosti: a Christian parable?
Publié le 24 Octobre 2010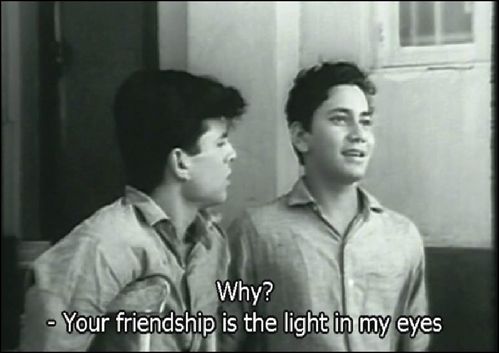 This classic 1964 by Satyen Bose is one of superlatives, "one of the best pictures ever made", a "golden movie", a "perfection from the past" (see IMDb user comments)! It's certainly worth the praise, in spite of the chock-a-block melodrama. But very surprisingly, it's its simplicity and directness which are appealing: unlike some movies, where complex a story issue taxes your concentration capacities! Here, there's no strain! Oh, the storyline, told by IMDb contributor rAjOo (gunwanti@hotmail.com) :
Mr. Gupta passes away after an accident while on duty, leaving behind his ailing wife and school-going son, Ramnath. Both await some compensation, and when they are informed that the company does not accept liability for Gupta's death, his wife falls down the stairs and passes out. Ramnath runs out to fetch a doctor, but he is knocked down and run over by a speeding car, losing the use of his left leg. When he returns from hospital, he finds that his mom has passed away, and his landlord has evicted him. Penniless and hungry, he roams the streets of Bombay and befriends a blind young man, Mohan, and both use their talents - playing and harmonica and singing respectively to earn some money. Mohan is on the look-out for his sister, Meena, who works as a Nurse in one of the hospitals and hopes to be reunited with her. Both friends befriend an ailing young girl, Manjula, and hope to get some money from her so that Ramnath can attend school...
The rest of the story is not very difficult to imagine, but is sufficiently eventful to be very watchable. And even if the characters are its greatest asset (coming up), this story has a very positive impact. You see, it is all constructed around the theme of faithfulness, and all the events do is "play" with that faithfulness: stretch it, pull at it, and make the spectators feel it keenly. It's like a big rubber band. We know it's not going to break, because it's real solid, but when it's under strain, it does stretch a long way! And we also have the interplay of the several possibly conflicting strands of faithfulness!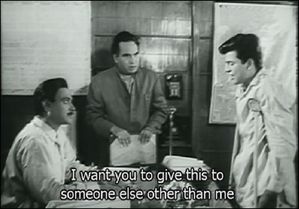 Let's look at Ramnath, the crippled mouth-organist (a tad too old for the role, but who cares): throughout the movie, he's bound by his promise to his mother, who made him pledge (almost on her deathbed) to make her proud in life: he can't deceive her, especially since she's now dead. Then he becomes beholden to Mohan, his blind soulmate, for having protected and befriended him in times of need. Later in the school, he owes his education to a strict but also kind teacher, M. Sharma, who accepts to be his tutor (Ramu has no family any more) and thus enables him to receive the education he craves for. One last time, after events have separated Ramu from Mohan (M. Sharma saves him from jealous young thugs who have implicated him in a robbery, and insists he comes to live with him), Mohan manages to earn the money to have him register for the crucial final test of his schooling, something Ramu wouldn't do because M. Sharma's untimely death meant there was no one to pay for the fee… And thus he manages to fulfil the headmaster's desire to see his school record rise to unprecedented heights, something which he had expected Ramu to do for him, since he had accepted at first to take him on in spite of his poverty…
All this seems too good to be true, doesn't it? Well, spot on. The movie's feelgood benevolence can sound exasperating at times. It does manipulate you, so that you are almost forced to distribute praise and prizes on the one hand, and blame and disapproval on the other. Much of what revolves around little Manju is dripping with a syrupy self-pity which the virtuous director spread too thickly for his own good.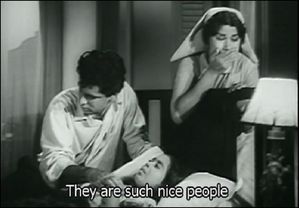 In the school, on the other hand, we have a rather realistic representation of the educational system of the times: the rich spoilt brats make fun of the cripple who joins their class. Their lazy leader, Chandu, becomes violent because his territory is invaded by a smelly beggar, and it will take all of Ramu's teacher's strength and determination to make his protégé reach the last levels of a system which isn't made for him. The criticism of the younger generation is rather balanced, as we see some of the boys struggle inwardly to realize that Ramu is being bullied, and that they mustn't let this happen. This is perhaps somewhat moralising (real bullies often have more power than poor Chandu!), but I think it had to be underlined nevertheless.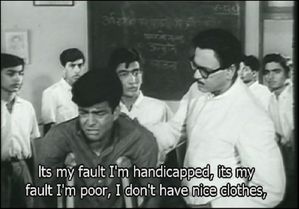 The story thus makes Ramu fulfil all his promises, to his mother, to his friend, and to his teachers. That's probably where Dosti's "classicism" comes from: it upholds faith as an absolute, and everything else is organised around this elevation, which Mohan stands for. He's the bright angel of purity and constancy (except in one thing, we'll see); he's the lamb of God who gives his life for his friends, who lays down his personal hopes for he who has declared himself openly for him in front of the world (cf. Matt 10,32). Is this a Christian film? Perhaps. Our martyr forgets himself to the point of sacrifice, in the name of a friendship which lifts the beloved friend higher than sometimes the friend deserves. His beautiful singing only reinforces the picture of angelic wholesomeness and disarming youth connected to him.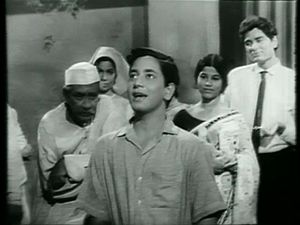 Here again, one might say the goodness level has been raised a little too high; Mohan is really so good, so generous: the risk is that you might stop believing in such exaggeration. For my part, I saw the movie as a fairy tale, as a parable in which the characters have allegorical value, in the vein of The Pilgrim's Progress: Ramu is the valiant archetype of the ideal student (Christian – the faithful - in Bunyan's story); "work hard, reach for success, and all barriers, however high, will fall" might be the slogan written under his picture! Mohan stands for the angel of goodness, as said before. We could almost consider him as Dante's Virgil (The Divine Comedy)! His sister Meena represents the temptation of vainglory and pride (she's become a nurse and will not recognise her brother publicly). Chandu the bully is only partly a caricature, the same for M. Sharma the good teacher.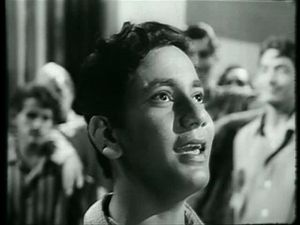 While we're dealing with symbols, a few words about Mohan's blindness. Both a sign of aloofness from this world, and of capacity to see another reality, that of the heart, presumably, or of the soul, blindness in Dosti serves to comment on other people's behaviour in contrast. It associates with Ramu's handicap to operate a criticism of other types of social and psychological prejudice or self deception. Mohan cannot recognise exterior objects, but neither can he be recognised as who he really is (for example by Manju's brother).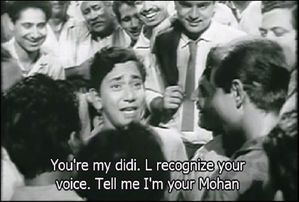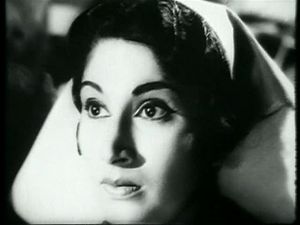 He hopes Meena will recognise him one day, as for this to happen he decides to stand in front of every hospital in town, but when this does happen, she cannot lower herself and fall from a wealthy family's Sister to the status of a beggar's sister. And Mohan will no longer recognise her after she has refused to recognise him. He says he doesn't have a sister any more. By the way, this shows the movie isn't really Christian all the way, because when Meena asks for her brother's forgiveness, Mohan doesn't give it. This is the sole case of hardheartedness on his part, probably to be put down to the enduring pain of disappointment. The theme of recognition also appears at the school, when, referring to Chandu's refusal of Ramu, M. Sharma says: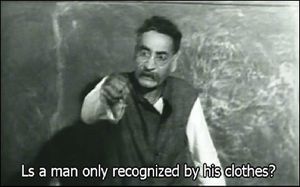 I found the insistence on Mohan's "beautiful eyes" rather meaningful. too. Soon after Ramu has met him, he marvels at his friends' eyes: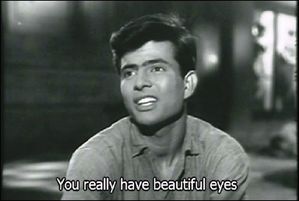 And later, after having been examined by an ophthalmologist who acknowledges his powerlessness, Mohan will declare his friend's friendship is his light (top picture). Mohan's eyes, lifted towards Heaven, could look both towards the skies of socialist egalitarianism and justice (which would explain why the movie was so successful in India in the sixties), and towards the spiritual beauties of a saved humanity, if it started to believe in the values of friendship and sacrifice. When Mohan wipes the tears in his friends' face, we are immediately reminded of Revelation 21,4: "He will wipe every tear from their eyes. There will be no more death or mourning or crying or pain, for the old order of things has passed away."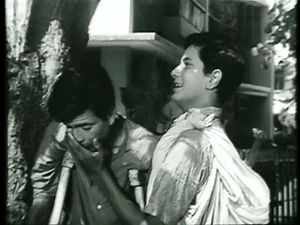 PS: There's a review written by Bollywooddeewana which is followed by an interesting debate on whether the movie might have been done with gay-supporting intentions.