Katha, window on a small world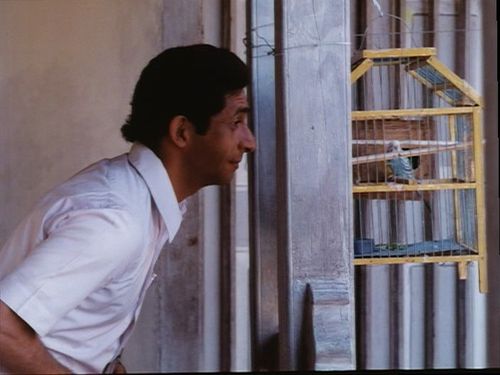 The main beauty of this little film, Katha (Sai Paranjpe 1983), which suffers somewhat from clichés that are perhaps enjoyed by a certain type of audience, is the delightful portrayal of the Suburban chawl where a community of friends and neighbours live together, united by a community spirit which I have rarely seen as warmly described as here. It's perhaps a little idealistic, but surely the level of good-natured friendliness belongs to the best of what one likes about India, that frank and open humanity, where each person can have a chance to be part of the whole. I had first been attracted to Katha thanks to Carla's excellent review, where she underlines this quality too.
I am nevertheless more sensitive than she is to the movie's weaknesses, and especially the characterization and story flaws. For me, Farooq Shaikh's character, that obnoxious self-imposed buddy who decides to take advantage of his long-standing friendship with heart-of-gold Rajaram (Naseer), is just too grossly delineated. Yes, I see that he's a caricature, but somehow I felt the story would have been much more interesting to follow if he'd been a genuine parasite, with a more ambiguous attitude. As it is, one cannot stop regretting Rajaram's absurd subservient attitude: no one in their right mind would accept the bullying he has to undergo. Some reaction at least would have been normal, and just doesn't come. It's over the top (that's why I was wondering if perhaps a certain type of audience, for whom satiric exaggeration carries some value, isn't the film's natural audience).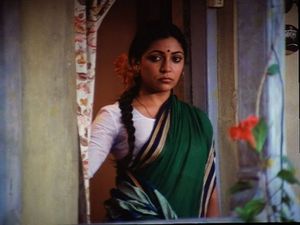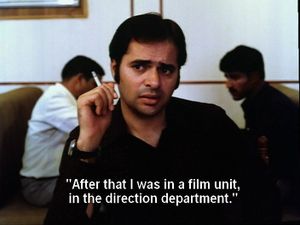 Same thing goes for Sandhya (Dipti Naval)'s infatuation for the crass superiority of "Washu": Okay, we are in a "Katha" (a tale, a fable), but should she really have stooped so low as to let herself embezzled by this pretentious prig? There isn't enough psychological truth there. I know women (that kind of women, at least) aren't that easily taken in. Sandhya belongs to the type of lovely middle-class women who know appearances when they see them, and can be valued for their solid common sense. Or perhaps I'm carried away because in Sandhya I see Dipti Naval's very satisfying femininity…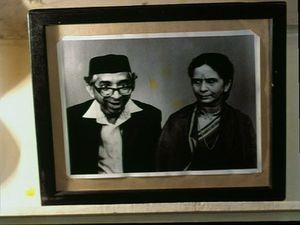 I enjoyed the movie's quiet originality; the way it suddenly introduces a cartoon when one doesn't expect it (at the moment when Wasu goes to meet his cuckolded boss in his office); the sudden change of Rajaram's parents' picture (above) when he yields to Wasu's "improvement" of his flat, as the latter pins up a model in bikini on the wall; the day-dream that turns Rajaram into a mock-Washu, with Sandhya suddenly at his service the way he thinks she would be for his boisterous friend. Then there are pleasantly unassuming humoristic touches, for example when the wedding actually takes place between Sandhya and Rajaram, after having been cancelled between Sandhya and Washu: the two carriers lift the exultant cripple who had just gone back, forlorn, to his flat, thinking the festivities were off! What's fun is that we see him pass in front of us, as if the screen was a sort of window, and he couldn't see us, so engrossed was he is in the pleasure ahead.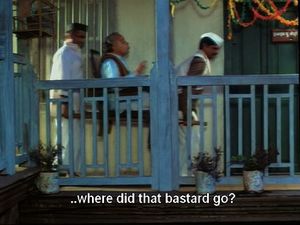 That's what the film is: a tamasha, a spectator's perspective from the window of cinema on a lovable community where life flows in and out, with its little and big moments. The stairs, doors and windows of the chawl represent the little flaps which the director lifts for us to see what occurs inside, and we open wide eyes on the private happenings; we laugh at the little secrets, we understand the humble lies, we frown on the ridiculous habits; we marvel at the love and generosity that are showered even on Washu the profiteer. Naturally, you need a story for all these modest "events" to take place, you need Washu to cast his magic charm on the inhabitants and make them realize what they're losing. This pretext becomes the non-essential narrative of the essential background: and so I suppose we need Washu's disruptive arrival, and his utterly improbable tricking of both Rajaram's boss and his daughter. But the important is elsewhere, in the celebration of truthful and elemental community life in the chawl.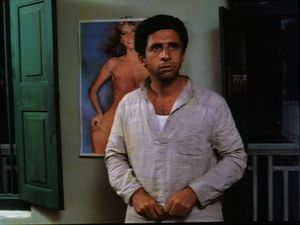 Naseer wasn't at his gritty, slyish best yet, but you can already feel the talent he displays in personifying that half-dull, half-impish Rajaram of his. One cannot stop loving him, because like the children who jump around in the playground outside, and break the cantankerous old lady's pot with their ball, he's a child too. Unlike Washu's character, which isn't as finely-tuned, Rajaram strikes as a real creation. He's the ideal mother's boy, one that all the secretaries at work know they would like to marry, because they would have their way with him, and he would be depended upon not to fool around. Perhaps that's what Sandhya saw too, up to a point. Compared to him (and of course on the surface), Washu certainly has more class, more maturity. But Katha tells us that purity of heart is way more satisfying than adventurous glory, and that family virtues, even if a tad quaint, are preferable to the self-assigned freedom and the flaunting of rules.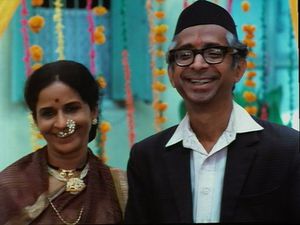 Happy ma and pa!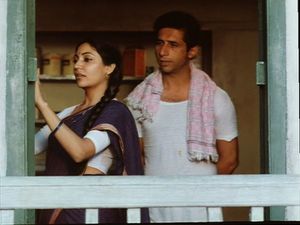 Future ma and pa!