Ram teri Ganga maili, RK's last opus
Publié le 23 Septembre 2011
I have read so often about Raj Kapoor's last movie, Ram teri Ganga maili (1985, Ram, your Ganga is sullied), that I wanted to have a personal opinion about it. The movie has itself been sullied as obsessively concerned with Mandakini's nakedness and the director himself as a scandalous and ageing admirer of young feminine beauties. If you haven't seen the movie, and you google the film's name, you'll inevitably summon up the "hot" waterfall scene, of course quite innocuous by today's movie standards, but which sparked the censors' condemnation. We can start talking about that, and get it out of the way.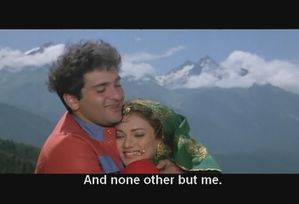 Ganga (which refers both to the girl and the river) was born in the Himalayan Mountains, and lives up there a rustic life until she meets Naren (Rajiv Kapoor), a kindly lad from Calcutta, where the river flows into the Ocean. He's full of naïve ideals (his heinous Industrialist Daddy cannot understand why he reads about Vivekananda and rejects the values of money), and so is she, of course, born as she is near the heavens and bathed by the pure icy streams. Well, precisely, not so icy because, even though she's got a hard skin that the poor city dweller doesn't have (reference to a totally corny scene where she crosses a river barefoot, and he whines and pouts, until she kisses him), she can shower near the glacier with only a see-thru thing on her… Right, so yes, this scene is not very useful in terms of the movie's message! But it does help attract him to her: they marry and consume their union, in spite of an incredible family feud, which ends in a bloodbath while they are busy lovemaking in the temple that night!
But it would be a pity to restrict the film to RK's lasciviousness (because, they're right, there is that other breast-baring scene in the train!!). The film's idea, for example, I found a rather good one: it's a parallel between the river Ganges flowing from its pure sources to its polluted estuary in Calcutta, and Ganga's downfall from innocence to ruin, as she follows the river on her way to find the father of her child in the end.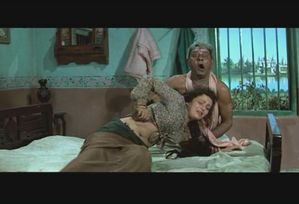 On the way, we see her fall prey to profiteers and thieves, who notice her beauty and charms; she's saved by the wife of a lecherous priest in Benares, and put back on the train by a considerate policeman; but en route she's spirited away to a music school (a "blind" tout has noticed her singing on the train), where her talents are noticed by high-flying politicians who are paying a visit.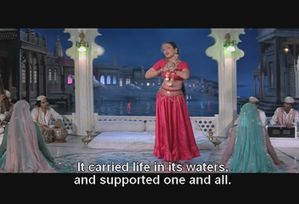 She's already been considered a prostitute for going around with a child on her own, and now in the music-school, where tawaifs were so common, her downfall from grace has been acted out. Anyway, this is where her story rejoins the film's other story: Jeeva, Naren's dad (Kulbhushan Kharbanda, pretty good) is busy obtaining political support for his capitalistic and polluting factory, and has befriended the candidate for a local election soon to take place around the theme of Ganges depollution. This new politician, Bhagwat Choudary (Raza Murad), manipulated by Jeeva, has a daughter who they agree Naren should marry, and the preparations had started just before he left for the Himalayas on an expedition where he was to meet Ganga…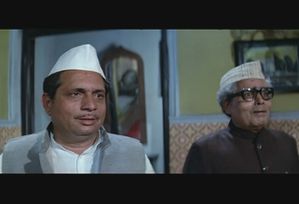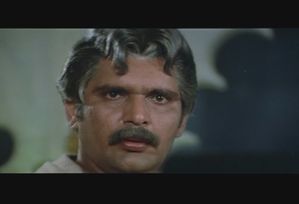 Well! So who are the politicians who have just come to listen to Ganga's improving talents at the music-school? Bhagwat's gang of course, and as soon as they eyes on her, they stop dead and wonder how they can appropriate her…I think this is Raj Kapoor's film's second strength: the gallery of villains. Of course their appearance underlines this, but not only, there's a real and scathing criticism of vice in the film. Greed, debauchery, vicious cruelty, selfish thirst for power, wilful humiliation of vulnerable human beings, gratuitous slander, and when these wrongs are performed by the powerful, it's almost impossible to expose them and reform the ills which their power has established in society. In the movie this is done by a rather unexpected righter of wrongs, played by a spirited Saeed Jaffrey. He's Kunj, Naren's uncle, and his reputation is that of an openly recognised brothel owner, so he's looked down upon by the rest of the family who keep up appearances, at least Jeevan, the corrupted and scrupleless tycoon.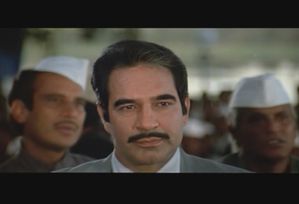 I think the interest of this character is that even though he's morally degraded, he doesn't hide it, and therefore unlike the others, doesn't add hypocrisy to his vices. He's the only one in the movie who seems neither sanctimoniously candid nor ferociously beastly. In short, he's an average human being, with his vice but also his honesty and his courage. In fact it's probably because of his own sins that he has the guts to stand up and denounce the far greater ones of his sanctimonious brother and his hidden corrupted plans: he has no reputation to lose.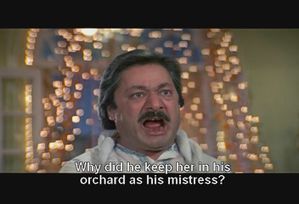 Kunj is Raj Kapoor's spokesman. Raj Kapoor might be equated to a lecherous old man, as is often said: but this has perhaps enabled him to say things unpleasant to see and admit, because falling from grace is never pleasant. Perhaps living in the real world boils down to that: reality isn't only music, dancing and simplistic, sugar-coated feelings, like too much of Bollywood would like to have it. Under luxury and glitz, there's money; under money, there's greed; under greed, there's the growl of power, there's the wolf waiting for the lamb. This might sound cynical especially when one knows that RTGM was RK's farewell to the silver screen, but well, it's also the voice of experience.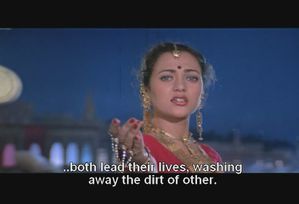 The "lamb", in Ram teri Ganga maili, after being compared to her predators, comes out rather human. Her trip to Calcutta provides us with the right portrait of her. If you have in mind the Ganga from the first half of the film, she's pathetic; but the battling, sneering mother of the second half shows the little that Mandakini was able to do. Unfortunately, even that little doesn't come from Rajiv Kapoor who, I hear, didn't pursue a very long film career …
BTW, had he lived, I wonder what Raj Kapoor would have felt in front of Aishwarya Rai: his filming of a radiant Mandakini certainly feels like he had a tender spot for the likes of her: