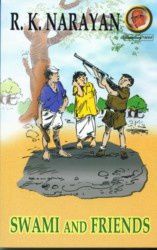 This is a lovely, very readable, and at the same time, a rather unusual little book. Unusual because it doesn't follow the common pattern of what might be expected from such entertainers. It gears itself towards an all-important cricket match, which the hero of the story, young Swaminathan and his 11 year-old friends, are eagerly preparing, with the very special enthusiasm of that age, and instead of the heroic chapter expected, something completely different occurs. We are deprived of victory, and even of the match! Instead, we follow Swami losing himself in the nearby forest, being recovered by a cartman passing that way, spending the next day recovering (when he should have been bowling for his team!) at the Forest Officer's Cabin, where his distraught family come to fetch him. It's a terrible shock for young Swami, who had been so keen about the foundation the cricket team, and then the regular practising, and of course their first important match! A terrible disappointment for the Captain too, Swami's best friend Rajam, who has been let down, thus confirming his worst fears.
Of course there are explanations for all this, which will be explored hereafter, but you must know first that Swami & friends's very particular quality is that it places itself to the level of the 10 or 11 year olds, and that everything is given an urgency, which is given only when you are that age. Had the story been told from an adult's point of view, it would have been completely different. For example, we are often under the delusion (which is that of the children in general) that the heroes' sizes are tall, because their talk is big! Their strength, too, seems enormous. Mani's, for example. He's perhaps a year older than the others, and has a formidable presence throughout the book. He's afraid of nothing and nobody, and talks of clubbing and breaking the bones of whoever thinks different from him. Only once, when Swami goes to his house, and meets his Uncle, does he fail to recognize the formidable Mani. Then there's Rajam, the bright and energetic son of the Police Superintendant. He owns an Alibaba cave full of shining toys in his room, has always good marks at school, and his father's position as government Officer gives him privileges which are at first looked down upon, but later the miracle of friendship occurs, and he's accepted in the group (very realistically though, he builds a bond a friendship with Swami and Mani, who used to belong to a first band, but destroys that former band – and the other boys soon fade away from the centre of things).
So the book tells a few of the various episodes in the life of Swami, who has just entered secondary school, and one wonders how much could be autobiographical, because it resembles life so damn closely! His family, for example: a strict and rather formal father, with a lot of authority but also his foibles; a supportive Granny but who doesn't know much about anything, and just showers her love on just about anybody. The mother, Lakshmi, has been left a little more in the background - a phenomenon common in boys of that age - and the little brother who is born during the course of that year. Swami only has a corner of his father's room to work, a little table where all his school things are bundled up after he returns from school every afternoon, and sorted out the next morning for early homework. The episode of the coming examinations is a fascinating psychological analysis of what goes on in a boy's head, for example.
But what plays the greatest part in the succession of events is the influence of the national events of 1930, as they are reverberated in the little town of Malgudi. Some visiting political workers come to stir up a demonstration against the arrest of a well-known activist, and the children listen to the talk; soon they are asked to participate in the destruction by fire of all non-khaddar (homespun) clothes, and in his enthusiasm, Swami throws his "foreign" school cap in the fire (in fact, his father had bought it at the Khaddar store, but he doesn't discover that until too late). Being without a cap makes him need to find an explanation for when he goes back to school, and so when the next morning, some "rebel" pupils outside the gates try to boycott school that day, his excuse is found: no school, no need for a cap! He joins the revolution, and because of his naïve and eager disposition, he takes part in the romping that ensues: the bands of children start throwing stones at the imperialist window-panes, frightening other pupils, bullying the hesitant ones, and end up entering the school, thus wreaking a mild havoc. They are stopped by the police, and Swami almost gets beaten up, and manages to escape with only bruises and scratches. But you can imagine how all this affects him. Because of his involvement in the rumpus, he is expelled (he's been seen wilfully breaking ventilator panes), and joins another school. But things do not go well there either, and to avoid punishment for his absences (to go and practise cricket), he runs out of school again, and in a panic, turns into that fateful forest lane where night catches him…Little Swami somehow represents young India made dizzy by the winds of change.
Anyone who's been a boy anywhere in the world can relate to R.K. Narayan's account of childhood games and friendship. This is an age where everything connected with friends is 100 times more important than family, 100 times more urgent than school, where holidays are Heaven on Earth, when games could last eternally, if one didn't have to go back home for bath or dinner, where victory and defeat can be equated to absolute bliss or bottomless misery, and your body has an energy and a resistance you just don't think about, so supercharged it is all the time. Mani, Rajam and Swami are described to be out on the trunk road when there is nobody out, in the blazing sun of midday, but for them it's quite all right, because they have their plans and pursuits.
Friendship is the real subject of the book; friendship and his pal loyalty. There are many books on friendship, and many combine friendship and childhood (think of The kite runner); this one has the freshness, the spirit, the realism and on top of all those qualities, it has the fantastic tone of childhood. Because it written at child-level (not above five feet), it sees the world the way children do: grown-ups are up there; in front of you are the other, much more real, people: the other first formers, threatening second-formers, or despicable Infant Standard midgets. Life depends on making the right alliances to get from the entrance of the day to its exit with the greatest amount of fun possible. Fun. Fun is something you can only really comprehend if you aren't any older than 11 (or perhaps 12). Fun is something absolutely serious. It is what life is made of. Anything that comes in the way of fun is to be avoided at all costs. This includes: house chores, homework, the idea of school, school lessons, school rules, school teachers, looking after one's smaller brothers and sisters, helping mum in the kitchen, going on errands to the shops, washing, undressing, going to bed, switching off the lights and going to sleep. Fun can never be had with your parents or your teachers. They just don't know what it is. Listen to this: "OK everyone, today everyone is going to clean his room: isn't that gonna be fun?" Hopeless.
But Swami and friends wouldn't be really about childhood if it didn't contain that other element of early days, fear and anguish. On of the opening chapters, entitled "what is a tail" tells the hilarious yet also painful experience of being ridiculed and abandoned by your friends. When this happens, your world seems to crumble to pieces. Swami goes through this excruciating experience when his pals call him that, the tail, because he's always behind that new boy, Rajam, and it's as if he has forgotten them, as if he's swapped loyalties. That upstart can't be a friend! And if you become his friend, then you're a traitor, you're nothing more than the traitor's tail. Swami also goes through the throes of deepest fright that night in Memphis Forest. Of course, the darkness, the noises, the strange sounds and shapes, everything conspires to create a horror movie in which false relief and shattering of hopes occur at precisely the right moments! Physical feelings and mental representations add up: a child is really well equipped in the daylight for mischief, but at night, all alone, my, how quickly he's defenceless! The common theme between friendship and fear is solitude. Childhood is the enemy of solitude. Childhood is friends and fun with friends. Read Swami & friends, and thank M. Narayan for reminding it to us so vividly. Here's a wonderful extract:
"The next morning, he formed a plan to be free all evenings of the week. He was at his desk with The manual of Grammar open before him. It was seven-thirty in the morning, and he still had two and a half hours before him for the school.
He did a little cautious reconnoitring: Mother was in the baby's room, for the rhythmic creaking of the cradle came to his ears. Father's voice was coming from the front room: he was busy with his clients. Swaminathan quickly slipped out of the house.
He stood in front of a shop in front of which hung the board: "Doctor T. Kesavan, L.M. & S. Sri Krishna Dispensary." The doctor was sitting at a long table facing the street. Swaminathan found that the doctor was alone and free, and entered the shop.
"Hallo Swaminathan, what is the matter?"
"Nothing, sir, I have come on a little business."
"All well at home?"
"Quite, Doctor. I have got to have a doctor's certificate immediately."
"What is the matter with you?"
"I will tell you the truth, doctor. I have to play a match next week against the Young Men's Union. And I must have some practice. And yet every evening there is drill class, scouting, some dirty period or other. If you give me a certificate asking them to let me off at four-thirty, it would help the M.C.C. to win the match."
"Well, I could do it. But is there anything wrong with you?"
Swaminathan took half a second to find an answer: "Certainly, I am beginning to feel of late that I have delirium."
"What did you say?" asked the doctor anxiously.
Swaminathan was pleased to find the doctor so much impressed, and repeated that he was having the most violent type of delirium.
"Boy, did you say delirium? What exactly do you mean by delirium?"
Swaminathan did not consider it the correct time fro cross-examination. But he had to have the doctor's favour. He answered: "I have got it. I can't say exactly. But isn't it some, some kind of stomach-ache?"
The doctor laughed till a great fit of coughing threatened to choke him. After that he looked at Swaminathan under the eye, examined his tongue, tapped his chest, and declared him to be in the pink of health, and told him he would do well to stick to his drill if he wanted to get rid of delirium. Swaminathan again explained to him how important it was for him to have his evenings free. But the doctor said: "It is all very well. But I should be prosecuted if I gave you any such certificate."
"Who is going to find it out, doctor? Do you want our M.C.C. to lose the match?"
"I wish you all success. Don't worry. I can't give you a certificate. But I shall talk to your headmaster about you and request him to let you off after four-thirty."
"That will do. You are a very kind to me, doctor."
Unfortunately for young Swaminathan, the doctor forgot to do so.
_________________________________________________________________________________
You can read Swami & friends online here. The book has apparently been turned into a play, check here. And I found a very good reader's review here!