Tabu, the dark queen on the Bollywoodian chessboard
Publié le 31 Juillet 2008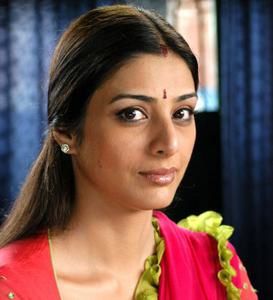 I'd seen other films with her before, but I really discovered Tabu thanks to Cheeni kum. "Cini kam" means "less sugar". And that's what Bollywood has to offer with Tabu: a less sugary actress! With Tabu, the sweetness of many other mainstream actresses is absent: there is no exuberant emotionality, no fits, none of that Bollywood nonsense which we like so much. The colourful and musical extragavaganza seems out of place… Even if recently so. Because Tabu has been in the past an actress like the score of others who have thrived in the escapist, glamorous, emotional, action-packed products which are as quickly forgotten as they are watched. Her image today is that of a concentrated, poised, intense (if graceful) woman, that expresses herself best in serious roles, and if we see her smile, it would be on a backdrop of some important mission or long-lasting destiny. I haven't seen her much in her earlier films, but as far as I can judge from extracts, she's always been rather cool and subdued, it seems to be her nature. Less joy and liveliness than others, and more reverie, aloofness, and sometimes even melancholy, I'd say.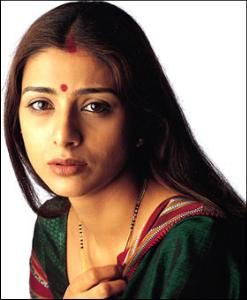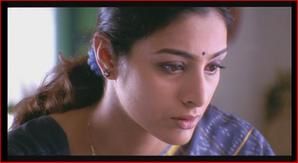 On Bollywhat I found an interesting if perhaps provocative suggestion of Tabu's "dual nature". It's by Subash K. Jha:
"For me, Tabu has two faces: The pouty pinup girl who, I believe, gives interviews to magazines only if she adorns the cover page. And the generous, thoughtful poetess, who responds to subtle stimuli. It is also hard to believe the girl who appears in the gossip columns is the same one who snuggles as close to Gulzarsaab as his own daughter Meghna".
Frankly this first sounded like "what's he talking about?" – but, well, Tabu does appear on all those rather glam pictures (she's not a Mallika Sherawat, but ...), and has had her sizzly period before she decided to cool down: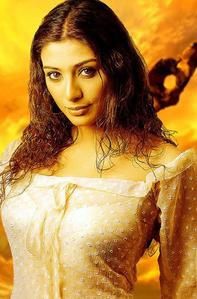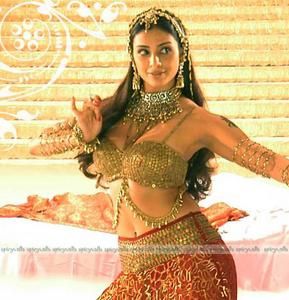 Even if (at 38) she's low-key sizzle compared to some debutantes of today, she's obviously very image and body-conscious: but it would be difficult not to be when you're exposed like she has been since she was 15, when she was first spotted by an uncle and asked to play without any training. But there is nevertheless something ambiguous in her persona: she's been involved in a star system that demands from its female exponents a type of behaviour which she accepts only reluctantly. You know, the standard female lover attitudes: looking up in a trance (or with a twinkle in the eyes) to the luscious black-haired and moustachioed good-looking guy on the beach (or wherever). The one with an orange sweat-shirt and impeccable black belt. It would seem she just doesn't fit in that type of wooing and cooing. Yet she's done it, and rather well, too. So do we assume she's grown out of it? Or that she's now in a position (financially, artistically) to choose films that satisfy her intelligence better? Probably both, in fact. Here's what she says in one of her interviews (still that Bollywhat page):
"But then I started doing other movies and, of course, when you see adulation, and you see fame, and then when you see money, you're like, "Oh, my God. Wow!" [laughs] So I did all of that. I've got all my designer bags for myself, I've traveled the world, and did the glamour bit, and enjoyed every bit of what I was getting. And then, at some point, I started enjoying what I was doing. I mean, my work got slowly, slowly isolated from the trappings of the film industry, and my stardom, and celebrity status. And then it became between me and my work, you know? And that's what I started enjoying and started living with. And it's really, really become me, and I have become my work, in many ways. And it's become my identity. And it's been so long that, you know, for me, my definition of my life is through my work, essentially.
She also says somewhere:
"I've always tried to be neutral. I have never stooped to grab roles..... after all you get what you deserve."
That "neutrality"… I wonder if isn't another word for a certain pride; a pride which she has kept hidden inside for too long, but which is now justified and blooming. Certainly what has been a determining factor in her career is, like a number of other girls, her great physique. She's been blessed with these regular features, these brooding eyes, a taller than average size, all which give her an aura which makes her differ from other actresses of the same mould (a good example is her shadowy character in Fanaa).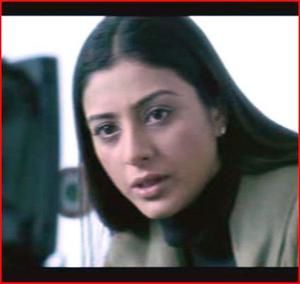 But that would be nothing, almost (it could even be a negative in someone who wishes to be regarded for what she is worth, and not for her appearance – cf. Aishwarya Rai's dilemma), if there wasn't something else, which can be summed up by this word: restraint. Tabu keeps herself at the back. That's where she's comfortable, that's where she's noticed, as it were. That's where she shines, even. I've watched Kandukondain Kandukondain (2000) once again in order to write this, and it struck me as very clear. She's a perfect n°2. And that's why, probably she has both waited and feared to play in films where she would be the real n°1. In boy loves girl stories, the lead boy and girl and only pretexts: but a real film, like the Namesake (where she's not quite n°1) and Cheeni Kum, where she is, in spite of Big B, show that evolution.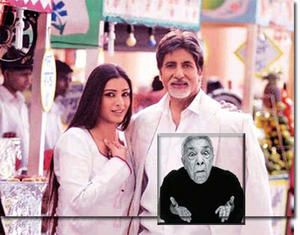 So that's what Tabu has given Bollywood: a supporting actress as lead actress. She's managed to make directors notice her by dint of playing her roles with a restraint worthy of the lead position. She's transformed a shadow into light. And so naturally she's treading uncertain ground when put in the front. She's had to re-invent her comfort zone. The first result (that I know of) is Cheeni Kum, that very pleasant little film, because in the Namesake, she's guided, and sided by all the other characters. In Cheeni Kum, she's all on her own in front of Amitabh; it's for real this time. The film rested on her, because He had nothing to prove, obviously. Incidentally, I found he didn't shine that much. Big A is clearly too big for the role. Is there a film where he has been able to play vulnerability, instead of domination? But Tabu, now she pulled off something great. I'd say it's a mixture of overflowing femininity and mature resistance to that spilling over. In Cheeni Kum, I think she knows she's in possession of all her talent, that instinctive, self-taught responsiveness to life situations, and each second she's calculating exactly how much she can give of her art.
Mira Nair, when voicing this famous appraisal ""She is India's Meryl Streep. She is an independent minded, great actress who is not worried about not looking glamorous", understood exactly what Tabu was doing. Meryl Streep is the quintessentially feminine actress, endowed with everything that could have made her walk the tightrope of stardom above all the uplifted heads. She did reach stardom, but via another route, that of hard work, self-forgetfulness, and the choice of roles which demanded her everything. We'll see if Tabu successfully follows that path! Certainly when she says "I am only interested in Tabu, the actress within me and I will not rest till I find her", she seems to have understood the general direction. There would be a lot to say about her method, or perhaps one should say, absence of method. Here is how she puts it:
"I've never got outside of my own work and analysed or assessed the effect it has because if I'm doing it then I'm enjoying it more than I'm thinking of what effect and impact it is going to have. I just enjoy the process of bringing the character alive. It's not like an intellectual process, and I can't articulate it, because I don't know how it happens. It's more of an experience for me than something I can talk about." (here)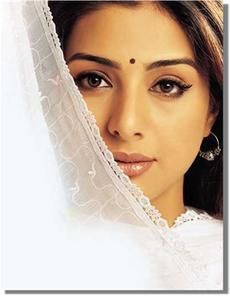 Some of the rationale behind her personal style, her typical acting power lies I think in her own story. She doesn't hide the fact that she was brought up in a divorced family, and educated at a convent (kanvent mè parhi hui – that's part of a dialogue in my hindi learner's book!), and so her naturally retiring nature was shaped by a very feminine environment – even if we've hinted at the (almost masculine) pride that existed in her down deep. And so incidentally one of the reasons for Cheeni Kum's success, I'm sure, is her search of a father figure that has been lacking in her life. I'm not saying she found it in AB, but probably she could refer to the film's story easily because of what she had lived. She does say, on the other hand, that she prefers older men:
"I am a free spirited person. Only an older man can control my free spirit. He'll pamper me, and let me do what I want. I can flourish with him. If I am with a younger guy, I know he'll be crushed under my personality. And I won't be able to get along with a guy of my own age simply because he'll compete with me. Today I have no patience and tolerance for all that. Perhaps I am unconsciously looking for a father in the man who'll come into my life".
What she has kept from her provincial upbringing (she's from Hyderabad, in Andhra Pradesh, and is currently building a house there), and by this I mean her need to get back to a life that is very circumscribed, with family, friends, people she has always known – is a certain type of organisation, even meticulousness. Somebody testifies somewhere that she loves to send sms messages, but she never abbreviates any word! In her own terms, she is a sort of swami:
"My needs are small. So is my lifestyle. I come from a simple middle-class background, where my mother was a teacher and grandparents were lecturers. My needs since then haven't soared much higher. I don't party. Nor is my friend circle such that I feel left out. I am very content."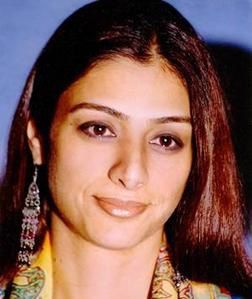 Educated in a fashion that recalls heroines out of Jane Austen, she likes literature, travelling, discovering. There is something essentially free in her personality, which is certainly a consequence of a very deep understanding of what culture brings to women. There has even been a rumour that she wrote poetry herself (she denies that). One example of her intellectual and artistic tastes: Paulo Coelho.
"I'm reading his new book Like a flowing river. It's so impactful and I feel it's a great job that writers do. It can so influence people. It's so much like films. There are so many books that have made a difference in my life. So I'm a fan of people who can express beautifully and who can really affect you with what they write.(link)
Finally, Tabu is both a woman of today, she's modern, fascinating, she belongs to this fluid and communicating society, and she's also a woman of yesterday, with her need to anchor herself in traditions, with her aching desire to better herself all alone, and probably resemble one day some family auntie, like in some XIXth century novels. Ah, I almost forgot, the big question of why she isn't married yet:
I am not skipping the issue of getting married. I am only saying that it will take some time. Till then I don't even want to tempt my ambitions my goals and my talent. I don't want anything to mar or tar the road I have reached after having walked so far, after overcoming the many odds on my difficult route. I am a very happy person today, I don't know how many times I have reported it. I don't want happiness to leave me just now or at any time. A little more of it would do but I don't want it to be taken away for ever, for God's sake.
I have left everything in the hands of God. He has brought me from nowhere to a place I can call my own, my very own. He has chosen the route for me. He will also choose the goals. I will reach wherever He sends me. He is my leader I, Tabu, His most humble follower and as long as this relationship lasts nothing can come in my way, nothing can harm me.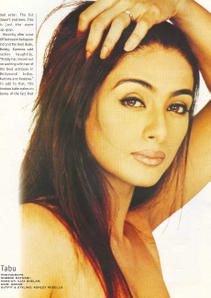 Doesn't all this recall some other beautiful and intelligent co-star who's always placed her goals on a sort of high mountain, with the risk of appearing to snub other less fortunate mortals? Well, perhaps it does, and perhaps it doesn't. Let me ask Tabu to close and say for her what sort of woman she is. She does it (I fancy) when she describes the heroine from The Namesake:
Ashima, for me, is the quintessential Indian woman for whom life is about growing up, and finding her independence, finding a good suitor for her, and getting her married, and finding and living a full life with her husband, wherever the husband is, and finding her own bearings and her sense of belonging in her family, which comprises of husband and children, the family. So I see Ashima as that. I see her as most of the women in my family have been.