Solva saal, a tale of stolen pleasure!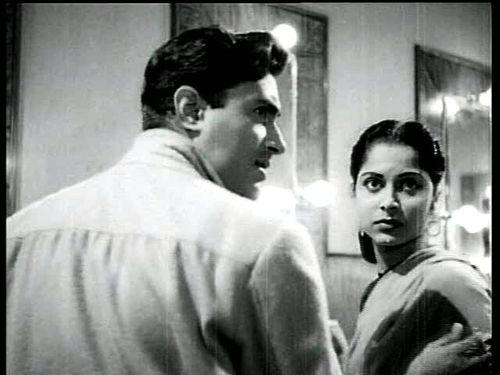 My quest into Bollywood classical beauties makes me stumble on great stuff sometimes. Sometimes not: for example, I recently watched Ram aur Shyam and found it a letdown: the famed "best film that cannot be made again" (according to one IMDb user) was not much more than a passable entertainer. Still, pursuing my Waheeda Rehman quest, with Solva Saal (Raj Khosla, 1958), the pleasure level was high, and Waheeda a beautiful marvel. One is right to dig further, even if the first layer has proved disappointing!
The film's story, is perfectly told by Memsaab (thanks Greta) so please go read, she really does that well! If you know It happened one night, by Frank Capra, you'll notice a similar pattern, but the Indian Movie is fully watchable even with that reference in mind. What I want to say about it refers to the main lead pair, and to the cinema metaphor to be found in the movie. Dev Anand, who sometimes struck me (perhaps as he started surfing on his "cool charmer" image?) as rather superficially detached and too self-assured, here I found really pleasant, quite a treat to watch.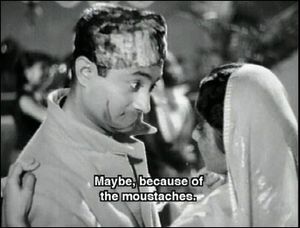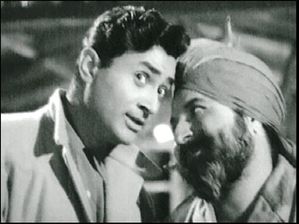 His Gregory Peck likeness helps him passed the attention threshold, and once he's hooked the spectator thus, one smiles as he banters and teases, as he laughs, jokes and forgets himself a little, even showing an ageing double-chin! Truly the detached dandy puts on a good show. His disguises are another way to show his versatility, and I'm sure if I was a woman, I'd fall for his sparkling merry eyes. Some people prefer Shammi Kapoor, but I know I wouldn't! Anyway Pran Kashyap has a youthful and naïve elegance which at the time belonged to him only.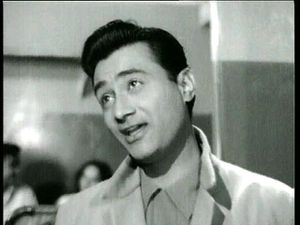 The movie is sometimes only a pretext to showcase either him or Waheeda Rehman (who plays Laaj, the eloping kanya), but there are two GREAT scenes where he's in a perfect opposition with her: the taxi scene and the clothes changing scene. In the taxi, he's a stranger to her, and Laaj, being in a delicate situation where she doesn't want to reveal who she is, and what she's doing, is trying her best to hide everything she can: name, address, reason for her presence etc. But this dissimulation only arouses more attention, of course. And her infuriated attitude creates a classic confrontation jewel, that of the fuming beauty and the merry admirer. It's hilarious and charming.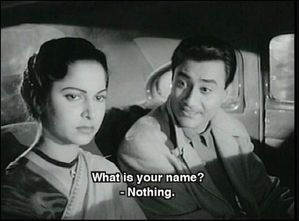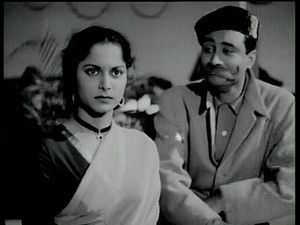 Above, a repetition of the taxi scene!
Yet it's only in the second scene, when, after Laaj has tried to drown herself (she's too ashamed to go back to her father and admit she's made a mistake to elope with a young man who she now realises has tricked her), and Pran saves her (oh, there's a useless "wet and torrid" exchange of looks near the parapet, in which we're supposed to understand that she finds him deadly attractive), it's only in this scene that they illuminate the screen completely. They reach a washerwoman's house, who's ready to give them some dry clothes, and mistaking them for husband and wife, sends them in a common changing room. Very nice scene where a horrified but also exultant Laaj shuts the window on the giggling dhobiwalla's wife, ready to enjoy an unusual squint: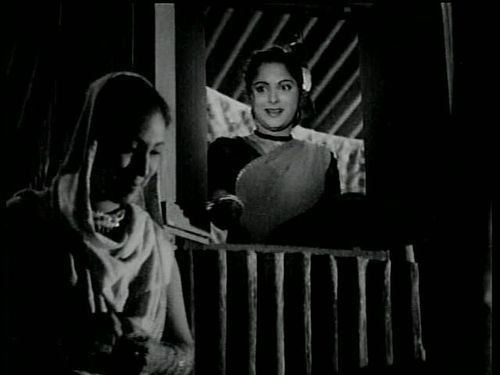 Inside the "changing rooms", the fun (and the delight) really start! First, they have to partition the room into two, by pulling curtains between them. Of course this means that they will be "obliged" to hear the other undressing. Then (as expected!) they're given each other's clothes, Laaj has men's, and Pran women's, and this creates a classic embarrassment which obliges them to touch objects that are going to be worn by the other… And then they realise that this forced intimacy is rather pleasurable, and they play with it. Laaj starts asking questions about her protector and saviour: where did he learn how to sing, is he married, etc. And Dev, relishing the warming-up inherent in these questions, tenderly resists. She grows insistent, uses all her conviction, and she finally opens the curtain to suggest he might relent, and indulge a little in commonality!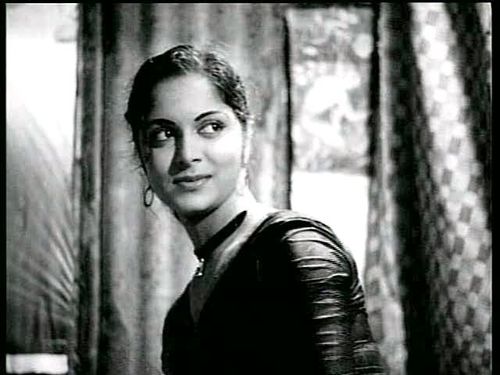 Nowhere, not even in Teesri Kasam, have I found Waheeda Rehman as alluring and seductive as in this scene. Her profile is absolute voluptuousness. Her black eyebrows give her expression a strength and a daringly sensual appeal. And the way she plays with her eyelids, her lips, her chin, all this is entrancing. If there was one scene when I was sitting in front of screen like a Tex Avery wolf, tongue unrolled and eyeballs out, it's here! In Teesri Kasam, there's perhaps more ecstasy, more dreamy femininity. But here, in this scene (and in one or two other passages), Waheeda was pure physical shock.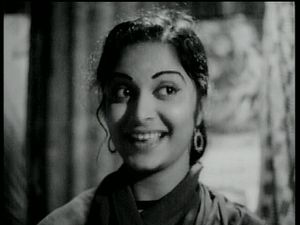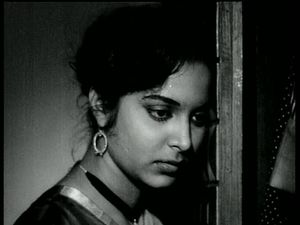 So if you add the further shock coming from the other feminine heroine of the movie, Kammo (who plays Meena the temptress and manipulator), you understand the load this film contains.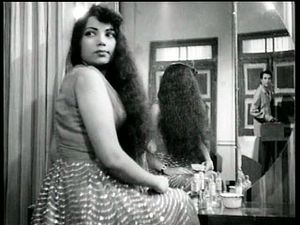 There is nothing more fulfilling than when a woman, realising she loves a man, becomes beautiful as sheer result of the pleasure she feels, of the efficiency of her power, and of the queen-like renunciation which can be guessed within her. For women reign by so far as they accept to resign their powers!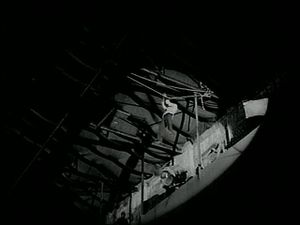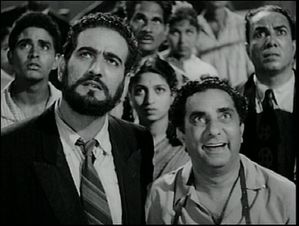 In Solva saal there is another interesting dimension, the (classic) cinema metaphor, commonly used in all performing arts where a certain "depth" is sought after. Laaj and Pran get involved in a movie shooting at one stage, while looking for their thief, and Raj Khosla has fun including these real actors into the movie's movie. There's a Hitchockian element to the operation as the chaser becomes the chased one: Pran the detective is thought to be the thief and we follow his pursuit on top of the theatre sets, circled by a pursuing spotlight. All this adds a playfulness to the story, a double theatrical dimension which comments on the main action. When Pran disguises as a sort of Russian spy in order to trick Meena the trickster and her tricked thief (Jagdev), he's really staging what Dev is doing for us, making us believe in Pran; and when as a reporter he looks for a good story to give his paper, he's mimicking the movie director keen on pleasing his audience (us!)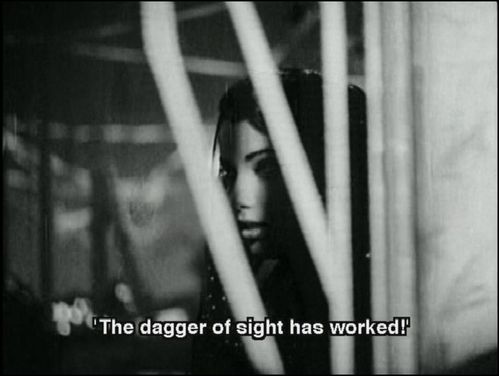 Solva Saal also plays cleverly on the double dimension of seeing and watching: at the end, Meena the temptress, Meena the maya evokes the power of vision, the role it has in love and attraction, but also its ambiguity: Laaj was first trapped by her Shyam, his good looks, before being trapped again by his false intentions. And so we spectators are trapped into lifting our eyes towards the screen, and giving a reality to what is nothing but a fiction! Traditional themes, to be sure, but nicely introduced, and aptly suggested as passing allusions.
Some people have wondered why the movie is called Solva saal, sixteenth year: the answer is to be found is the song sung by the washerwomen folk, as Laaj and Pran emerge from their Changing Room, having made the other guess their inclinations. The lyrics go thus: "See my state, my walk has changed, see, I'm 16 years!". The change clearly refers to what happens to a girl when she becomes a woman, and emancipates herself by love. Something which clearly happens to Laaj, who from the beginning of the film is engaged to be married to an unknown groom (you've guessed who it'll turn out to be!) And the last song, during the shooting, takes place in the fictitious situation of the "new year" Now why 16 years, or the 16th year? Why not the 20th? Here, I must admit my ignorance.
Anyway, don't hesitate to watch Solva saal, it'll charm and satisfy you!