Punashcha, the poetry of Love and Life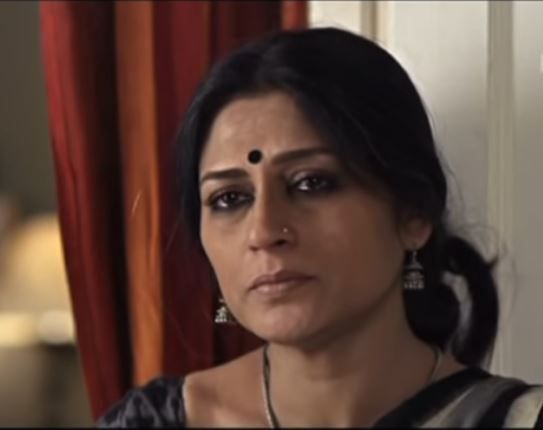 Here's a beautiful and poignant little movie (2014) by Souvik Mitra featuring Soumitra Chatterjeee and Roopa Ganguly (above; I had seen her - much younger, it was 1989 - in Ek din achanak); but what makes its beauty? Probably its story, its poetic charm, and the way the two actors revolve around one another, closing a circle of poignancy at the end which will make you want to rain your tears. Soumitra is perfect ; Roopa Ganguly is very dense and moving, and there's also the warm and direct Angana Basu whom we see at the beginning and at the end, materializing the closure.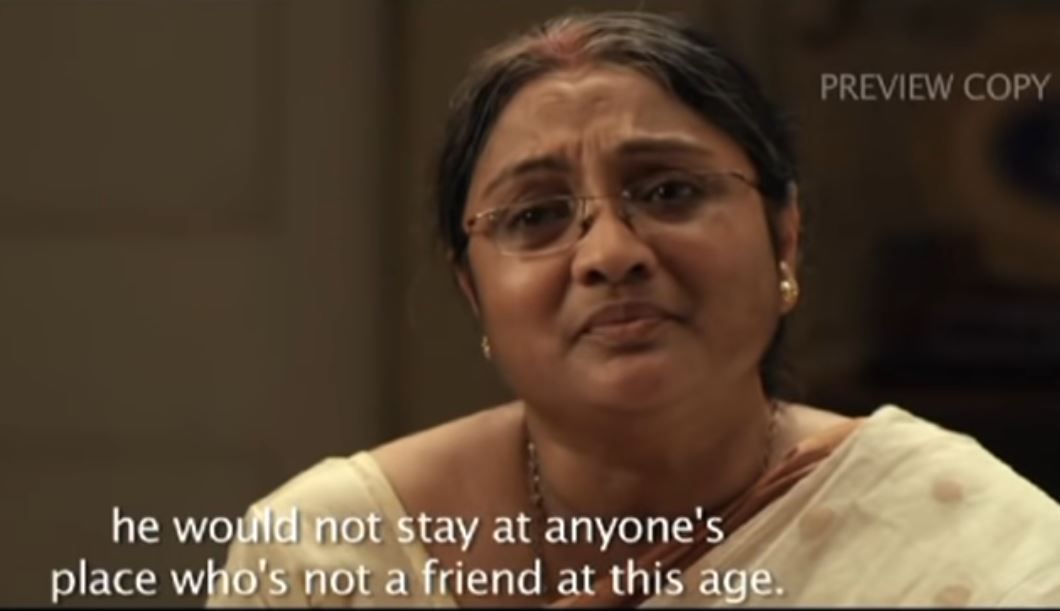 It's funny because the reference to Ek din achanak doesn't entirely seem a coincidence. That story is about the sudden disappearance of a father from his home, leaving everyone to panick and then pine for his return, and about the time waiting for his protracted return. Here, in Punashcha a man also disappears from his home, never to come back. Only the story focuses on him, not on his family, and on the woman he goes to see. He's a well-known novelist (called Animesh) who's just got rewarded for a story called "That time's woman":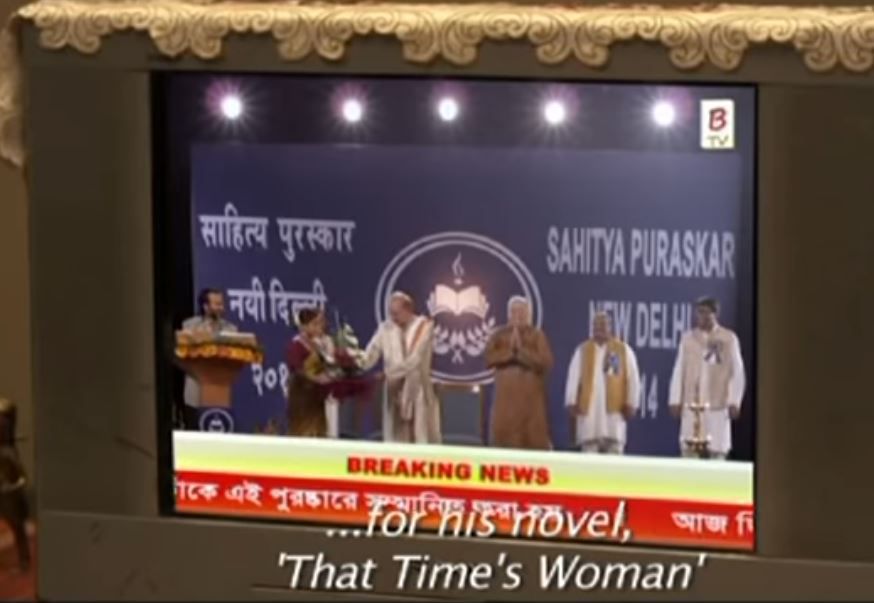 Now of course this is an allusion to what's taking place in the story. "That time's woman" is Mohona, whom he loved in his youth when the two were at Shantiniketan together, 40 years ago. But life decided otherwise for him and now he's an old man married to the sweet Banhi (Angana Basu) whom we see at the beginning packing up for him before he leaves. Having finished the book, he wants to pay Mohona a visit - a very distant visit because she's in Calcutta and the reward ceremony takes place in Delhi, so this is a sign of his long-standing affection...
By the way, the title means Postscript, or Nota bene, the name of Tagore's 1932 collection of poetry and stories. There are a lot of Tagore references in the film. So the visit he pays her naturally becomes the book's post-scriptum, hence the title of the movie.
The interest of the meeting comes from the reunion 38 years after of two old lovers, what they will say and feel and how they will come to terms with the separation and the planned reunion. We relish at their long-ago references (the poppy seeds brought at Kalo da's shop; the little temple of Kankalitala)... We try to imagine them all those years ago... (they have no trouble). Then they also compare their lives, their children, as you would if you retain in your mind a fiction of what "another" life could have been... The interest also comes from their awareness for the potential misunderstandings which the visit might well create : a secret, long-distance visit, which takes place in late evening, and goes on into the night, between a man and a woman only, who aren't spouses, but talk of an attachment that didn't happen... There's enough to make anyone wonder.
Mohona is conscious of the unusual, perhaps risky, yet so wonderful situation, and while her "friend" is there on his secret leave, and the two reminisce and confront and reevaluate things, she lets herself go and actually sings for him, in a very daring, lover-like way.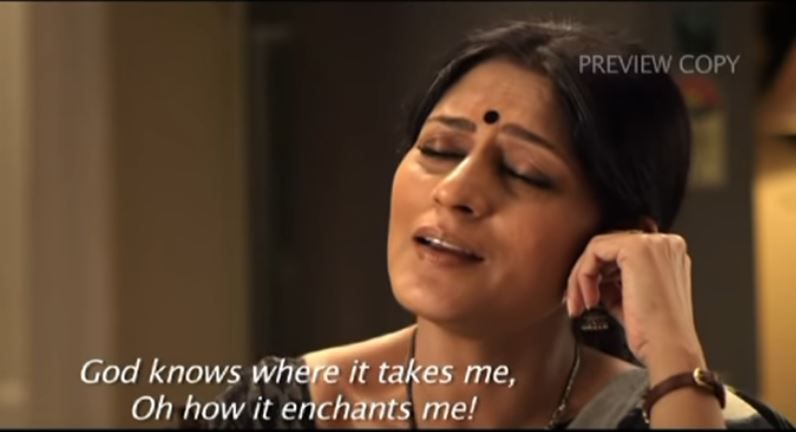 And Souvik Mitra takes the opportunity to make us travel and visualize the scene of a Holi-like festival which could have taken place in their time, but (as they say) continues to enchant the younger generations as they flow from one to the next: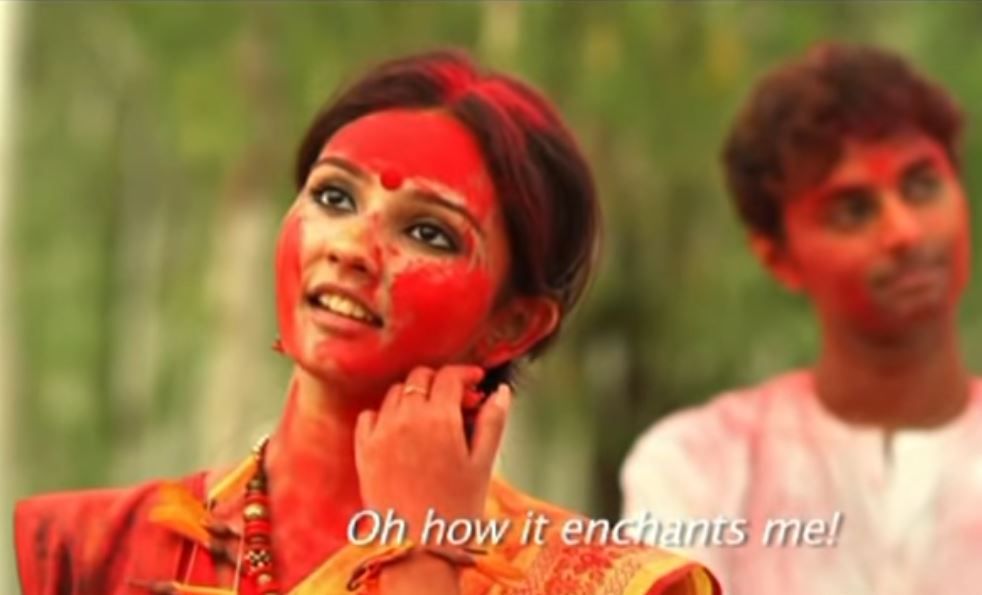 Like the two of them who discover the reality of the other one, we are privy to their small talk, their curiosity, their silences, their shyness but also of the thankfulness that something like that is happening after so long...The freedom which the maturity of age enables is tinged with the nostalgia that such freedom wasn't possible then, perhaps. Of course they assess each one's appearance. And then they drift, until the small hours of morning come.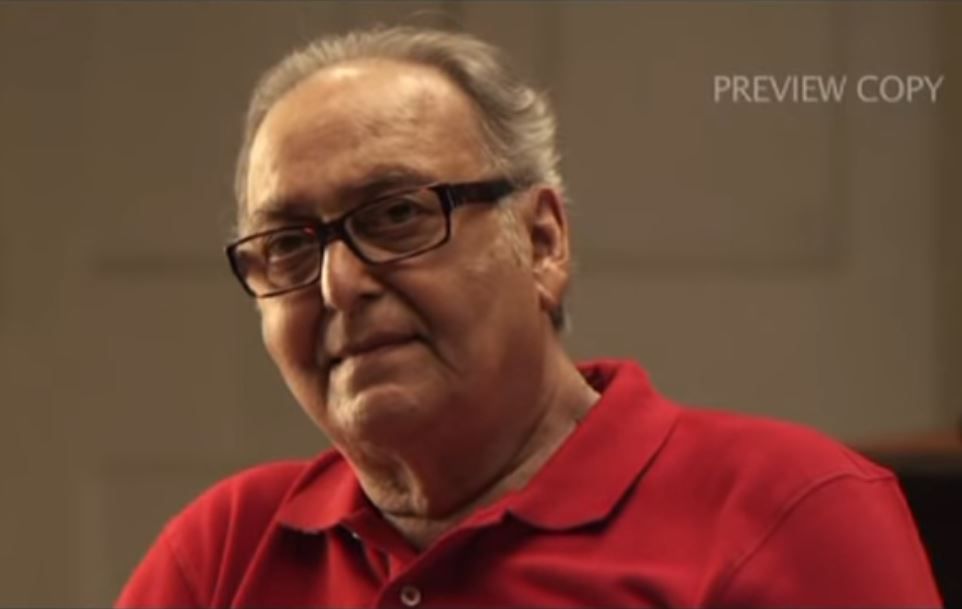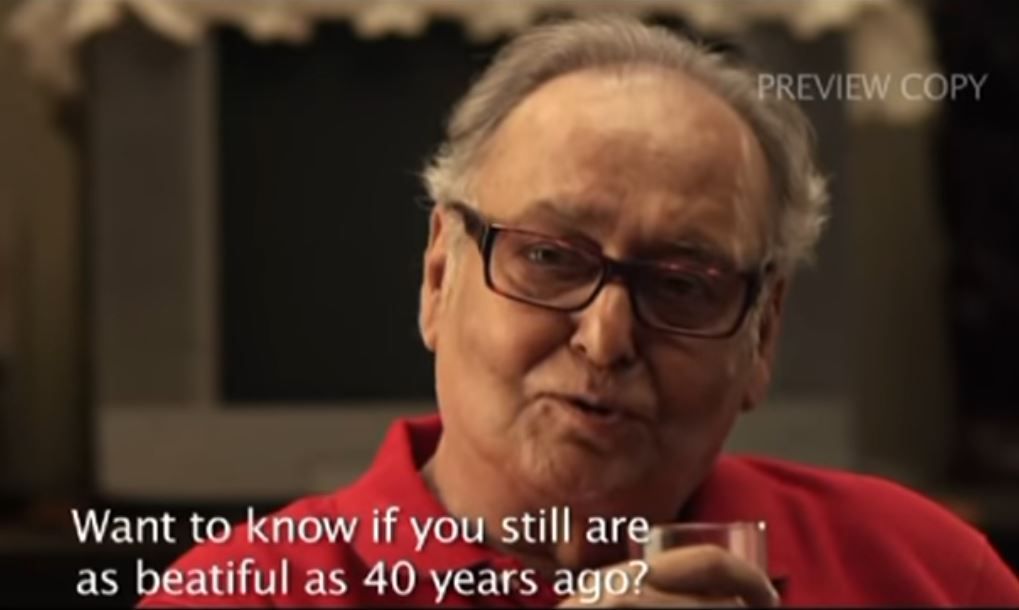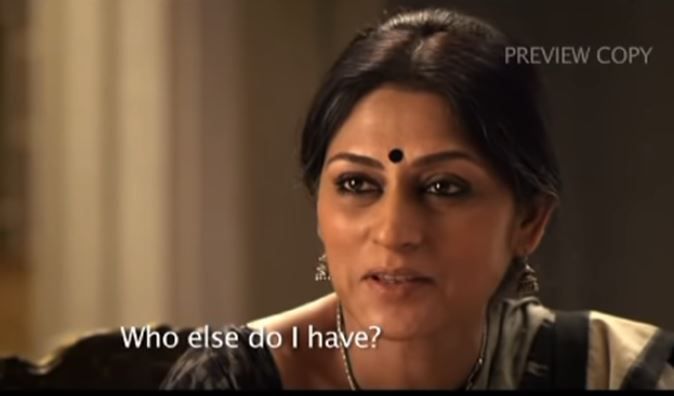 In spite of the occasional little white lies (for example Mon says she cooks alone whereas in fact she has a maid who comes and helps her) and arrangements with the too common truth, it's very relaxing to see them, who haven't met all those years, exchange like old friends, as if they had in fact been in touch regularly. At first there's a slight unbalance in the relationship, he's more at ease, being a man of the world. But she catches up, because she too has tasted of life, and she's full of it, still.
And then the old friend, having forgotten to take his pills, dies. And you'll have to see the rest yourself (a postscriptum has to be read). The film can be watched here.
Now a few words about the film's poetry. Not far from the beginning, when Aminesh leaves his home, we can hear :
Suddenly this dawn has changed my day My city in its changing scapes Tattered houses, the traffic lights, Why, suddely all of it seems pretty! Suddenly this dawn has changed my day... Old promises tucked into a crowd of old memories My city is speaking, is speaking a new language Why is the silence so silent? As if a game but not quite so The fairies have new hopes in their eyes Suddenly this dawn has changed my day My heart wants to set sail Those tales of the cities whispered by the solitudes The red earth calls out, wants to touch the hand, But still everything looks pretty, Tattered houses, the traffic lights The days, they're changing But still the new seems colourful Suddenly this dawn has changed my day...
Then we have the song whose words are in part sung by Mon and which she must have sung in her youth :
Oh residents, open up your doors, it is the festival of colours The colours of the season spreads everywhere, Open up your doors! All the flowers blush red with colours...
In the middle of this song, the singers interpret individual ditties, and the one Mon is seen continuing is this one:
That path spread with red soil beyond the village Oh, how it enchants me! Who is it that my heart calls out for? Who resides in that soil, Oh how it enchants me! That call, which walks me out of my barriers That call that I cannot but refuse Oh the magic in that call! The call that snatches me away from me, God knows where it takes me, Oh how it enchants me!
And at the very end, there's this dirge:
Lift me up to you Make me a candle in your abode, Let the fire of that lamp burn in my heart forever, Touch me with your warmth Let your touch in this dark blossom new stars every time This rain will wash away the dark Wherever it rains it will enlighten...
The credits say that some of these lyrics belong to Tagore himself, but they don't say which. Mitra is also credited for some. But all these poems are filled with Tagore's powerful lyricism, his spiritual and very earthy symbolism, his passion for nature's bounty and what fills the cosmos beyond our little understanding. In them, you hear the echoes of his joy, his song of joy at opening his eyes on the light of the world and of life in the world; you feel the yearning he felt for the unity of such beauty, for the simplicity of the call which, if we have ears with which to hear, one cannot refuse to hear. This call is that a harmony, the voice of Reality present in front of us, the mystery of the Space ready for us, ready to enchant us and transfigure us if we but let go and leave it penetrate us. It can be heard anywhere, in the gorgeous natural world, as well as in the busy cities, where "suddenly everything looks pretty". And it is this suddenness, this gasp of pleasure and plenty which seizes the poet, and makes him want to share the magic he understands.