Anupam Kher, the adorable comedian
Publié le 17 Octobre 2007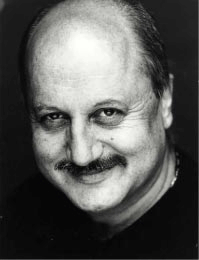 Film after film, I have learnt to rejoice when they feature this delightful comedian, Anupam Kher. He went at first unnoticed, in the shadows, at the back. He was part of the sets. Then role after role, I remember I started smiling to myself: hey, it's that same funny guy once again! His name was easy to memorize, his face even more. Of course, he's a very prolific actor (he's also been a director, once, and a producer) who has, to date, played in 269 films (here's the Imbd list) (1), even though he's only 52 (what energy!) I've seen that in 1992, he appeared in no less than 22 movies! And I have seen him in only 14! But I think he's more than a numerical phenomenon. Here's why.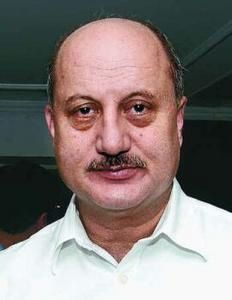 Anupam Kher is Every Man. His round face, chubby cheeks, and genial expression make him a winning representative of the human race. Who would want to be his enemy? He has the most delightful wife (Kiron, a wow on that photo below), who also beams her generosity and her charm, so both form the most pleasant of couples. They aren't flashy, or in any way self-conscious, it seems. Their pleasantness stems from their good-nature, and their visible interior harmony as human beings. They are the proof that you can succeed in Bollywood in spite of ordinary looks and middle of the road talent. For Anupam Kher isn't exactly a Charlie Chaplin… But this doesn't matter: I believe he is as much appreciated because of his round personality as because of his talent.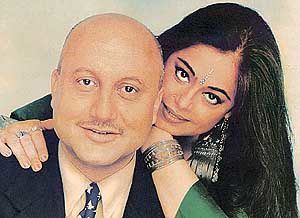 One thing nature has blessed him with is a capacity for comedy, but what's also rather remarkable is that he has not limited himself to humoristic roles. Directors have also chosen him for serious parts, a sign of his dependability and versatility. I'd say this is rather rare in Indian cinema, no? I can hardly think of Johnny Lever in a serious role. Probably Anupam Kher's physique is a more adaptable one (rather like that of Bourvil, the French comedian who has also been acclaimed in serious roles), yet it's always difficult to leave one's comfort zone. In Veer-Zaara, I remember his lawyer's role in front of Rani Mukherjee: I kept saying to myself: well, I never, he's actually not smiling, and he's not likeable, well done!
But of course, what we appreciate him for most is his capacity for fooling, and the example that comes to my mind is his part in Kuch kuch hota hai, in which he's that funniest of head-masters in love ("Miss Briganza, you're so queet!"). There's also that crazy scene where he pretends to be a sleep-walker, I forget in which film (perhaps Bride and Prejudice?). There's another scene somewhere where he alludes fleetingly to DDLJ by way of the song, and it doesn't have anything to do with the situation, but it's mainly for us spectators, for him and for us, a link with his delightful character which jumps from film to film with the same humour and grace. He fits so well with Bollywood! I enjoy his playfulness, his will to please, his child-like benevolence. In fact, Anupam Kher is a child, a child-clown (2) who is intelligent enough not to overdo it, so he can fall back on a certain seriousness which other comedians can't benefit from, because they have gone too far in their identification with pranks and jokes.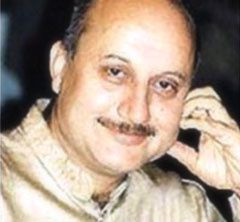 In 2004, he has played his own role in Kuch Bhi Ho Sakta Hai, where he evokes his life, his successes and his misadventures (Read about it here). In an interview, speaking about that experience, he says:
"I don't think any celebrity in the movie industry has the guts to open up like me before a live audience in show after show. Many hide behind their dark glasses. (…) I am tired of dealing with pretentious people. They put on an act because they don't like themselves. But I like myself. And I can risk being candid."
I like this type of declaration. It shows that he's aware of his qualities, and of his shortcomings; what he says is a comment on the Indian cinema business, its show-through mores, its hypocrisy. But it also means he believes in acting. Declaring he appreciates himself is not vanity: it is a lucidity that he suggests people to test: what do you prefer: actors who hide behind their image, who lack the strength of showing who they are, or a guy like me, with my shortcomings, but who doesn't care about throwing down the mask and being less of the hero, more of the human being? In the same interview he says:
"I have failed many times in my professional life, but I am not a quitter.
That courage suits his personality well: he's a hard-worker, he loves his job and he loves to share it: he's opened an acting academy in Chandigarh called Actor prepares and actively participates there, having also decided to use his energy and talent for the benefit of schools for children with special needs.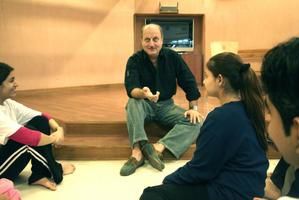 What more can I say? What I love about him is his modesty, his humanity, his faith in human nature and life. That man is a living testimony of everything I find good and true in Indian cinema: joyfulness, generosity and reachability.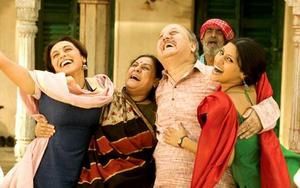 ---
1. Who holds the record, by the way? According to Imdb, Helen has been in 266, Amitabh Bachchan in "only" 171!
2. "Children mean a lot to me. I get a sense of satisfaction out of being able to make them smile", he says (

here

)