Suniel Shetty, the hard business of acting
Publié le 7 Novembre 2007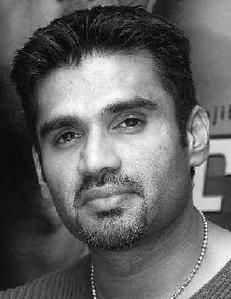 Suniel Shetty will remain for me the rescuer of certain boring films such as Umrao Jaan and Main hoon na. Thanks to him, I have found an interest in those poor productions. Watching him cast his back eye and his disdainful sneer has more than often thrilled me, and I want to seize the opportunity to thank him for that. You probably know that his career has not been one of many successes; critics mention that something like 21 out of the 28 or so films in which he's played a central part have been flops. I daresay it can't always have been his fault! For here's my impression about Sunil: he's certainly capitalised too much on his burly looks, his piercing flashy eyes, his threatening manhood, etc. in short, on nothing that talent deserved. BUT: he's an intelligent guy, and has felt the cheapness of that sort of appeal, and some of his films show him deploy a real talent, a flair for his characters, which other "villainous" actors don't bother to express.
In Umrao Jaan, for instance, I found him really scary, really mean, and really successful in his role. I think he is mesmerizing as Faiz Ali, even if the story does favour him. Sorry to say, but Abhi just wasn't as convincing: one wonders why on earth he believes Faiz Ali when this one puts Umrao Jaan's faithfulness into question. I know there is probably a connection with Ram and Sita's story, and the tradition in India is against women in that respect. But even if I found that moment sickening, I couldn't but marvel at the same time at the spunky energy displayed by Faiz Ali/Suniel Shetty, as opposed to the lank nonchalance of Sultan Khan/Abhishek Bachchan.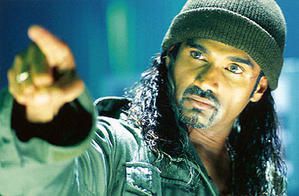 I have elsewhere described my impression of Main hoon na. This Raghavan is for me the real hero of the film (I've not been able to appreciate SRK's so-called ironical stance, to say nothing of Zayed…). I loved Sunil's husky voice, his menacing presence, his thuggish hairstyle, everything! He probably goes overboard, in fact, there's too much there, and one half-wonders why he is such a villain. I sincerely think all this shows that Sunil is a dedicated guy, that at some stage he decided to his job really well, to disprove, as it were, the rumours about his complacent acting of his profiteer's years.
It's true Sunil is better in baddies' roles. I remember seeing him "in love" in Dhadkhan, and feeling: OMG, he's really pathetic. Well, what can I say, it's his nature, his talent lies there, with the bad guy. Is it possible that he's a victim of the Bollywood habit of categorising actors into set roles, where they can be employed to serve the purpose of conventionally-minded producers and directors? Perhaps, but I really have the feeling he himself is more comfortable in the roles he's had, and which he's probably accepted without much second thoughts.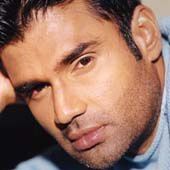 I haven't got only praise for Suniel; I feel he's a businessman right down into his acting, and that means a certain opportunistic attitude to both directors, spectators, and most of all, himself. I'm pretty sure he hasn't always asked himself about the purposefulness of such and such a cinematic engagement. Most probably he's taken Bollywood for what it is, in fact, at least in part, an industry where so many people are out to make as much money as possible. On the one hand, we can't blame him for that, but then cinema is also art, it's also a world where, if one is committed, one can say things about man and his aspirations. Yes, the cinema, for all its materialism, has a soul, and Sunil had perhaps forgotten some of that. Or let's say he's discovered it a little late. Well, I haven't seen that many of his films, and perhaps my readers will correct me.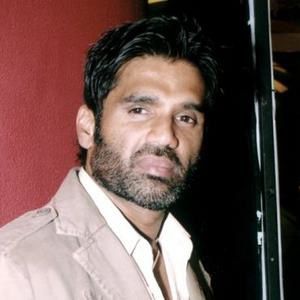 I've read news items where he's said to be fed up with it all, and would now like to take advantage of his wife and two sons, and look after his financial interests. I tend to doubt that sort of decision… He's bound to feel the need to act again, simply because the sting of popularity is so pleasurable. If indeed he manages to be patient enough and matures his choices, then who knows? He might well surprise us. That's all we ever ask for!