Tere ghar ke samne - more delight!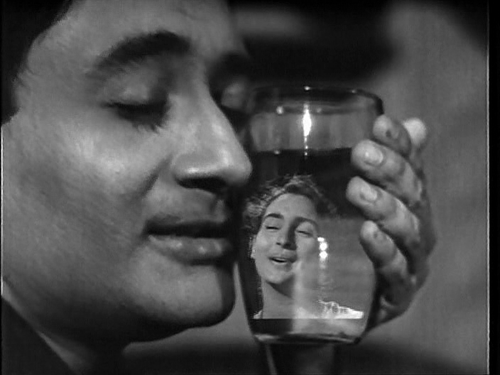 Tere ghar ke samne (1963) has a Molièresque quality to it. I don't know if English-speaking readers know about Molière, but this story of two young lovers who want to marry in spite of their cantankerous fathers immediately made me think of L'Avare, or Le bourgeois gentilhomme, where such situations are standard fare. The line that made the connection was this one, where Sulekha (Nutan)'s father, Seth Karamchand, actually admits he was a fool to counter-bet his arch-enemy Lala Jagganath, for the purchase of a plot where to build his future house: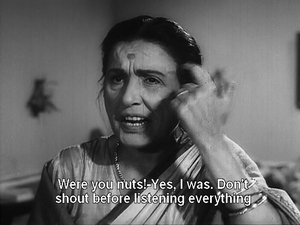 But foolishness doesn't stop these rich neighbours from waging a very serious war, a war of influence and bad-tempers, a war of old men stuck in their seriousness. Old men indeed, because both young folk and womenfolk denounce their foolishness, but even if they themselves see it, they won't budge. Old age is when you are stuck in foolish attitudes which hurt yourself and others, and that you don't want to change because you think it will imperil your dignity. Compared to some more recent movies, where the stubbornness of fathers seemed rather easily overturned (even if at first it looked formidable), in TGKS it takes an enormous amount of energy, and only the confrontation with the whole town, invited to a wedding which neither father was going to accept, and the public singing of words which appeal to their sense of humanity, make them change finally and accept the dreaded marriage. But the refusal had formerly been so absolute, that in fact the reversal looks a little contrived.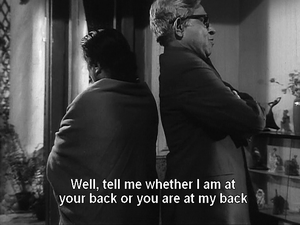 Anyway, the feud between two grumpy grandpas wasn't, you faithful readers know it, why I had been watching this film. (Here we go again, another Nutan eulogy!!) (I thought he'd gotten over it) (No, sadly he's still smitten) (How can one be so Nuts about Nutan?) Ahem. Nutan shot this film in 1963, after she had taken leave from the movies to marry and have her son, Mohnish, born on Feb 14 of that year. The film shows how right she was to have come back, and how glorious maternity made her. I could also say, how little it shows that she'd just been a mum. Not that I mind her being a mum, in fact mumness is the most glorious thing to be on Earth, probably! It shows also how much she wanted to return to the cinema, because TGKS is a delightful Dev + Nutan powerhouse. Nutan's exquisite looks are complimented by Dev the charmer's expressions, and they form a perfect couple. I don't know what Lieutenant-Commander Behl thought about this quick return to the dazzling limelights! Just look at this: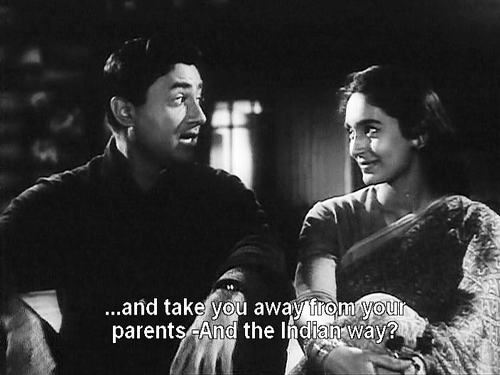 Doesn't she seem tenderness incarnate? One word has got to be said for the famous scene (and song) in Qutub Minar, the inside of which I have read somewhere has been reconstructed in studio (so that when I was watching the movie, and called my boy to come and have a look because last year when we went there, the tower was no longer open to the public, he probably did not see what the inside really looked like!). The ascent to heaven it represents, with the pauses at the various levels, is peppered with songs filled with allusions, jokes, innuendoes and gags: in short it's so full of fun that it's pure joy to watch and rewatch. There's this delightful moment when Dev is ordered to hush because, taking advantage of their seclusion, he starts praising her appearance. So he complies, and walks up behind his mirthful companion with a finger on his mouth, and she just melts at seeing him (I just melted too, did it show?). At one level, hearing all noise fade throughout the building, she stops: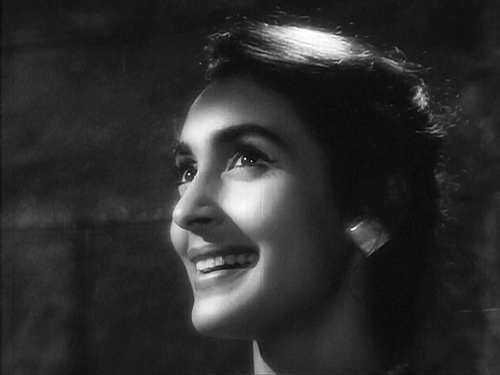 And she says "can you hear the sound of silence?" As far as I'm concerned, I could hear many silent thoughts and feel many silent aspirations... But the expressions on her face, as she focuses on the stillness of the moment, and then on Dev's remarks that the only noise he can hear are the beats of his heart, are almost too much for a lover of her looks. We have other hilarious moments when they banter and are surprised by other visitors, and they play, like children, pretending they're suddenly serious, or hide under Dev's overcoat. At one stage, he gives her his binoculars to watch her brother and his girlfriend flirting down in the grounds. She takes a peep, but Dev is gone somewhere else, and she hands the binoculars to a stranger, before realising he's accepted the offer, and she has to wrench the thing away from him! She turns around, and her back to him, shakes her hand in a gesture which means, wow, silly me, quick, let's leave! And she rushes back to an expectant Dev.
They exchange looks, smiles, pranks, reproaches, impressions, giggles, his coat, his cap, her love of life, her fears, her girlish seriousness and her mature fun-loving candour. This climb and descent belongs to the anthology of cinema. It's probably been done before, but who cares, both actors have pit-patted their way to the top of fame in this scene.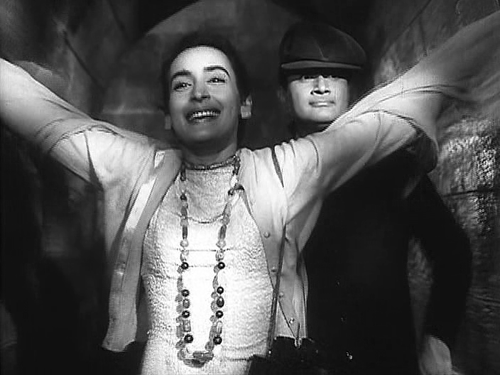 I should perhaps also underline how much Nutan reigns again here (this is only the continuation of the above eulogy, so I'm entitled). As it's said later in the film, she's the granddaughter of the queen of Ayodhya, or perhaps the queen of Ayodhya herself! Nobody's sure. But what's sure is that we do have a queenly person in front of us! It's not because she's called Rani, but the only person I can think of who comes a little close to Nutan's charming and fun persona in today's Bollywood is Rani Mukherjee. She's perhaps a little too much on the side of fun (Kajol would be too much), and not enough interiorised as an actress, but who else do you see as her aunt's successor? Nutan is rivalled really only by actresses of her times: Nargis, Meena Kumari, Waheeda Rehman, Madhubala. Shabana Azmi is greater than her in her serious roles, but I've yet to see her in lighter ones where Nutan is as much at ease as in her dramatic roles.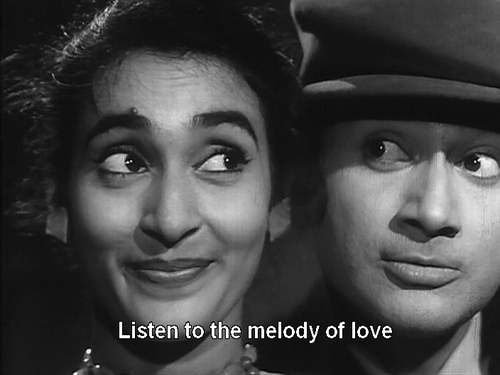 As for Dev Anand, I like him more and more. He had a genuine knack for comedy, that's where he's at his best, perhaps. And romance. I don't know too much about drama though. Has he played in more sombre films? I haven't seen him in any of his later movies. In this one, at any rate, he shines as the dependable young urbanite, whose authority and sense of responsibility manage to tilt the stubbornness of foolish elders.
Here's the song: https://www.youtube.com/watch?v=dekQT5J3JqU
I'd like to attract your attention (and at the same time extend my thanks) to Harvey, who recently has made on his blog a wonderful selection of songs on the occasion of Nutan's birthday.