Those movies that shaped my beginnings and which I never reviewed
This is going to be ABSOLUTE INDULGENCE.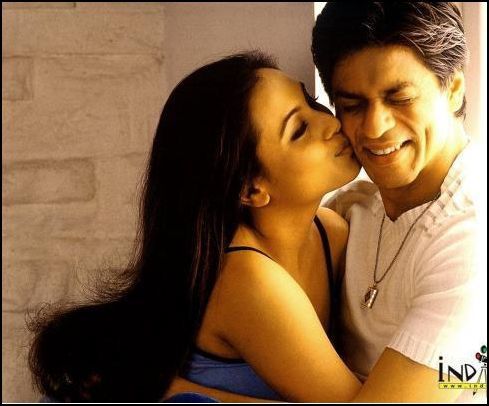 Veer-Zaara. Ah, lieutenant Veer, Zaara… and miss Saamiya! I think this is the movie I watched most, perhaps 4 times… Not a lot compared to some, but for me, yes! This is for me the "foundation movie". Why did I (do I) like Veer-Zaara that much? Preity's lovely eyes? SRK's dashing uniform, and then (much later) his not so dashing stoop? Now that I can safely say so without being over sentimental, it is probably thanks to "Tere liye", and the final scene, where Yash Chopra, that cunning old fox, plays with my heart-strings so shamelessly! That mixture of youth and greying age, of love, loss and justice! Shivers and wonder. So, just in case somebody, somewhere in the galaxy, has not heard or seen that song, here it is:
I know why I love this song so much: in a disguised way, it represents my belated affair with Bollywood, which for me was discovered in middle age, when young love belongs to the past. But if a thing of beauty revives those long-lost emotions, youth seems to come back and for a while re-enchant my life. That's what I see in the two lovers who meet in the courtroom, and whose eyes can see beyond appearances, and all the way down the corridors of Time. And because with this song I can never quite keep back the pearls from the corners of my eyes: here is Do pal: bless you Lata!
https://www.youtube.com/watch?v=ie4OF6gIjhw
I also loved the combination of doggedness in Saamiya's character and the strain of faithfulness present in Zaara's. That moment when the two meet after twenty-something YEARS… And also Amitabh and Kiron Kher as they elders in the village, whose work they decide to carry on… All this for me was as good as gold. There were of course rather longish passages, especially in the first part, when the Lieutenant Veer Pratap Singh has to prove his worth! But the scenes in the prison were a good balancing.
Raincoat is the sad one. For me, Raincoat was that song "Mathura Nagarpathi" (above), with Ajay Devgan the loner, walking through the rain, past indifferent crowds and distant rickshaws back towards his destiny (nice destiny, this Neerja-Aishwarya). I was taken aback (at the time) by the wide eyed beauty, and saw her appearance through the broken panes of her persona as an epiphany of a slow Bollywood which I didn't know existed! Rituparno Ghosh did that to me. And so I thought he was perhaps a promising director, but I was soon disappointed when I saw Chokher Bali…Still, Raincoat remained in my mind as the quintessential sorrowful movie which nicely counterbalanced the fiery tunes of Kal ho na ho or Dil se!
Kuch Kuch Hota Hai's songs I used to know by heart, even at a time when I wasn't learning any hindi, and even if I can still rarely understand what these wretched lyrics mean (more than often, I'm told not much!!), well I cannot remember them half as well now. Hmm… let's try: Tuum paas aie, yuun muskuraie, tumne ne jaane kya, sapne dikhaie… Not so bad !! So here goes :
https://www.youtube.com/watch?v=S9DsCP9Th7Y
So… KKHH : I was SO immersed in the magic then that I could think of nothing than go to Gare du Nord in Paris, get the films I didn't have, and come back home, glowing with anticipation, the precious parcel under my arm!! I don't remember when or where I got KKHH: it's all wrapped up in the one whirl of excitement of those first months. But I remember I had bought the songs first, and I knew them before I'd seen the film, and so I had unknowingly put myself in the position of filmi crowds: when I saw the flick, I swooned literally at the moment when those crazy Scottish or Swiss scenes come up!! There was so many great moments, so much sweetness and freedom in the silliness of it all! And of course the unwrapping of the love-story, what a change from those serious, pessimistic films I was used to see over in Europe! And even stronger than in Veer-Zaara, Rani's smile had left me dumbstruck! That such wonderful sweetness, youthfulness and generosity actually existed on Earth…! And Kajol's change from dungarees to saris: I remember that today as I remember first love…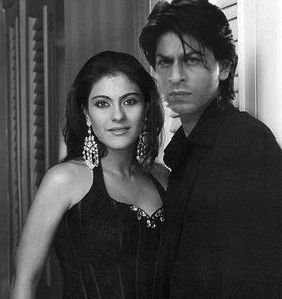 And I think I also, silly fool that I was in those days (Shucks, it's me I'm talking about!! I can't have changed all that much!) I think I was in love with Sharukh Khan! Difficult not to succumb to his charm, what do you say? I officially declare I was in love with him. What else can I say about this movie? It's my first Bollywood love (together with DDLJ), and I just love the fact it exists. Thanks Karan, you're the best.
I loved Swades because of that long trip to the village which SRK should never had reached, because of lovely Kaveriamma, of the nights under the Indian stars, far away from the NASA base and all its technology. I loved Mohan's trip to that old and penniless peasant far away beyond the lake, and what he learnt on route there. And of course I fell for slender and clever Gayatri Joshi! Then there's that beautiful adventure of the water plant, so meaningful and satisfying. The combination of the magnificent photography and great story, that's the secret of Swades.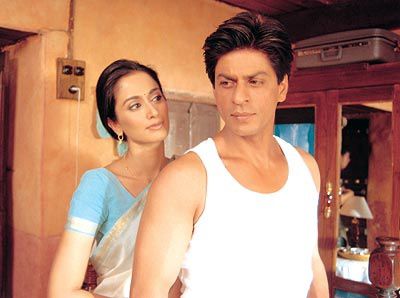 Black was among the first BW movies I saw, and of course I immediately realised it wasn't a standard masala. Contrary to Swades, I haven't seen it since all that time, and remember only flashes, Rani's strangely luminous face, unlike any of her previous characters, with a slight squint, her bonnet, amazing. Amitabh's glorious acting, I really loved him then, I don't know at all how what I'd think now. His shuffle in that room waiting for her to come, his helplessness, his strength and his frailty. I knew immediately the film was a remake of Helen Keller's story, seen on TV long ago, but Black struck me as a worthwhile remake. I especially enjoyed the first part, with young Michelle, and all the teaching symbolism, that teacher taught story. Oh, and this is the moment to say how much I used to love Rani's voice, and oh, here's the famous extract where Michelle is kissed by the one person who has reached her soul:
Chalte chalte
. I'm finishing with Chalte chalte because of the dog. In that film there's a scene where Rani (as sexy as ever – check Tauba tumhaare yeh ishaare!) and SRK (as eyebrow-clever as always) have fun at a fair, and she sees a cute plush dog which she wants him to buy her, just out of a crazy longing for something childish and soft. And that dog isn't at all cute. It's ugly. But gallant SRK cannot tell her that, can he? He's got to find a way to tell her that he can't possibly buy her that dog. But she rushes towards him, and begs him, in front of the dukanvala who's watching the scene, tongue in cheek. And the talk is just hilarious. This cutely ugly doggly had me ripping myself apart. Now there's also the second half of the movie, with its heartbreaking sadness, and you know by now I have this obscure part in me that loves distress and misery… Er, I forgot, also I love gloom and depression! Ah, and I also wanted to say, there's that scene where Rani has to explain all the situation to her parents (I think) and poor SRK is waiting outside near his car. Well, we don't see or hear what they say, because it's obvious. Instead, we have this shot of Rani's scarf and the glorious safedi of Greek houses… Cool way of shooting, I had told myself.
There are other movies that shaped my beginnings, but these are the *BEST*! I've noticed that SRK is in 4 of the 6, Rani Mukherjee in 4 too, whereas all the others occur only twice or three times. So that has got to be my special jodi! What was yours?