Umrao Jaan: does beauty lead to sorrow?
Publié le 20 Février 2013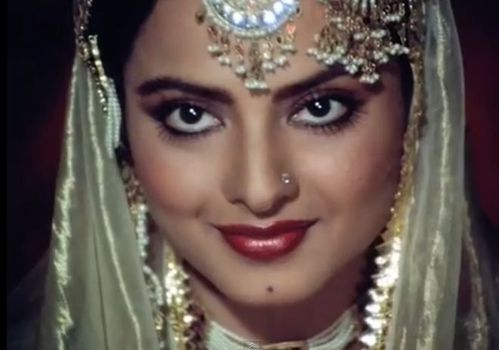 Umrao Jaan (Muzzafar Ali, 1981) belongs to the genre of tragedies which describe the destiny of a doomed character in a beautifully told narrative such as will bring out the pity and sorrow necessary for spectators to be cleansed of their own sins. And yet the story escapes the genre in two ways: the heroine doesn't die, and there is an insistence on the fact we aren't in the grips of destinies, but only wrong and contingent circumstances. We'll see if and how far these two elements modify our appreciation. If you don't know the story, check it here, told by Philip Lutgendorf. He also highlights many of the movie's details and its relationship with the original novel, Umrao Jan Ada by Mirza Ruswa (1905). I wish to focus on the story's meaning, the characters' relationships and the film's artistry. It's understood that in the original Ruswa story, the heroine is rather plain, but the film makes another statement altogether!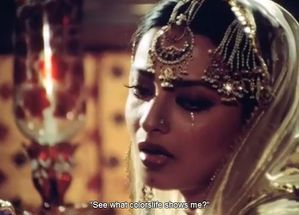 But first Rekha, precisely. You have to admit she's not just the title character! There's an interview here where she shows how free from conventions she'd become, with and this shows in the movie. There's an essential plasticity in her face that makes her features a classic in all its appearances, for example her Belle-époque boyishness: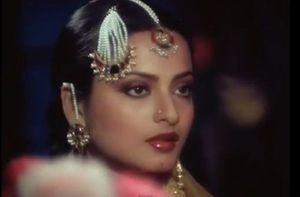 Then her Greek perfect symmetrical traits: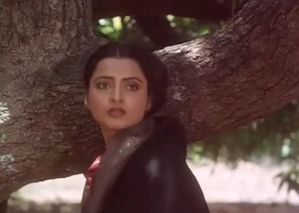 Her striking darkness which make her almost scary: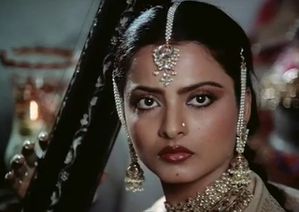 The femme fatale looks: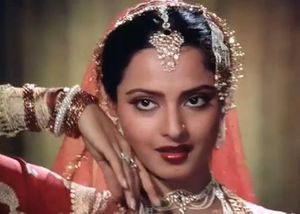 Then this clever teary squint: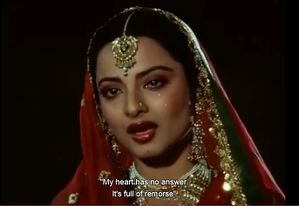 And finally (but there would be many more) her demure lowered eyelids: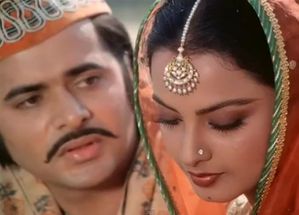 It's been said before, but she definitely reminds one of Aishwarya Rai (or perhaps it's the other way round), who impersonated Umrao Jaan in the 2006 version. There's a sheer flawlessness on her face, which leaves one breathless: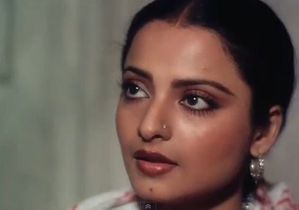 So there you have it: the film isn't just about any tawaif... Beauty, how strong it is! It magically arouses interest in the person without her asking for it, at first without even her knowing it. And because it's so powerful, an automatic moral value is given to the lovely person, which turns their moves and choices into all-important ones! Their looks are caresses, even if they don't focus on anything particular; they're seals of approval of whatever they like, and they're declared innocent without check. I don't know if you're like me, but I want to support a beautiful woman even if she's obviously following a hackneyed prejudice, and I would be tempted to reach out to comfort her when she's only teary-eyed from sneezing. I'm like Gohar in the film, (Naseer, slightly underemployed), who flits around his prize prisoner like a butterfly around a multi-faceted crystal chandelier: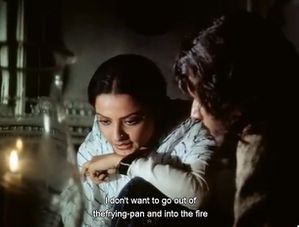 But they all do, men and women alike. Not only does Bismillah, her fellow-courtesan at the Begum's house (and her daughter) envy her, and watch her dance mesmerized, but the same happens for the Begum herself: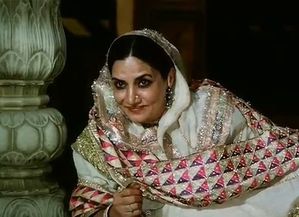 And when Umrao Jaan towards the end finds herself at her old friend Ramdey's haveli, the one who married Umrao's old flame, she also watches her in a sort of trance: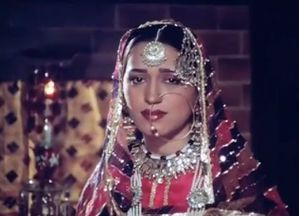 Everyone stares and wonders at her, the whole film is made in that way. We spectators are in pulled the movie too, we simply plunge in the pool of those mystifying eyes. And what's moving is that she, all the while is questioning herself, she's looking for the meaning of her own enigma: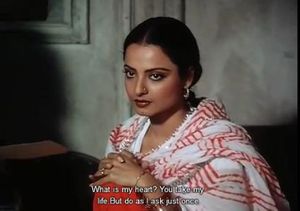 And perhaps in order to probe this mystery, she learns the language of secrets, the poetry divine: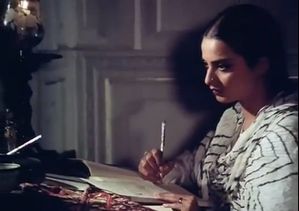 The scene where her poetry master teaches her about mindlessness, the realm of beauty which is reached beyond love, he says: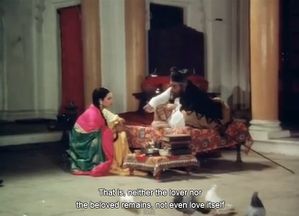 Isn't that scene full of the sorrow of foreboding, and at the same time so aesthetically true? Umrao Jaan's destiny is solitude, and the ravishing beige and brown background setting, with the bright pink and dark green of her dress contrasting the old teacher's white and black, all this is like the reward of beauty, which cannot, tragically, secure love's wealth. Everybody knows that there's something profoundly true in the alienation of love and beauty, and Umrao Jaan is the illustration of this common wisdom. Why is this so? Why does love shun a beauty too great? Why does beauty evade love so often, and instead, go hand in hand with fateful passion? Perhaps because there's something too scathingly divine in beauty and mortals fear it? One wants to adore beauty, not consume it. Thus beauty is like virginity, an unattainable star. And at the other end, it's easily desecrated because too disturbing. But there's more, even if this sounds scandalous: as beauty belongs to humanity as a whole, as its radiance must spread, god-like, on all men, it shares with prostitution a disturbing yet coherent relationship. A gorgeous-looking person is quickly branded as either too pure or tainted. Beauty is thus rarely a blessing, and often a bane for the person who benefits or suffers from its magic charm. Hence so many tragic-comical stories where parents prefer marrying their beautiful daughter to an old blind man, whom she quickly deceives with many young suitors!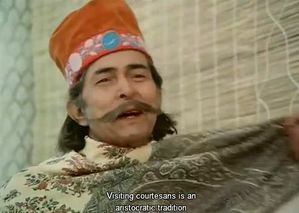 Now naturally all this is both unconsciously and half-consciously felt by the lovely being herself. Seduction is a beautiful person's age-old game of power. But what happens to her (sometimes to him) exceeds by far any responsibility of hers. On these faces, nature stages a show which the person behind the mask cannot always control! But of course they're conscious of at least part of it: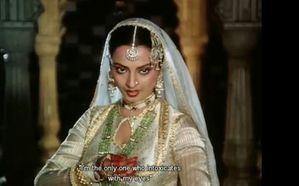 And it needs a lot of character to resist playing with that shiny mirror which, Narcissus-like, reverberates such power. Check A suitable boy for a novel which addresses this dilemma and solves it successfully. In Vikram Seth's story, the young and beautiful Lata ends up by refusing to marry the dashing Kabir because she has sensed that their two beauties are just too mirror-like. Okay, she also obeys her mother's preferences, but the story makes it clear she's also drowning some of beauty's potentially destructive potency into the lukewarm plainness of a suitor who doesn't see it so keenly.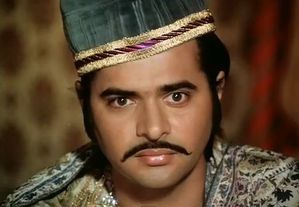 I'm not sure that what Umrao Jaan says about her essentially untouched freedom, which for me is the reason why she would need to insist on the fact that her life was ruined by circumstances only, not destiny or fate, whether this is so coherent with the general purport of the story. For me one thing supports it, and another doesn't. The first is what I said about beauty. Even if her beauty wasn't the reason why she was abducted from her family (her father's staunch honesty indirectly was), it is what transforms her into the archetypal object of desire which corresponds to her nature. It's probable that if she had carried on her life in Faizabad, this attractiveness wouldn't have been underlined and exacerbated to the extent it was in the brothel, still I continue to think that beauty's power, even in the rough, creates havoc and can destroy a person's chances to happiness. The other fact from the movie's structure which I think is in favour of circumstances and freedom, as opposed to fate and determination is the fact that Umrao Jaan doesn't die: we are therefore in a position to hope that she might find some sort of fulfilment thanks to her music and poetry, and establish herself as an independent artist. So: what should one say about her? Was she doomed? No. But I believe the chances for her to meet with trouble and deception were greater than for other women.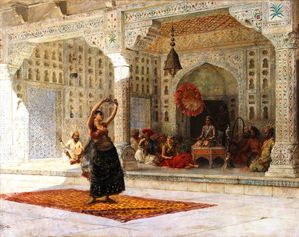 Edwin Weeks, the Nautch-girl
Speaking about music, needless to say the film's score is astounding. Well, with Asha Bhosle at the wheel…There's the gorgeous Dil cheez kya hai (and here sung by the lady herself!), but my favourite is Yeh ka jagah hai dosto? when Umrao Jaan is back at her childhood home, and she sings about the loss of what it now means:
Finally a few words about the film's magnificence. I've read a number of reviews saying how well balanced it was, how close to perfection its colours and settings were. Indeed, the movie reminds one of the lusciousness of

Pakeezah

, which of course also deals with a quite similar subject. Have a look:
Here, as in Pakeezah, the "larger than life mythicization" (Upperstall) process functions too; there's a magic wand which continuously wafts its starry powders over the pictures and dazzles the viewer with rich colour combinations and perfect character framings:
There are also lovely little vignettes, together with a few street views, which can be appreciated both historically and touristically, and which serve to transport us at the times of mid-XIXth century Lucknow (check this!) in a somewhat similar fashion to shatranj ke khilari!
(BTW, Farooq Shaikh plays in both movies, and Shabana Azmi, whose mother plays the whorehouse madam in 1981, took her role in the 2006 version and is the princess in Ray's Shatranj). Some subtle references to painters appear here and there in the film, giving it a depth and a richness which makes it a wonderful visual experience, as if painters might have drawn their inspiration from the picture itself: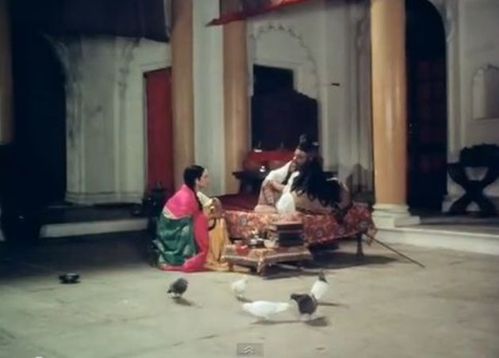 reminiscent perhaps of paintings by Delacroix or Edwin Weeks, and this: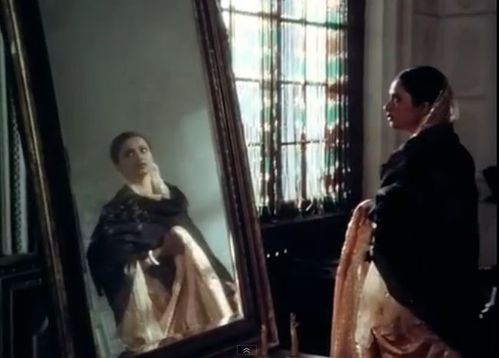 which certainly recalls Vermeer. So all in all, a superb evocation of Urdu refinement and culture, but of alienation and slavery as well. Umrao Jaan is given access to the world of art and the luxury of comfort but loses her innocence, her love and her family…In the end only the beautiful poetry of sorrow is left:
"What do you make so fair and bright?'
"I make the cloak of Sorrow:
O lovely to see in all men's sight
Shall be the cloak of Sorrow,
In all men's sight.'
"What do you build with sails for flight?'
"I build a boat for Sorrow:
O swift on the seas all day and night
Saileth the rover Sorrow,
All day and night.'
What do you weave with wool so white?'
"I weave the shoes of Sorrow:
Soundless shall be the footfall light
In all men's ears of Sorrow,
Sudden and light.'
(WB Yeats)