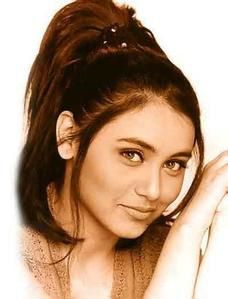 Rani's got (almost) everything. She's not yet an internationally known actress, but in terms of Bollywood, I'd bet on her for the title of Best Actress (Amitabh is still the best Actor…) Let's have a look: Black, Veer-Zaara, Yuva, Chalte chalte, Kabhi alvida na kehna, Hum tum, Kuch kuch hota hai… There is a long list of very nice compositions in which this unobtrusive actress is an essential ingredient.
I think there is a kind of magic in Rani Mukherjee. She obviously wants to lead a strong career. She isn't married yet, has little flirts (that I know of), and plays in numerous films. The latter are nearly always blockbusters. But (at least in the movies above, and the half-dozen of other ones I've seen) the roles she chooses are all life-oriented, positive, constructive. I'm sure it's a choice, because she would have the possibility to choose more baddies' or losers' roles if she wanted. But her talent enables her to choose, I'm sure. And what she chooses are those shining characters of women who fight, stand firm, hold on and resist. She naturally has lighter roles too, mostly roles of lovers (KKHH, Saathiyaa, Paheli…) that are more or less star-crossed, more or less successful (Chori chori chupke chupke), but even in these roles, she often contributes to the film in no small measure. And even in those roles, the same general choice prevails.
Obviously, I know that Bollywood cinema needs its heroes and heroines, and that Rani's fans would probably be dismayed if they saw a film with their star playing the role of an anti-heroine. But my point is that Rani probably could choose to do that, for art's sake. Yet she chooses not to do it. So, what is the range of her talent?
I'm sure those of you who have seen her in such little marvels as Chalte chalte or Calcutta Mail remember that wonderful presence she gives to her character, a woman every man should wish to hug once in his life! She's intelligent, determined, responsible, human too (that moment when she thinks their marriage is hopeless, and abandons), and made to shine in front of SRK, she's SUCH an attractive woman.
And then there's her composition in Black. Well, that's a feat. The film is hardly Masala Bollywood, of course. No songs, no dance, only the story and the acting to immortalise it. Together with Amitabh Bachchan, she delivers one of the strongest efforts I have seen in acting so far. It's even almost too much, because it was obviously a challenge, and a lot of effort has been devoted to make the role believable, and this shows. A little "downshifting" might have been good in certain scenes, if you see what I mean. It is possible to overdo a scene. But on the whole, the result is fascinating: the physical transformation she goes through, the energy, the faith, the love, the humanity: all these aspects of her character radiate on the screen. I hope we'll have many more films by

Sanjay Leela Bhansali.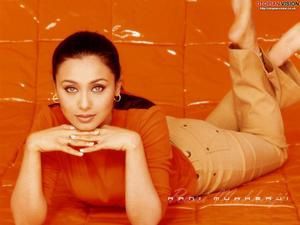 So
: what's missing in her career? Where could she go from now? Well, she'll probably want to cross that border between the goodies' and the baddies' roles, if she wants to be recognised as a complete actress. Accept losing that image of Rani the queen of hearts, and play in films where she is just a woman, with her failings, her doubts, her shortcomings, her imperfections… This is perhaps asking a lot, I realise. Not because Rani Mukherjee would be technically incapable of doing something different than what she's doing. But because I feel that she might not want to do something else, and that this position is a consciously chosen attitude, which probably both fits her ideal as an actress, and corresponds to what she's comfortable with.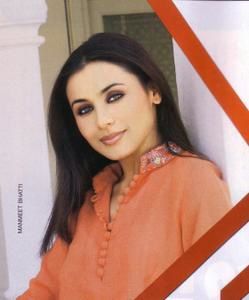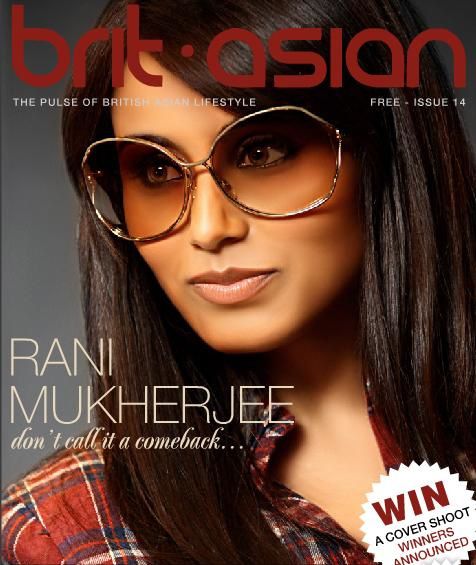 So asking her to leave that type of roles, and choose the ones that would not fit in her mission or her art, that's asking a lot from someone, I realise. But such versatility is probably needed before she can be said to be a complete actress. The paradox of the actor is that he grows in stature when s/he is forgotten behind the roles s/he performs. If s/he is stuck in the roles of goodies, the inevitable conclusion will be: is s/he afraid of the other roles? And even though this choice is valid on a moral basis (one might not want to compromise oneself by playing evil or impure characters), it's more difficult to defend it aesthetically speaking. And indeed, the conflict between morality and aesthetics is real, and has been one of the sources of condemnation of the performing arts as far back as Augustine, at least!
I'll finish by wishing Rani all the best, whatever she chooses to do. There's still plenty to do for her, even though she might never decide to warp that loving and responsible lady-image which has been hers throughout most of her films. We'll still love what she does.