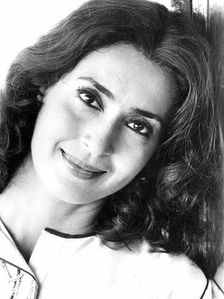 Hello ! As Nutan's birthday was coming up, I wanted to resume some hold on the blog (sorry readers for my lack of habit, another blog has kept me busy, plus my PhD research) and went through my hoard of Nutan stuff, so I'll put up some of it as an illustration for this website (Cineplot), that perhaps some of you are used to visiting. I for one discovered it recently, and I really should have known its Nutan page (if it existed, but I'm not certain) before voicing my regrets about the scarcity of Nutan facts here. It contains some fantastic 1992 comments on the actress, the year following her death. I strongly recommend the link "the daughter", written by Shobana Samarth (thanks Cineplot for letting me quote these extracts):
"1953-54, however was her lean phase. All her films were flopping. That's when I decided to send her to a finishing school in Switzerland. She was a lanky girl and everyone said she was too thin. I thought she could do with a bit of grooming. Before that, in 1952, we had gone to Mussorie and there, just for a lark, she entered a beauty contest. And to everyone's surprise, even her own, she was chosen Miss Mussorie. While she was still in Switzerland, I received an offer for her from S.Mukherjee. I thought it was a good chance because Filmalaya was a big name then. So I called her back from Switzerland. She now looked plump and nice."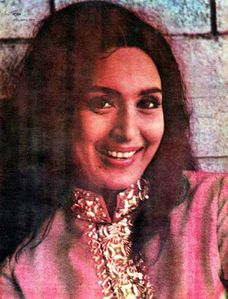 I tried to find a "plump and nice" photo!
What do you say about this motherly concern?! I wonder if Indian mums now have the same outlook on their girls' curves… Another part of the testimonial, naturally tuned-down owing to the circumstances of the writing, reveals some of the relationships which were at the origin of their drift during the sixties and seventies – it does seem that, perhaps mother-in-law like, she lays the blame on her daughter's marriage!
"All this changed once she got married. We grew distant and then came the incident which severed our relationship for twenty long years. Nutan and Tanuja were never really close. Maybe because both were poles apart, temperamentally. One was an introvert and the other an extrovert. Nutan never really approved of anything that Tanu did— "Vedich aahe" (she's crazy) she used to say to Tanu's naughty ways. (…) In 1983, Nutan and I made up. We became close like old times and never once mentioned the feud and the twenty year silence that followed."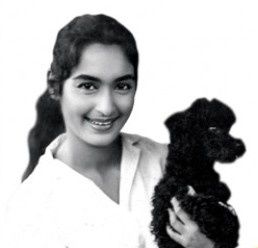 What Gautam Rajadhyaksha, the well-known photographer of Bollywood stars, writes about his long-standing friendship with Nutan is exceptional, because he makes her talk about herself and her family:
"I got a lot very early in life. I feel I have achieved everything in the right time, but I have managed to maintain it a little while longer than many. With actors or actresses, it's a fade out or a fade over to another category in 15 years time. I was a leading lady for over thirty years and my transition was gradual and smooth. Yes. I do feel a sense of achievement. But the credit doesn't go entirely to me. Luck had a big hand in it. I must admit I've had it easy, though. (…)

It's great listening to what she has to say about the relationship to her parents:
"My parents separated and I met my father rarely. A few months before he died, when he was ill, I got to be close to him. I wish I had spent more time with him. It is one regret and guilt, I can never get over. Not only because I couldn't be the daughter I would have liked to be, but the immense loss that I felt on not being able to spend more years of my life with such a warm, caring and brilliant man. He could have enriched my life so much. I wasn't proud, but rather pleased about being recognized as Shobhana Samarth's daughter. Once during a school show, a teacher who was dressing me up, suddenly said, you look like Shobhana Samarth. Are you related to her?' I stammered, 'S..s ..she's my mother.' Years later, my mother met someone in Europe and asked her if she was related to an Indian actress called Nutan!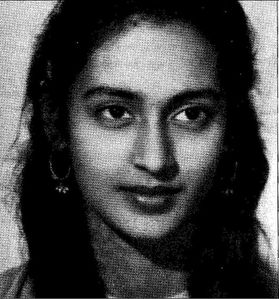 I suppose this is what Mamma called her "lean phase"...
Then she mentions the fact of her being deemed too thin by Indian standards and goes on about her experience in Switzerland, something I'd never heard mentioned in any of her biographies (which makes me wonder whether the cineplot website is all that old):
"I was terribly thin and within the industry there was a joke that if you want to draw Nutan, just draw a straight line. My mother even feared that perhaps I had TB. So at seventeen, despite the fact that I had so many film offers, my mother sent me to a finishing school in Switzerland. The one year that I spent in Switzerland was the happiest in my life. I could play, study, be free and catch-up with what I missed in my teenage years. I did a secretarial course which has paid dividends several times over. I do my typing, accounts, tax matters, every clerical job required to keep my money matters straight. I learnt French, which I can still speak and write. When I returned to India, I was forty pounds heavier and then began a wonderful phase.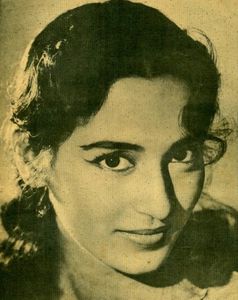 Somehow I wonder whether this statement is the real Nutan speaking, and not Nutan the well-brought up young lady who says what her mother wants her to say! But even if down deep she must have known that her weight and figure had nothing to do with her acting skills, she was probably pleased of avoiding the candlestick remarks. Then she speaks about her husband, again for me a territory which until now (as far as I'm concerned) had been completely unchartered on the web:
"Sujata I thought would be my last film, as I was getting married and naturally presumed that house and family would take precedence. But Rajnish said, 'if you were a painter or a writer, I wouldn't have asked you to stop your work and I won't, although you are an actress. Continue, by all means, but do fewer films, choose your roles'. Being a naval officer's wife was a different experience. I hardly socialised or went for film parties. It was just work and home, before marriage. But now, we had naval ship, parties and what have you. Our socializing increased. Almost every night we'd be out.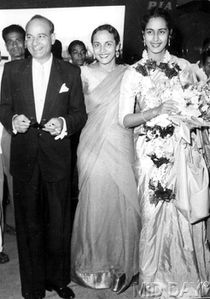 She also, most interestingly, gives her point of view on the feud which separated her from her busy mother for all that time:
"My career has been long and extremely satisfying. I shunned gossip all throughout and even managed to succeed to an extent. Except for two incidents which really caused massive scandals and caused me great pain. One, was the rift between my mother and me, when I took her to court for mismanaging my funds. It was a very hard decision for me to take. Yes, I had expected the reaction: `How can a daughter take her mother to the court?' But that didn't make the conflict any easier to bear. Yet, I had to do it to protect the future of everyone concerned. Anyway since 1983, all is well between the two families.
The other scandal was the punishment she inflicted on an excessively arduous co-actor:
"My slapping Sanjeev Kumar became a much-talked about incident. He made a very careless, irresponsible statement about having an affair and that made me furious. I have never been linked with scandals and when he said what he did, I flew off the handle. I had to put him in his place. After I said what I had to, I cooled down and said, 'let's finish the love scene', and we did.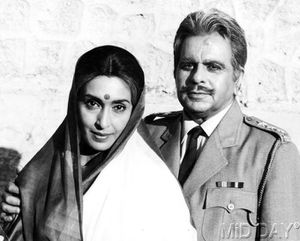 She's been in film with all the greats
To finish, she mentions the end of her career, and has a very mature insight about what should/could have been the future of the cinema as she valued it. Her stature as an acute analyser of her own work world is invaluable:
"I loved doing Saraswatichandra and even the South Indian films like Milan, Khandan and years later Main Tulsi Tere Angan Ki. When Saawan Kumar asked me to do Saajan Ki Saheli, after Saajan Bina Suhaagan, I agreed. It was a negative role, but what difference does it make to an actress? I've never understood that. An actor should strive for variety, that's all. Because that will ensure his growth. I remember having a long argument, which continued for several days, with Javed Akhtar, during the making of Meri Jung. I said I would love to do the role of a widow, who once her kids grow up and settle down in life, remarries. He said, the public would never accept it. I fail to see why. That's life, it happens. It's a pity that our makers are not willing to look at life as it is in reality. Films like Aakrosh, Ankur, Ardh Satya will influence the thinking of our filmmakers, our films. At the same time, people who talk about 'our good old days' and decry violence, are wrong. Films have to change. They have to reflect contemporary society. There are many issues, which would provide more material to our writers and directors, if they care to look and expand their horizons. I have been a keen observer of film techniques. I want to direct a film. That's an ardent wish. Because the film is a director's medium after all. I even suggested the idea to Jaya (Bachchan), but her response is not clear. Rajshri films have given me a clear signal, though. Times gone by always seem more rosy. But the old yields place new and there is always something good in every age. For example, I worked with Amitabh Bachchan in Saudagar and I feel he's done the negative role brilliantly. He has so much to give, if only he sheds his image. Then, there are Rishi, Shabana, Rekha, Anil, Jackie—all fine, very hard working artistes. Of course Padmini (Kolhapure) was exceptional. She was a brilliant, intelligent actress. She used to ask so many questions. She reminded me of myself thirty years ago. And now there is Madhuri. Such beauty, talent and not a hint of pride or conceit. She will go a long way."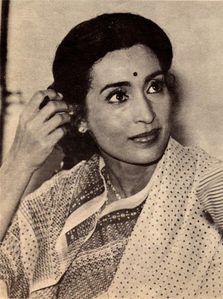 Wow ! Doesn't all this shed a brilliant light on both her roles as an actress and on her person ? So much for the legend of the shallow females in cinema who content themselves with securing a position thanks to inherited advantages. To finish about the website, it contains an excellent review of Nutan the actress by Subhash K. Jha. You'll read about the way he compares the star to the other heroines of her time, how she stands out as a thinking actress and a pragmatic woman, alongside with Waheeda Rehman (I was very pleased to read this pairing – it's exactly what I think). Here's what the critic says about her art:
"As is typical of most celluloid greats, Nutan was at her emotive best when given, the least spoken lines. Who can forget the wordless sequence in Bandini when Kalyani mixes poison in her tormentor's tea? Or the sequence in Sujata where the Harijan girl seeks inadequate shelter during pouring rain under Gandhiji's statue? Or the long singular song sequence when Sunil Dutt sings, `Jalte hain jiske liye' to Nutan over the phone? As tears fall silently over the receiver, you can hear the sound of the breaking heart over the line. The enormous eloquence of Nutan's silences was on par with that of Meryl Streep and Katherine Hepburn. Nutan reified the cultivated charm and the muted grace of a westernised Indian woman whose values have been inculcated to the Indian ethos. »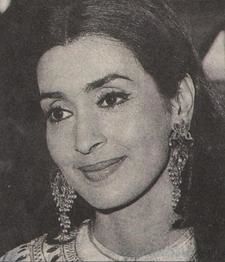 Neither lean nor plump
One last recommendation, and for me a very interesting surprise, the two men who lived with Nutan speak about her: her husband, Rajnish Behl, and her son Mohnish. Her husband says nothing about their difficult marriage and manages not to sound too pathetic about his hunting passion, which Nutan generously tried to endorse. Like others, he witnesses to Nutan's penchant for spirituality in her later years, something which one day I'd like to delve into in more detail. And he tells a few funny episodes. Mohnish's account is short in comparison with the others. He doesn't say so, but he seems to regret not having had a brother or sister, and so perhaps he suffered as an only child. In his own unobtrusive way, his account is rather moving.