Why aren't there more Nutan fans?
Publié le 12 Décembre 2010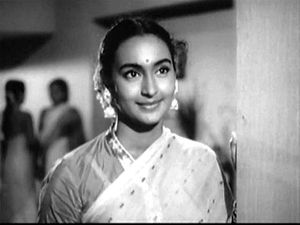 As unofficially self-proclaimed supporter and glorifier of Nutan, I am proud to admit within the very close circle of Nutan worshippers Sharmi, whose site is devoted to pastime movies, and especially contains some wonderful praise of Nutan Behl. She has agreed to my quoting what she writes in several passages of her wonderful blog, as it so exactly matches my own admiration of the actress. Here are the extracts where she speaks about her:
On Sujata:
"Nutan's just inexplicable! She's in plain cotton sarees in the entire film, wears no makeup barring a bindi and kohl, and still looks picture-perfect. Her poise is infectious! Her eyes mirror her heart. When she is sad, her tears choke you, when she is happy, her soft smile adds magic to her mirthful eyes!!!"
On Seema:
"…back to Nutan. She is mesmerising. Minimal makeup, rag tag clothes notwithstanding, Nutan is bliss for the senses. When she is mellow she is beautiful and dainty, when she is fiesty, she appears like a Goddess, with her hair all unkempt, her eyes on fire and mouth spewing a barrage of powerful lines. She is a ravishing sight, replete with a fabulously hard-hitting performance. If morning shows the day, Seema is only a trailor of what moviebuffs would be enjoying in the years to come, from this gorgeous cracker of an actor..."
On Anari:
"It's no secret that I am forever mesmerised by this actor but in this film she is simply terrific. The deftness with which she balances joy, mischievousness and melancholy, is inexplicable. There is a scene where Rajkumar comes to meet Arti in her bungalow...he is dumbstruck when she appears before him. I am speechless, too. She is almost like a vision. Her expressive eyes light up at his appreciation, her face is like a flawless painting. Her curly locks envelop her fair temples and she is breathtakingly attractive. And, when she flashes those pearly whites, no poet can stop penning love couplets...
Nutan, I feel epitomised ethereal beauty. Her face was so malleable to emotions, nothing looked forced. And, it's not that she was taking refuge in makeup. With minimum greasepaint, simple attires to highlight her lissom frame, here was one woman whose beauty was beyond words...
And so was her acting. In fact, in Anari Mukherjee makes Nutan do comedy. And boy, does she make you laugh. Her antics are innocently funny. She prances about in the comic sequences with utmost dexterity. In the romantic scenes she is sufficiently tender, and in the sad parts her melancholy makes your heart ache. Such was her repertoire..."
"As for Nutan, she is a delight! If she played the melancholic prisoner in Bandini, here she is chirpy and spontaneous. She looks demure and classy in her well tailored clothes and very stylish with her hair tied in a chic French roll. Her eyes light up with every smile. »
So thanks Sharmi, it's very unusual to read such precise praise about actresses who are no longer in the limelights.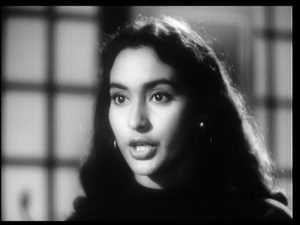 While I'm at it, here are the useful websites I found about the lady:
- Imdb.com
And here's a selection of photos from Anari.
Basically, they're mini acting biographies. As expected, there aren't many clues in these descriptions to inform us about the real life that Nutan led. What were the events that shaped her early life, what were her values, what did she believe in, etc? If one leaves aside the information concerning her actress's career, what I managed to find is that her parents divorced when she was very young, that she was disregarded as unconventional, even ugly because lank and gangly in an age when petite and round was the norm. Somebody says that she suffered from complexes as a result.
But she was lucky that her mother Shobhana Samarth decided to start a career in the movies for her. Biographers say that contrary to her serene cinematographic image, she was rather a troublemaker, and ahead of her times (for example she wore a swimsuit in Dilli ka thug…!). Her marriage (and distance - Kajol-like – from the sets in order to raise her boy) in the middle of her career proved wrong the saying according to which married actresses do not succeed. after their wedding. BTW, Kajol was probably more the imitator, since Nutan is her aunt) So I wonder, was it because she was too unruly that she was sent to that "Finishing school" in Switzerland after having shot Hamara beti (1950 – she was then 14)?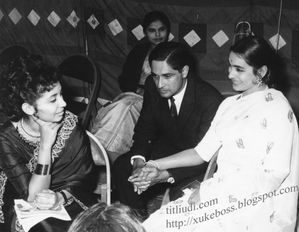 All comments tell about her marriage in 1959 to Naval Lieutenant Commander Rajneesh Behl (above), but none of them indicate what sort of man he was, where they met, etc. Likewise, the birth of her son Mohnish led to her small stint away from the cameras, but little is said of her relationship with this son.
Something strange is what commentators mention, concerning a feud which pitted her in courts against her mother concerning some misappropriation of funds accruing to her. This conflict lasted 20 years, I read! Her father, though, is practically never mentioned. And finally, towards the end of her life (due to cancer in 1991), she busied herself with the furthering of her son's career, her dairy farm, some bhajan singing and recording, collecting "rare artefacts" (which ones?), and being involved in some spirituality, whatever the source (Upperstall) meant by that.
There has been a book written about her, "Nutan - Asen Mi Nasen Mi" written by marathi author Lalita Tamhane (and in marathi! see here and here - Thanks Harvey!!). So, all in all, we are left with very little non-professional facts about her… And we have to watch her movies again in order to gather whatever emotions and intimacy we can get there, with the inevitable risk of not being able to distinguish between what comes from the characters played by the actress, and what reveals the person behind.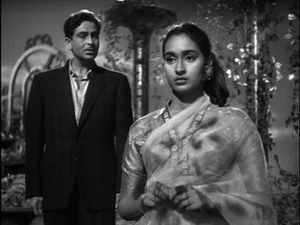 PS: I have to add the link to Bollywooddeewana's article on the occasion of Nutan's birthday. It contains a very interesting collection of facts and series of interviews from Nutan's family. Thanks BWdeewana!
For those who can read portuguese, there's also Carol's blog (in Brasilian, but it's fitted with a Google translator!) who has spent a whole "semana" talking about Nutan last July! She didn't even tell me! But she's another lover of oldies, and I am very peased to admit her in the open-minded circle of Nutan crackpots!